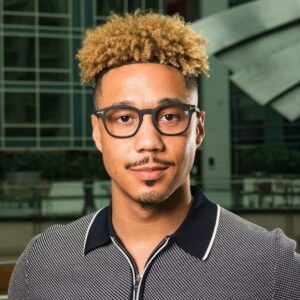 Daniel Roberts
Head of Communications, BrightDrop - General Motors
Daniel currently serves as Head of Communications for BrightDrop, a start-up created
by General Motors with a portfolio of products and software designed to decarbonize
last-mile deliveries and reduce congestion. He oversees a team focused on both
internal and external communications for the business.
Before this role, he was the Global Innovation & Growth Communications Lead at
General Motors. In this role, he led the communications team focused on GM's Global
Innovation incubator that creates new start-ups for the company and GM's Global
Connected Services that integrates Apple, Google, and Amazon products into vehicles.
He previously served as Head of State Policy Communications at Facebook where he
led the policy communications strategy across all 50 states and served as a
spokesperson for tech issues at all levels of the U.S. government, including the
Administration, Congress, and State and Local governments.
Before Facebook, he led East Communications at Lyft where he managed public
relations firms in various markets – DC, Boston, Philadelphia, Atlanta, Miami, and
others – while overseeing the execution of national campaigns at the regional level.
Prior to Lyft, Daniel spent time at Viacom Media Networks; worked at Edelman Public
Relations; served in the Obama White House; worked at the National Governors
Association; served in the Office of U.S. Representative Elijah E. Cummings; and
interned for First Lady Michelle Obama.