Report: 83 percent say word-of-mouth influences their purchases
Having a close friend recommend your product can be the deciding factor for a consumer considering your offerings. Here's why PR pros and marketers should nurture these connections.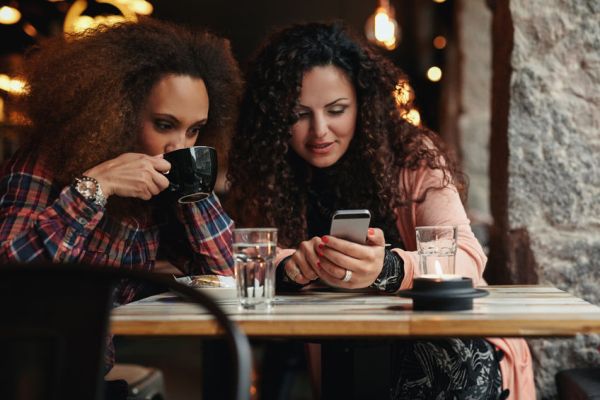 How do you decide which brand you'll buy?
When selecting a new product or service, many consumers look for an indicator that their transaction will be safe and satisfactory—and younger consumers value recommendations from friends and family to inform their decisions.
In a new study from Jay Baer and Daniel Lemin, respondents show that personal connections matter more than ever when getting a product recommendation, and the data reveal that younger consumers are especially swayed by word-of-mouth marketing.
Though internet search ranks as the most popular source for researching a product, family and friends follow close behind as important sources of information. Forty-six percent of respondents say family members are a resource when researching a potential purchase, and 45 percent say friends are important.
However, demographics matter when consumers seek recommendations. White Americans are 12 percent more likely to buy a product recommended by a friend than their non-white counterparts. Women rely on word-of-mouth recommendations 22 percent more than do men.
However, the study suggests word-of-mouth publicity is a ubiquitous phenomenon, with 83 percent of respondents having made a recommendation to a friend or family member and 55 percent making a recommendation at least once a month. However, younger consumers are more likely to engage in this behavior, with 77 percent reporting they make a recommendation at least once a month.
Why do consumers vouch for products?
Not all consumers have to have had direct experience with your brand or services to recommend it to a friend.
Younger consumers are almost as likely to recommend your product because they have heard good things about it rather than waiting for a personal experience with your organization. Although 48 percent of Gen Z respondents would recommend a product after a positive personal experience, 30 percent would make the recommendation based solely on overheard praise.
Older consumers are more discerning. For millennials, 23 percent would praise a product or service based on hearsay, and only 16 percent of Gen X respondents would make a similar recommendation. For Baby Boomers, the percentage drops to a paltry 13.
Why is word-of-mouth valuable?
One thing word-of-mouth can provide that few other messaging options can match is a level of trust.
Trust in corporations and public institutions has taken an unprecedented hit in recent years. As advertising efficacy wanes and the media landscape continues to reshape how consumers find new products, most people still follow recommendations from good ol' mom.
Despite the explosion of influencer marketing, the study states that 25 percent of Americans don't trust celebrities or other famous figures to recommend products. Some big names have pull, including Oprah Winfrey, Barack Obama, Beyoncé and Ellen DeGeneres.
The study also found that recommendations that take place offline are given more weight than similar statements made on social media and that the recommender's age matters.
It wrote:
We also studied the impact of age on word-of-mouth trust, and a very clear "trust cycle" pattern emerged. Up to approximately age 40, Americans trust people their parents' age and older. Once consumers cross that 40-year-old barrier, they begin to trust people their own age. This lasts until approximately the age of 60, when consumers begin to also trust the opinions of people who are the age of their children.
The study ranks in importance the weight different kinds of consumer experience have on a purchase, from personal experience and the recommendation of a close friend to posts by the brand on social media and other, less personal channels.
The study found that personal experience with a brand was the most important, followed closely by brand familiarity, family recommendations and online reviews. At the bottom of the scale are social media posts from brands and posts by friends on social media.
The importance of online reviews
The study also suggests that businesses should take online reviews more seriously.
Although older generations have not put much stock in online reviews, younger consumers from Generations Y and Z are 99 percent more likely to rely upon reviews when selecting experiences such as dining options.
However, for major purchases, online reviews might not hold as much sway. When planning a wedding, word-of-mouth marketing was 331 percent more likely to be relied upon than advertising.
Word-of-mouth shouldn't be counted out, however, no matter what industry is the focus of your labor.
The study writes:
Word-of-mouth is directly responsible for 19% of all purchases, and influences as much as 90%. Every human on earth relies on word-of-mouth to make buying decisions. Yet even today, fewer than 1% of companies have an actual strategy for generating these crucial customer conversations.

[…] The key to activating customer chatter is the realization that same is lame. Nobody says "let me tell you about this perfectly adequate experience I had last night." The strategic, operational differentiator is what gives customers something to tell a story about. Companies (including the 30+ profiled in Talk Triggers) must dare to be different and exceed expectations in one or more palpable ways. That's when word-of-mouth becomes involuntary: the customers of these businesses simply MUST tell someone else.
How are you making sure consumers are talking about—and recommending—your organization?
(Image via)
COMMENT