Report: Social media leads the way in online advertising
In a new survey from The Manifest, 86 percent of companies say they invest in social media ads. Fewer than half invest in more advanced techniques like retargeting.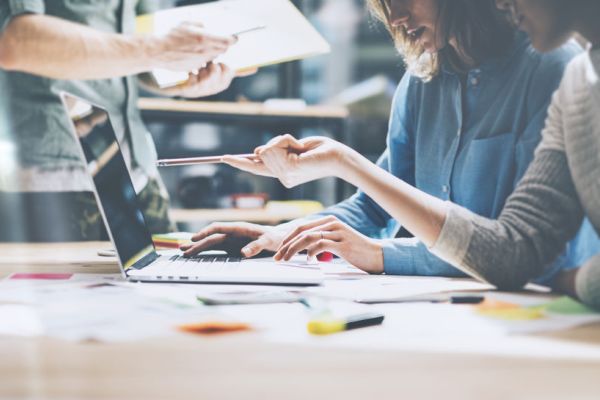 The internet is an indispensable tool for finding new customers and driving sales.
According to the Pew Research Center, 89 percent of Americans use the internet to find new products and services, research potential purchases and generally navigate their lives. This means that your organization must have an online presence to achieve meaningful growth.
A new survey from The Manifest analyzes how companies are marketing themselves online, getting responses from 501 marketers from across the U.S. The findings show how companies can expand their advertising operations, and they reveal hot trends across the online marketplace.
Are you investing in online marketing?
According to the survey, only 66 percent of companies invest in online advertising. Though that number represents a majority of organizations, it's far lower than the estimated 89 percent of consumers who use the internet.
The survey team asserts that online marketing is an essential tool for a modern business.
It writes:
Because the majority of consumers spend so much time on the internet, all businesses should invest in online advertising – not just 66%.

"It's crazy to me that number isn't higher," said Flynn Zaiger, CEO of Online Optimism, a digital marketing agency in New Orleans. "Knowing that only two-thirds of businesses are doing online advertising means that just starting with an online marketing tactic can put you ahead of one-third of the competition."
It also points to the lower cost of online marketing as a strong selling point for organizations still reluctant to join the digital craze.
It continues:
Online advertising is also more affordable; White estimates that advertising to 10,000 people via direct mail costs about $5,000. Reaching the same number of consumers on Facebook costs $500 – one-tenth the price of direct mail.
Social media is most popular
Among businesses that do invest in online marketing, social media campaigns are the most popular messaging vehicle (86 percent). Display advertising comes in second with 80 percent, and paid search captures 66 percent of online marketers.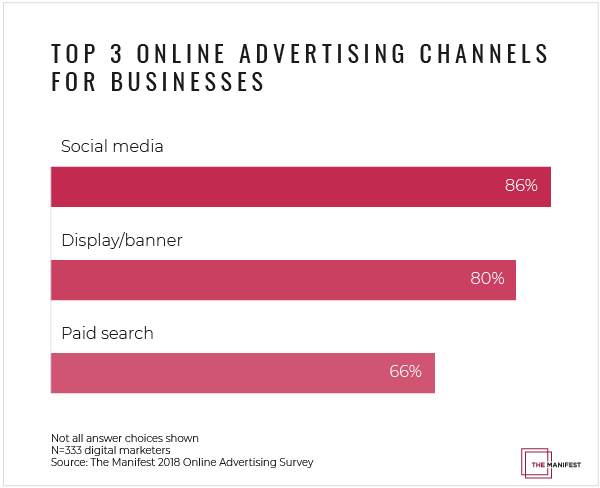 Despite industry concerns about social media platforms like Facebook in the wake of data-use scandals, social media retains its top spot for advertising investment. However, organizations can make a big splash by using more than one online marketing tactic.
The survey shares a case study about Korean food retailer KPOP, which uses all three of the top advertising channels. Different tactics help the brand capture different types of consumers. KPOP finds that social media efforts encourage users to explore the brand's content pages, display ads help capture consumers on related or relevant websites, and paid search efforts find consumers looking to buy Korean food.
Re-targeting seen as a growth opportunity
The survey reveals that fewer than half of organizations are actively pursuing retargeting, the internet practice in which a brand's message follows a user from site to site.
It writes:
"Maybe businesses don't want to appear too aggressive online to their consumers," [Jeremy Greenberg, founder of web design and digital marketing agency 97 Switch] said. "Businesses may worry that retargeting advertisements could bother customers. However, retargeting is very important and does work."

Some businesses may think retargeting is invasive to consumers, but it can be a successful channel.
Advertising remains intrinsically tied to sales performance, as well. Although PR efforts may be seen as geared toward generating brand recognition or industry dominance, advertising endures as a tool to boost the bottom line, the study says.
The study shares:
"Online advertising helps us increase our sales and revenue by targeting users who are most likely to benefit from our service," PPC Protect Marketing Manager Sam Carr said. "We run a range of paid ads across different networks and platforms. Not only does this lead to more interest and sign-ups, but ultimately, it leads to more conversions."

PPC Protect runs advertisements on a combination of channels to reach the most consumers who will convert. For example, it ran a Facebook advertisement to promote its services using an image meant to show that "robots are stealing businesses' advertising budgets."
How are you using online marketing to support your organization, PR Daily readers?
(Image via)
COMMENT