Snap stops promoting Trump, Wendy's dedicates Twitter feed to Black voices, and Lucasfilm stands behind John Boyega
Also: How COVID-19 is eroding company culture, HBO Max and Bon Apétit offer BLM resources, and more.
Hello, communicators:
Following actor John Boyega's passionate speech in which he said his remarks about George Floyd's death and Black Lives Matter might end his career, Lucasfilm tweeted its support along with a link to Boyega's words:
We stand with and support you, @JohnBoyega. View his full speech: https://t.co/Goxb5y2wrK pic.twitter.com/ZvE0t5tRPY

— Star Wars (@starwars) June 3, 2020
Though the official Disney account did not reply to Boyega, it previously tweeted the following messages:
— Disney (@Disney) May 31, 2020
After executives Bob Chapek, Bob Iger and Latondra Newton sent out a memo to staff on May 30 pledging "real change" in race relations and diversity, Disney today pledged $5 million to support nonprofit organizations that advance social justice. The company said that supports starts with a $2 million donation to the NAACP.
It's crucial to support your employees and partners, especially in times of crisis. Consider how you can do that along with giving your workforce's people of color a platform in which to share their thoughts and feelings. Doing so can strengthen trust and help amplify important messages.
Here are today's top stories:
Snapchat stops promoting Trump
The social media app's parent company, Snap, announced that it would no longer feature Presiident Trump's Snapchat account in its Discover section of the app, though his profile remains on the platform.
We condemn racism. We must embrace profound change. It starts with advocating for creating more opportunity, and for living the American values of freedom, equality and justice for all.

Our CEO Evan's memo to our team: https://t.co/r57qC9yh7L

— Snapchat (@Snapchat) June 1, 2020
In a memo to employees, Snap's co-founder and chief executive, Evan Spiegel, wrote:
As for Snapchat, we simply cannot promote accounts in America that are linked to people who incite racial violence, whether they do so on or off our platform. Our Discover content platform is a curated platform, where we decide what we promote. We have spoken time and again about working hard to make a positive impact, and we will walk the talk with the content we promote on Snapchat. We may continue to allow divisive people to maintain an account on Snapchat, as long as the content that is published on Snapchat is consistent with our community guidelines, but we will not promote that account or content in any way.

It is never too late to turn towards love, and it is my sincere and earnest hope that the leadership of our great country will work towards our founding values, our raison d'être: freedom, equality, and justice for all.

Until that day, we will make it clear with our actions that there is no grey area when it comes to racism, violence, and injustice—and we will not promote it, nor those who support it, on our platform.
Why it matters: Snap's decision follows Twitter's move to add fact check and other warning labels to Trump's tweets. However, fighting fake news and misinformation—along with standing up against racism and discrimination—isn't only the responsibility of social media platforms. Brainstorm with your team how your organization and its employees can uphold your brand's mission and values while also supporting truth, diversity and inclusivity.
---
SOCIAL BUZZ
Wendy's committed its Twitter account to "amplify black voices." The fast food chain's account has more than 3.7 million followers.
We're about putting our money where our mouth is. So here's our money and here's our mouth. We are committed to donating $500k to support social justice, the youth and education in the Black community starting with the Thurgood Marshall College Fund and we'll have receipts.

— Wendy's (@Wendys) June 3, 2020
In the coming days, we'll be using our Twitter account to amplify Black voices. Because what's the point of this big platform if we don't use it for what matters during times like these?

— Wendy's (@Wendys) June 3, 2020
The response is receiving kudos as consumers applaud the chain for acting outside of a donation. As other organizations respond to the ongoing protests, be prepared to be called out if you're not backing up your words with a plan of action or solutions that help unite and include all voices.
---
MEASURED THOUGHTS
Clutch reported that despite organizations' efforts to create a virtual company culture, nearly two-thirds of employees are spending less time socializing with each other during COVID-19:

It's an important statistic to note as communicators look to support employees throughout the current crises and support mental and emotional wellness.
---
CRISIS LEADERSHIP BOARD
Looking for more insight on how to address the current global crisis and lead your organization into a strong recovery?
Join Ragan's Crisis Leadership Board to network and brainstorm with peers, get the latest intelligence, and research and start to strategize for the future of your organization.
Learn more about this exclusive membership here.
HBO Max and Bon Appétit offer BLM resources
 HBO Max is offering up the first season of "Wyatt Cenac's Problem Areas" for free on YouTube throughout June. The show's initial season examines policing in the United States:
Stream @ProblemAreasHBO now for free 👉 https://t.co/ERBkz5kr8D https://t.co/0FHjwMVONE

— HBO Max (@hbomax) June 3, 2020
Enough people agreed with the idea, so @HBO made the first season of @ProblemAreasHBO (which looks at policing in America) available on @YouTube for free… for a month.
(And maybe only in the US?)
Does that means that retweets actually are endorsements??https://t.co/sOIiMoX1NR

— Wyatt Cenac (@wyattcenac) June 3, 2020
Bon Appétit published an updating list of Black-owned restaurants across the U.S. as well:
Supporting Black-owned restaurants is one practical, actionable way to stand in solidarity with the Black community now, and always. https://t.co/utQJ8ME7zQ

— Bon Appétit (@bonappetit) June 3, 2020
Why it's important: The efforts stand out as simple ways to invite consumers to engage, learn and act. They support the brands' voices while also being part of the race relations conversation. As more organizations get called out for simply tweeting support without any action behind their messages, it's crucial for communicators to find ways to offer resources and solutions in ways that align with their mission and values.
---
RESEARCH SNAPSHOT
The COVID-19 crisis has drastically changed the landscape for communicators and PR pros. More than ever before, communicators must gain key skill sets and employ strategic communications and media relations strategies to boost their organizations' coverage, reputation and overall brand.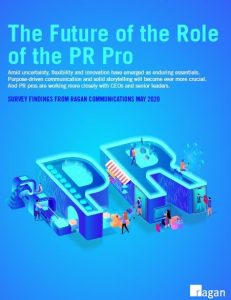 Learn what the 315 communicators we surveyed say about what parts of the PR function are more important than ever, how to adjust for COVID-19, and more with our free report revealing insights that can help you perservere during this uncertain time.
Download your copy of the report here.
---
WHAT YOU SAID
 We asked how your leadership was speaking up, both internally and externally, about the racial injustice in America during the protests over the death of George Floyd.
More than 28% of your said your leaders are speaking up both internally and externally, however almost 35% said no statement had been made at all.
Has your CEO or top leader shared a message about the protests and events of the last couple of days? Has it been shared externally or just internally? Share what you think has been working with our hashtag #DailyScoop.

— PR Daily (@PRDaily) June 3, 2020
What do you think about these results, PR Daily readers? Share your thoughts in the comments or tweet us @PRDaily.
---
SOUNDING BOARD
What kinds of programs are you considering to help employees give back to the community? Share your thoughts in our poll or by tweeting us @PRDaily.
Do you provide opportunities for your employees to volunteer or offer matching donations to charity? What kinds of programs are you considering during this crisis? Share your thoughts with our hashtag #DailyScoop.

— PR Daily (@PRDaily) June 4, 2020
Share your thoughts about what executive leadership looks like right now by tweeting us @PRDaily with our hashtag #DailyScoop.
COMMENT