Social media platforms ban groups for hate speech, Wendy's speaks out after Twitter silence, and brand managers celebrate #NationalSocialMediaDay
Also: Starbucks celebrates the LGBTQ+ community and its allies, many employers are looking at employees' social media feeds, European companies brace for thousands of layoffs, and more.
Hello, communicators:
Starbucks celebrated both the LGBTQ+ community and their allies for Pride Month. The coffee chain recently posted a video featuring three LGBTQ+ partners giving "Pride in a box" gifts to people who have helped them in their journeys:
It takes courage to be yourself when the world is telling you to be someone else. But when someone accepts and loves you no matter what, it can make all the difference.

This year for #Pride, we're celebrating our LGBTQ+ partners (employees) and the allies who support them. 🌈 pic.twitter.com/Mh2zjHEZIi

— Starbucks Coffee (@Starbucks) June 25, 2020
Here are today's top stories:
Twitch Reddit and YouTube strike out against hate speech
Twitch temporarily banned President Donald Trump from its platform for "hateful content," which the company says has now been removed.
"Like anyone else, politicians on Twitch must adhere to our Terms of Service and Community Guidelines. We do not make exceptions for political or newsworthy content, and will take action on content reported to us that violates our rules," a Twitch spokesperson told The Verge. The statement was originally issued last year when Trump's channel was launched.
Reddit banned its largest community focused on messages of support for Trump, along with memes, articles and videos. The subreddit, called "The_Donald," had more than 790,000 subscribers and has broken Reddit's terms of service repeatedly for its hate speech.
"Reddit is a place for community and belonging, not for attacking people," Steve Huffman, the company's chief executive, said in a call with reporters. "'The_Donald' has been in violation of that."

Reddit said it was also banning roughly 2,000 other communities from across the political spectrum, including one devoted to the leftist podcasting group "Chapo Trap House," which has about 160,000 regular users. The vast majority of the forums that are being banned are inactive.
YouTube banned six accounts that carried white supremacist content, including those belonging to David Duke, Richard Spencer and Stefan Molyneux.
"We have strict policies prohibiting hate speech on YouTube, and terminate any channel that repeatedly or egregiously violates those policies. After updating our guidelines to better address supremacist content, we saw a 5x spike in video removals and have terminated over 25,000 channels for violating our hate speech policies," a YouTube spokesperson said in a statement to CNN Business.
Why it's important: As organizations and consumers increase pressure on social media platforms to ban hate speech and harassment, the platforms are moving swiftly to make moves that will keep ad revenues from social media ads coming in. Keep watching for additional moves to appease both angry critics as well as PR and marketing pros pushed to take a stand.
---
SOCIAL BUZZ
It's #NationalSocialMediaDay, and many brand managers are sharing content to celebrate the holiday.
Aim for your content to be informative or entertaining, such as these fun tweets by Cambro Manufacturing and Hostess:
Happy #NationalSocialMediaDay! Which player are you choosing? 🤔 #Camtray

🍩 made by @MissMiniDonuts pic.twitter.com/HXzxcFd6oa

— Cambro Manufacturing (@Cambro1) June 30, 2020
Happy Social Media Day 2020, from your favorite social snack cake darlings!#Twinkies #SocialMediaDay #Snack #Snacks #Love #Joy #SnackCake #Cake #Vibes #GoodVibes #TreatYourself #SocialMedia #NationalSocialMediaDay pic.twitter.com/ammw8jOyAa

— Hostess Snacks (@Hostess_Snacks) June 30, 2020
Avoid making the conversation all about you (a good rule of thumb for all social media engagement). That includes using the holiday's hashtag to ask your follows to add you across social media platforms:
It's #NationalSocialMediaDay!

Several of our departments have social media pages — do you follow them? 📱 💻

See the full lists below and don't forget to hit the follow button to connect with us. 👍 pic.twitter.com/d0ubq1E3w0

— Horry County Government (@HorryCounty_Gov) June 30, 2020
Today is #NationalSocialMediaDay don't forget to tell your friends and colleagues to check out our page to stay up to date with the latest financial topics and tips! pic.twitter.com/IVx2srkrE7

— Rick Johnson (@JohnsonWM20) June 30, 2020
It's National Social Media Day and we want to connect with YOU! Be sure to follow us on Facebook, Twitter, and LinkedIn for the latest ECCO Select updates. #NationalSocialMediaDay pic.twitter.com/YRqieGn6mf

— ECCO Select (@ECCOSelectCorp) June 30, 2020
In honour of #NationalSocialMediaDay tomorrow, we have a pretty big favour to ask!

We're just 66 followers away from reaching 1K on our LinkedIn page – we would love it if you could give us a follow and share our page with your family and friends! https://t.co/tuFITM9pIe pic.twitter.com/nInChi48ct

— Simpson Group (@simpsongroup) June 29, 2020
Instead, regularly share valuable content and both listen and interact to your followers—as well as those that talk about your organization online.
---
MEASURED THOUGHTS
Stonehill College's Career Development Center shared that in a 2018 study, 70% of employers planned to screen applicants' social media profiles, with 43% reporting they regulary check employees' social media feeds:
Happy #NationalSocialMediaDay! 👐 According to a 2018 study, 70% of employers will conduct social media screenings during the hiring process and 43% will regularly check current employee's social media. Take today to clean-up your accounts! 💻📱 pic.twitter.com/p5a6qpW0yQ

— Stonehill CDC (@HireStonehill) June 30, 2020
The statistics can serve as a reminder that whether or not you check current and potential employees' social media feeds, communicators should prepare for crises that might pop up after members of their workforce misstep online.
Speedway also shared a statistic fitting for #NationalSocialMediaDay:
Did you know there are 3.725 billion active social media users?! That's 3.725 billion people we can connect with from all around the world! #NationalSocialMediaDay📱 pic.twitter.com/OIH9WQEqNQ

— Speedway (@Speedway) June 30, 2020
---
CRISIS LEADERSHIP BOARD
Looking for more insight on how to address the current global crisis and lead your organization into a strong recovery?
Join Ragan's Crisis Leadership Board to network and brainstorm with peers, get the latest intelligence and research, and start to strategize for the future of your organization.
Learn more about this exclusive membership here.
Airbus, Commerzbank and Volvo to lay off more than 25,000 employees
Airbus is expected to lay off thousands as it cuts production by 40% in the next few years, in order to stay afloat from the COVID-19 crisis.
Union sources said that the company is expected set out its most extensive ever reorganisation plan on Wednesday, which may result in between 14,000 and 20,000 jobs being slashed.

One person familiar with Airbus told Reuters anything below 25,000 cuts could be seen as conservative in the light of output plans. Unions have warned against over-reaction, however.
MarketScreener also reported that private equity firm Cerberus Capital Management is pushing Germany's second largest bank, Commerzbank, to cut more than 7,000 jobs as it scrambles to restructure its business model.
Volvo recently laid off 4,100 employees worldwide as well, with 1,250 of the job cuts located in Sweden. The announcement was in addition to a previous 5,000 layoffs.
"The effects are expected to be lower demand going forward and we need to continue to adjust our organisation accordingly," Martin Lundstedt, chief executive of the Volvo Group, said in a statement.

The company said in April it had reduced the number of employees by almost 5,000 in the first quarter, to just under 100,000.

Why it's important: Along with communicating with employees, check in with your workforce regularly to see how they're coping with the additional stress of working from home and do your best to address anxieties stemming from job security. Many organizations laying off employees are offering wellness and skills training programs in addition to benefits and salary packages, which can also help them navigate the growing unemployment field.
---
RESEARCH SNAPSHOT
The COVID-19 crisis has drastically changed the landscape for communicators and PR pros. More than ever before, communicators must gain key skill sets and employ strategic communications and media relations strategies to boost their organizations' coverage, reputation and overall brand.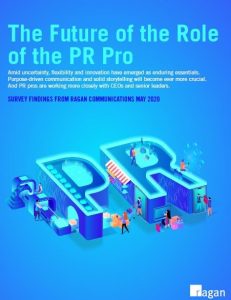 Learn what the 315 communicators we surveyed say about what parts of the PR function are more important than ever, how to adjust for COVID-19, and more with our free report revealing insights that can help you persevere during this uncertain time.
Download your copy of the report here.
---
SOCIAL BUZZ        
Wendy's social media team, which has been silent for nearly three weeks on Twitter, recently tweeted the following thread in support of the Black Lives Matter movement:
We remain committed to investing back in the communities we serve by supporting organizations dedicated to social justice, youth, and education in the Black community.

— Wendy's (@Wendys) June 25, 2020
We'll also be chatting with @tmcf_hbcu next week to learn more about their history supporting students at #HBCUs. Check out the conversation on 7/2.

— Wendy's (@Wendys) June 25, 2020
We know everything can't be fixed at once. But we can continue to press forward and push for change one day at a time.

— Wendy's (@Wendys) June 25, 2020
Along with announcing partnerships with the Columbus Urban League and YWCA Columbus, Wendy's will talk with The Thurgood Marshall College Fund on Thursday. The efforts are in addition to the $500,000 Wendy's pledged to support social justice efforts.
Social media pros can take a nod from the fast food chain by taking the time to consider the best way of supporting social justice and racial equality. Go beyond a PR statement or tweet and instead outline the ways your organization is committing to "push for change one day at a time."
---
WHAT YOU SAID
We asked if you're taking part in the #StopHateForProfit boycott, starting July 1, and more than 33% of you are participating. In addition, more than 8% are pausing social media ads across platforms. However, more than half of you (58%) are continuing your social media marketing strategies:
Are you joining the #StopHateForProfit boycott on July 1?

Share your thoughts with us under #DailyScoop, and we'll share in tomorrow's roundup.

— PR Daily (@PRDaily) June 29, 2020
---
SOUNDING BOARD
Are you part of the team writing your organization's business continuity plan?
Are you part of the team writing your organization's business continuity plan?

Share how you're using your continuity plans as COVID-19 continues, and we'll share in tomorrow's roundup. #DailyScoop

— PR Daily (@PRDaily) June 30, 2020
Weigh in below and share your thoughts under the hashtag #DailyScoop.
COMMENT
3 Responses to "Social media platforms ban groups for hate speech, Wendy's speaks out after Twitter silence, and brand managers celebrate #NationalSocialMediaDay"
Ronald N. Levy

says:

With the PR community's attention and money increasingly focused on the PR power of social media, opportunity knocks for a major PR firm with a strong social media department to go for a piece of the Saudi Arabia account which could easily afford a seven-figure budget.

Saudi Arabia's archrival, United Arab Emirates, last week retained the superb FleishmanHillard firm for UAE's coming mission to Mars program.

WHY SAUDIS CARE. Saudi Arabia and UAE are such rivals that the Saudis actually try to have an economic blockade against UAE. Both countries vie for the favor of America's government and public, and UAE has the advantage of having guidance from perhaps the strongest PR executive in the Middle East, formerly the top guy at al Jazeera.

HISTORY IS ON THE SAUDI SIDE. In 2003 UAE spent literally a billion (with a "b") on health research to benefit the world. But the royal family ran the project, no one may have told them that give and ye should receive, so they did almost no PR and got almost no public appreciation. At the same time, Saudi Heavy Industries retained Washington-wise Burson-Marsteller and got all kinds of benefit. The classic Burson objective is always to not just get coverage but in their words "move the needle".

SOCIAL MEDIA OPPORTUNITIES. The social media of today didn't exist years ago and now empower a top PR firm to reach scores of millions of Americans again and again to make a key point. And interest-specific social media can have exceptional impact which is why social media (except during the recently begun fuss) attracts many more marketing billions each year than old media.

THE DIFFERENT SCIENCE APPEALS. While F-H can get all kinds of gee-whiz coverage on "look how great UAE is for reaching Mars," another PR firm can get the Saudis more motivating coverage. Saudi Arabia has some of the world's best doctors because the royal family sends over 60,000 students a year to American colleges with some of the smartest Saudi kids going on to to the best U.S. and European medical schools. So a Saudi-backing PR team can make the point—in this day when remdesivir is a big hope in the war on Covid-19—that Saudi doctors were writing medical articles FIVE YEARS AGO on the effectiveness of remdesivir and are doing more work on it now.

It could happen. We'll see. It would be nice to get out of the house more safely.

Ronald N. Levy

says:

Correction: Saudis and the UAE are rivals for our affection but the economic blockade effort is against Qatar.

Ronald N. Levy

says:

PS – One of the top Saudi doctors whose articles on combatting the coronavirus have appeared for many years on the American government's PubMed website, His name is Tawfiq or Al-Tawfiq. pubmed.ncbi.nlm.nih.gov/?term=tawfiq