This is what journalists really want from PR pros, according to Cision survey
Here's a rundown of what journalists say they do and don't expect from PR pros.
Journalists and PR pros can sometimes have a tumultuous relationship. Journos want to dig deep into stories, often asking questions that PR people can't or won't answer, while PR pros are used to being ghosted after sending a pitch.
A new report from Cision reveals exactly what journalists want from PR pros — and how communicators can help make reporters' lives easier and increase their chances of getting ink.
Perfected press releases
News announcements and press releases topped the list of what content journalists want to receive from PR pros, with 76% of poll respondents choosing it as their No. 1.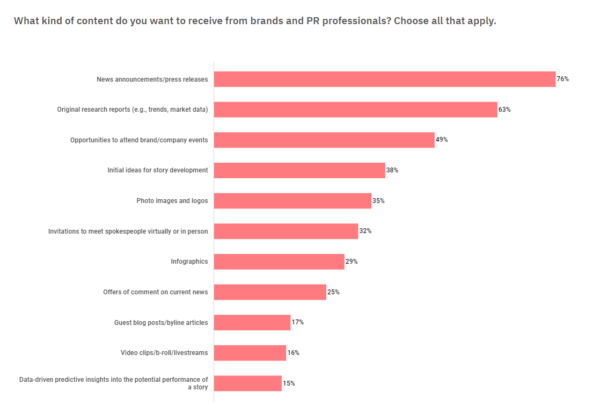 Additionally, more than one-third of journos (37%) named press releases as the most useful way to generate stories and story ideas, followed by industry experts and major wire services like the Associated Press and Bloomberg (and yes, you should be pitching AP reporters, too!)
Despite this reliance on press releases, surveyed journos say that just 1% of the pitches they receive are relevant to their work.
"As one travel industry journalist put it: 'Take the time to research the journalist you are pitching… When I do get that rare pitch that shows me that the PR pro has actually viewed my work, they've got my attention,'" the report says.
Journalists say the types of content least useful to them are guest blog posts, video clips and B-roll, and predictive insights into the potential performance of a story.
Have you nailed down your press releases? Then maybe it's time to up your social media relations game.
An understanding of journos' goals
A whopping 63% of journalists named understanding a reporter's target audience as the No. 1 thing PR pros can do to make their jobs easier. It's a good reminder to communicators that the intended target of your pitch isn't the reporter — it's the reporter's audience.
In newsrooms, time is of the essence. Journalists are often working on very tight deadlines and are sometimes expected turn around stories in as little as an hour. Fifty-seven percent of journos said that providing data and expert sources is a key way in which PR pros can make their jobs easier. It's essential for PR pros to understand that when journalists reach out, they expect to be responded to quickly.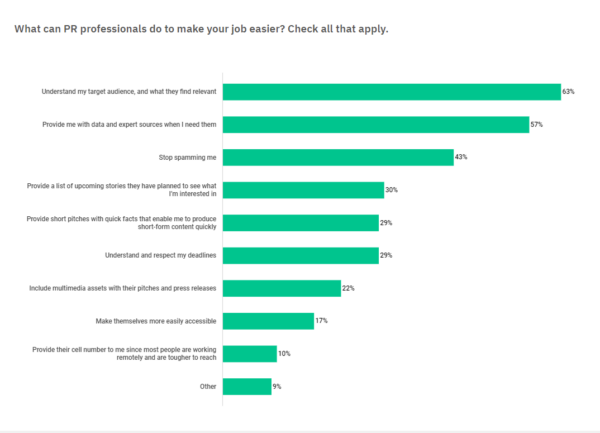 Twenty-nine percent of journalists said that understanding and respecting deadlines is a surefire way for PR pros to make their lives easier. The same number said they valued shorter pitches with quick facts — those types of pitches make it easier for a journo to create quick, short-from content.
From the report:
As one frustrated respondent wrote, "Don't offer a source for a time-sensitive piece without checking with the source. I can't tell you how many times someone offers a source on breaking news and then gets back to me and says that person won't be available for another week/days after all. Very aggravating!"
Courteous and professional communication
The report also covers what not to do when working with journalists. Cision asked journalists what kind of behavior would cause them to block or blacklist a PR pro, and spamming them with irrelevant pitches tops the list. Nearly three-quarters of journalists (74%) say they won't tolerate it. So, if your pitches aren't top-notch, there's a good chance anything you're sending is going straight to spam — or even worse, trash.
Next on the list is providing incomplete or inaccurate information, with 60% of journalists saying they'd block a PR pro for it.
"Given how critical credibility and audience trust is for the media, it should come as no surprise that 60% of journalists find this inexcusable," the report says.
Other PR faux pas include sending pitches that are too promotional or clickbait-y, following up too many times and calling journalists by the wrong name. (My name is Emma, not Emily.)
And once your pitch has successfully landed with a journalist, it's important to back off.
"I'm now blackballing PR people who contact me because they want a sentence rephrased to reflect corporate messaging goals, and frame this as a 'correction,'" said one of the report's journo sources. "This is happening more often, and it absolutely is intolerable."
COMMENT
4 Responses to "This is what journalists really want from PR pros, according to Cision survey"
Emma (not Emily),

Great article today. I work at a PR and marketing agency in Southwest Florida and this will certainly come in handy for my colleagues and me. Much of what you wrote I have been preaching about but not everyone gets it, i.e. know your journalist, know their target audience, don't send sales pitches, etc. Glad to see that the survey confirms what I've been saying.

I've been reading your work lately and like what you do. Keep it up. Have a great day.

Sincerely,
Josh Milton
Emma Atkinson

says:

Josh, thanks so much for the feedback! Always appreciate a kind word. Have a good one!
Brad Fisher

says:
1. The release must be correct. I'm amazed how many AP errors or even inconsistencies within a release I find. The deal is the media outlet should have confidence they could copy it and paste it and it be righteous. You're supposed to be a professional. Know the style, follow it and proofread. Don't make me pick up your trash.
2. Make your news subsidy accessible. Body of the email is good. A Word file is OK. A PDF will work, but I have to go into it and copy the guts out of it. But I've had some send a release as some crazy attachment I can't get into or even as a jpg. They wanted all the sponsor logos to look pretty, so they printed it, scanned it and sent as a pdf. What am I supposed to do with that? Unfortunately, I really needed the info, so I had to retype it. With smoke coming out of my ears. But I deleted several later releases from this source as passive aggressive revenge.
3. Make yourself (or your source) accessible. As noted in the story, be ready to respond if your pitch works. I too have found that when I take the bait, the source is unavailable. Left hand, meet right hand.
Thank you for the survey information. For decades, I've been advising clients and PR colleagues that it is not only "Who, What, Where, When, and Why" that creates an effective news release or story pitch. Often, the most important question to answer for a reporter, editor, or content producer is "So What?"