Twitter offers permanent WFH, Kaiser Permanente uses esports to promote mental health, and how consumer behavior hinges on trust
Also: Pedigree offers virtual dog adoption through Zoom calls, Instagram introduces anti-bullying features, authenticity reigns for purpose-driven messages, and more.
Hello, communicators:
Pedigree is offering what it promises to be "the best Zoom meeting you have all day" with its new campaign called "Zoom Dogs." People can virtually meet shelter dogs, ask questions and adopt them online through participating shelters (currently, Pedigree is partnering with Nashville Humane Association):
The live video calls have also been posted to Pedigree's Facebook page, attracting additional views and engagement:
Dogs on Zoom is happening now! To meet and adopt shelter dogs from Nashville Humane Association visit meetyournewdog.com to enter the Zoom meeting.

Posted by Pedigree US on Monday, May 11, 2020
The effort is a brilliant way to support trending consumer behaviors with online platforms (shelters across the United States have reported pet adoption booms during COVID-19). It's also a CSR effort that ties to Pedigree's brand and stands out from other community efforts. Think about ways you can offer a service or assistance in a similar fashion, to help your organization break through the noise.
Here are today's top stories:
Twitter to employees: Work from home permanently
The social media platform said its workplace measures while staff sheltered in place have been successful, and said that while "opening offices will be [its] decision, when and if [its] employees come back, will be theirs."
In a blog post, Twitter wrote:
We were uniquely positioned to respond quickly and allow folks to work from home given our emphasis on decentralization and supporting a distributed workforce capable of working from anywhere. The past few months have proven we can make that work. So if our employees are in a role and situation that enables them to work from home and they want to continue to do so forever, we will make that happen. If not, our offices will be their warm and welcoming selves, with some additional precautions, when we feel it's safe to return.
Twitter also said it plans to reopen its offices in a "careful, intentional" and "gradual" way, probably in September 2020. Business travel is mainly off the table until that time, and Twitter is holding no in-person company events for the remainder of the year.
Why it's important: COVID-19 has changed the workplace landscape permanently, with many experts and analysts predicting that organizations across industries will adapt at least a partial work-from-home offering. As your organization decides what the future holds for its employees, make sure you're continuing to communicate and support them, as doing so will boost loyalty. Twitter's announcement came with a fitting hashtag: #LoveWhereverYouWork.
---
TACTICALLY SPEAKING
No Kid Hungry recently rejected a $200,000 donation from rapper Daniel Hernandez, known as Tekashi 6ix9ine. In March, the rapper was released four months early from a federal prison, where he is serving the rest of his racketeering sentence through home confinement.
6ix9ine is known for his controversial past. In 2019, he pleaded guilty to a string of gang robberies and shootings and agreed to testify against his former associates in the gang Nine Trey Gangsta Bloods. He was sentenced to two years in prison. In 2018, he was sentenced to probation for a conviction stemming from the use of a child in a sexual performance.
The nonprofit organization told USA Today:
"We are grateful for Mr. Hernandez's generous offer to donate to No Kid Hungry but we have informed his representatives that we have declined this donation. As a child-focused campaign, it is our policy to decline funding from donors whose activities do not align with our mission and values."
The nonprofit's decision underlines the importance of researching those with whom you employ or partner, whether through an influencer campaign or a high-visibility donation. In today's "call-out culture," your organization can quickly be questioned for a move that doesn't align with its core values.
---
MEASURED THOUGHTS
In its "Special Report: Brand Trust and the Coronavirus Pandemic," Edelman reported that 33% of consumers have persuaded others to stop using an organization that they felt didn't respond appropriately during COVID-19: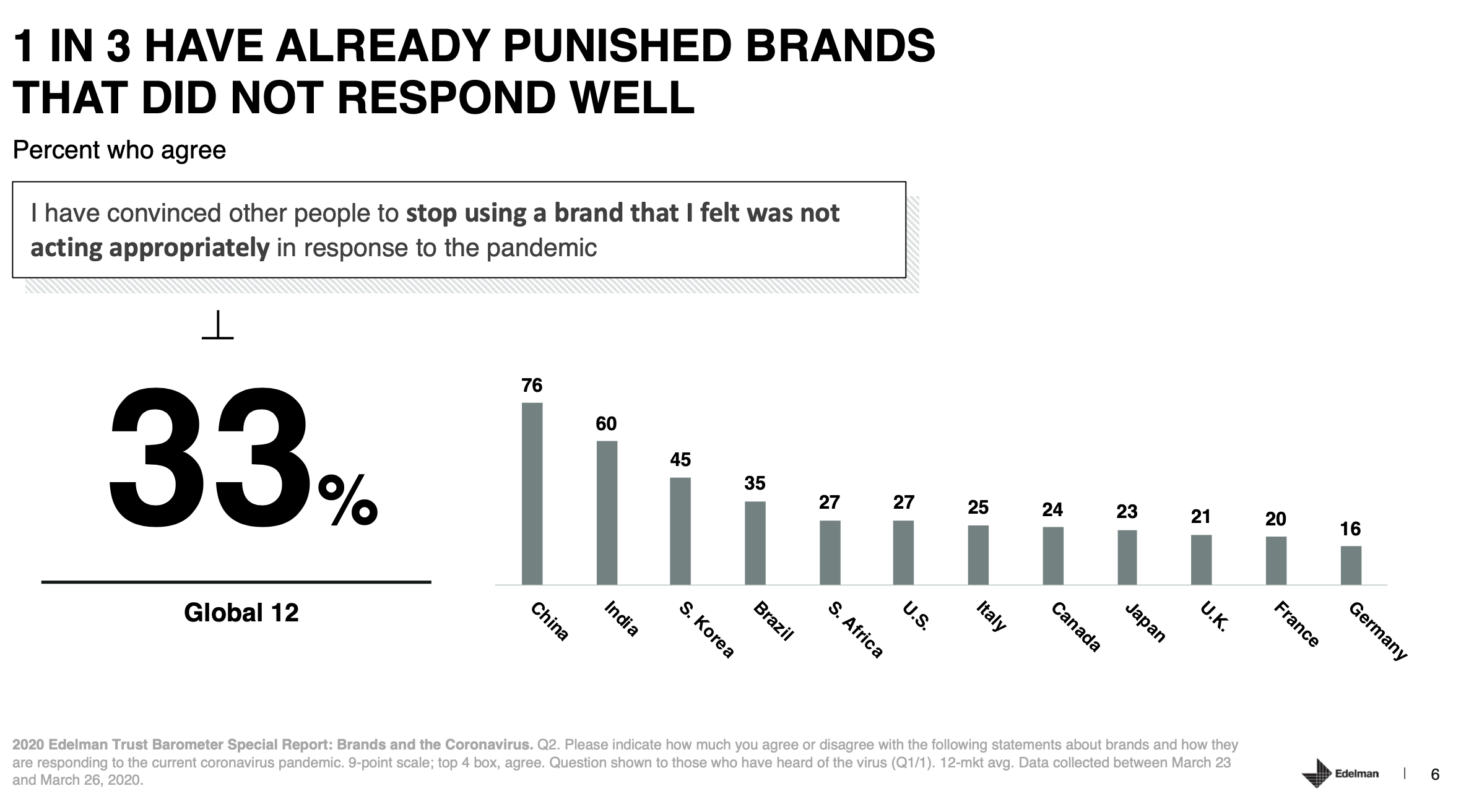 The upside for PR pros is that 60% of consumers are turning more than ever to the brands they trust—both for purchases and engagement: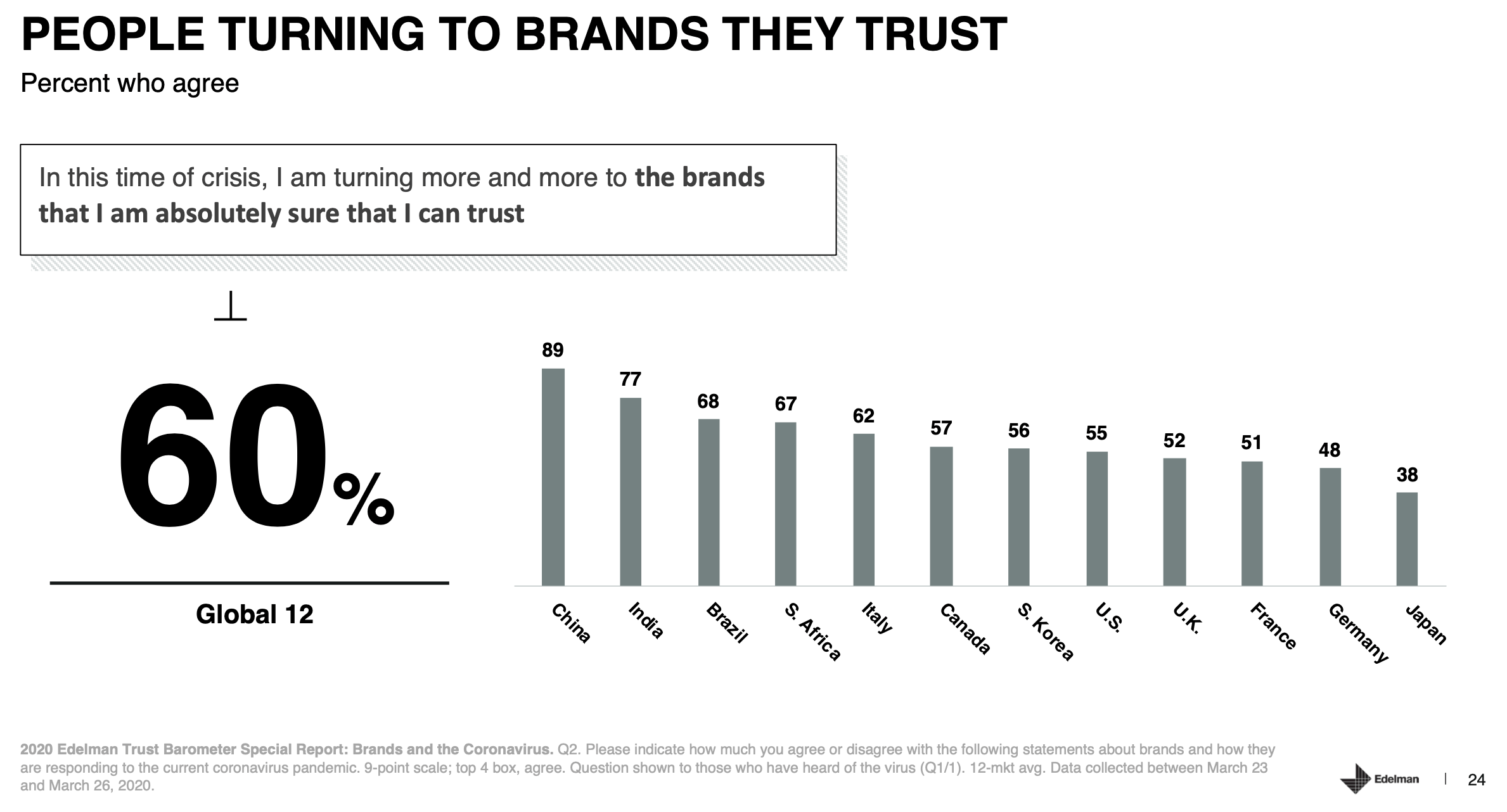 You can read the full report here.
You can also learn more about these findings during PR Daily's Media Relations & Measurement Virtual Conference, May 14-15. Alex Heath, executive vice president and group head for business + social purpose at Edelman, will join Miri Rodriguez, storyteller and head of the global internship program at Microsoft, for a discussion about purpose-led initiatives throughout COVID-19 and beyond. Register here.
---
CRISIS LEADERSHIP BOARD
Looking for more insight on how to address the current global crisis and lead your organization into a strong recovery?
Join Ragan's Crisis Leadership Board to network and brainstorm with peers, get the latest intelligence and research, and start to strategize for the future of your organization.
Learn more about this exclusive membership here.
Kaiser Permanente teams up with esports' Cloud9
The health care organization has partnered with the esports company on its "Presence of Mind" initiative, which seeks to strengthen mental and emotional health. The issue is especially relevant throughout the gaming community.
This initiative with Cloud9 pairs Kaiser Permanente mental health experts and clinicians together with athletes, coaches and staff to engage youth and young adults in mental health conversations in the places where they are spending their time.

Key components of the initiative will include mental health training for Cloud9 players and staff, a new content series on the gaming platform Twitch, and a community moderator training and engagement program. The first phase will kick off in May 2020 with Cloud9's League of Legends team, currently ranked number one in North America and playing an esport that draws the largest viewing audience in the world.
Why it matters: As stay-at-home measures continue, many people's mental and emotional health has become even more challenged. The Trevor Project, a nonprofit which offers crisis services to LGBTQ youth, reported its call volume doubled within the first month of shelter-in-place edicts. As you look for opportunities to give back to your employees and community, consider mental and emotional wellness initiatives, as well as relief aid.
---
SOCIAL BUZZ
Instagram launched new features aimed at fighting online bullying and making the social media app more positive. Users can now delete up to 25 comments at once, as well as restrict or block more than one account with one move.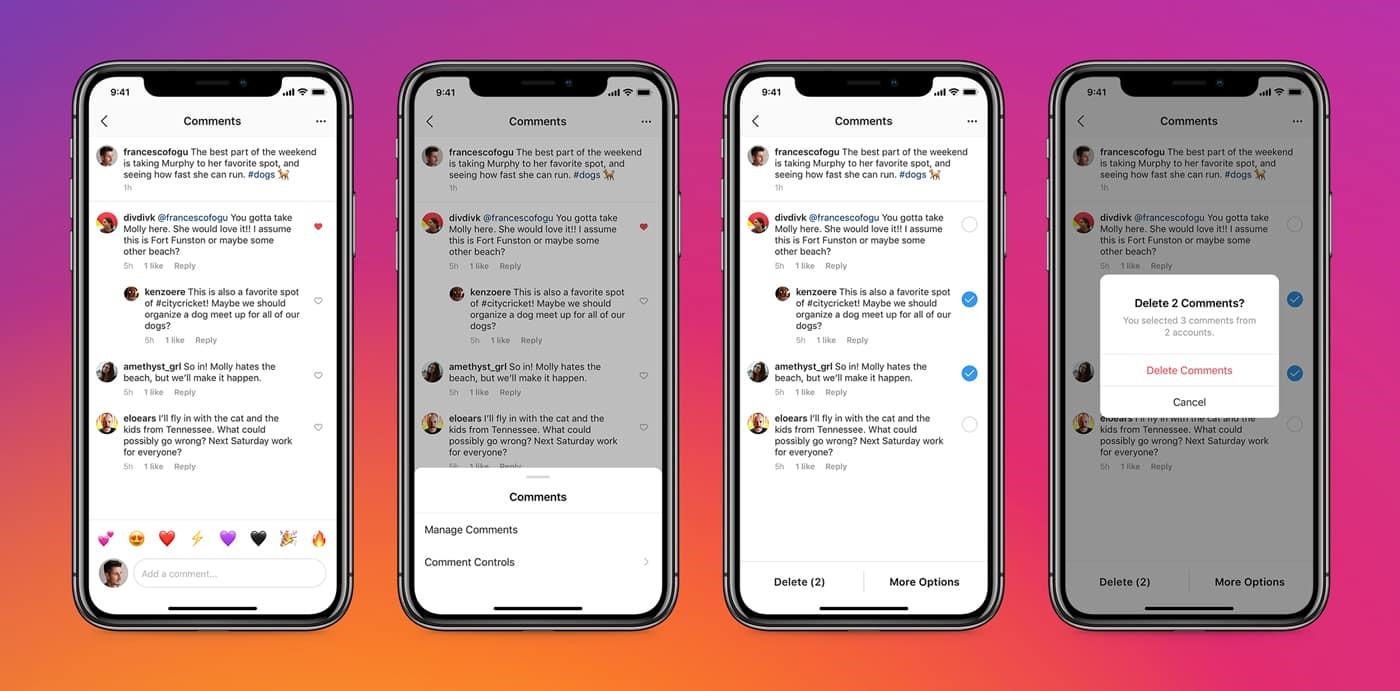 Instagram users can also choose who can tag or mention them within comments, captions or Instagram Stories.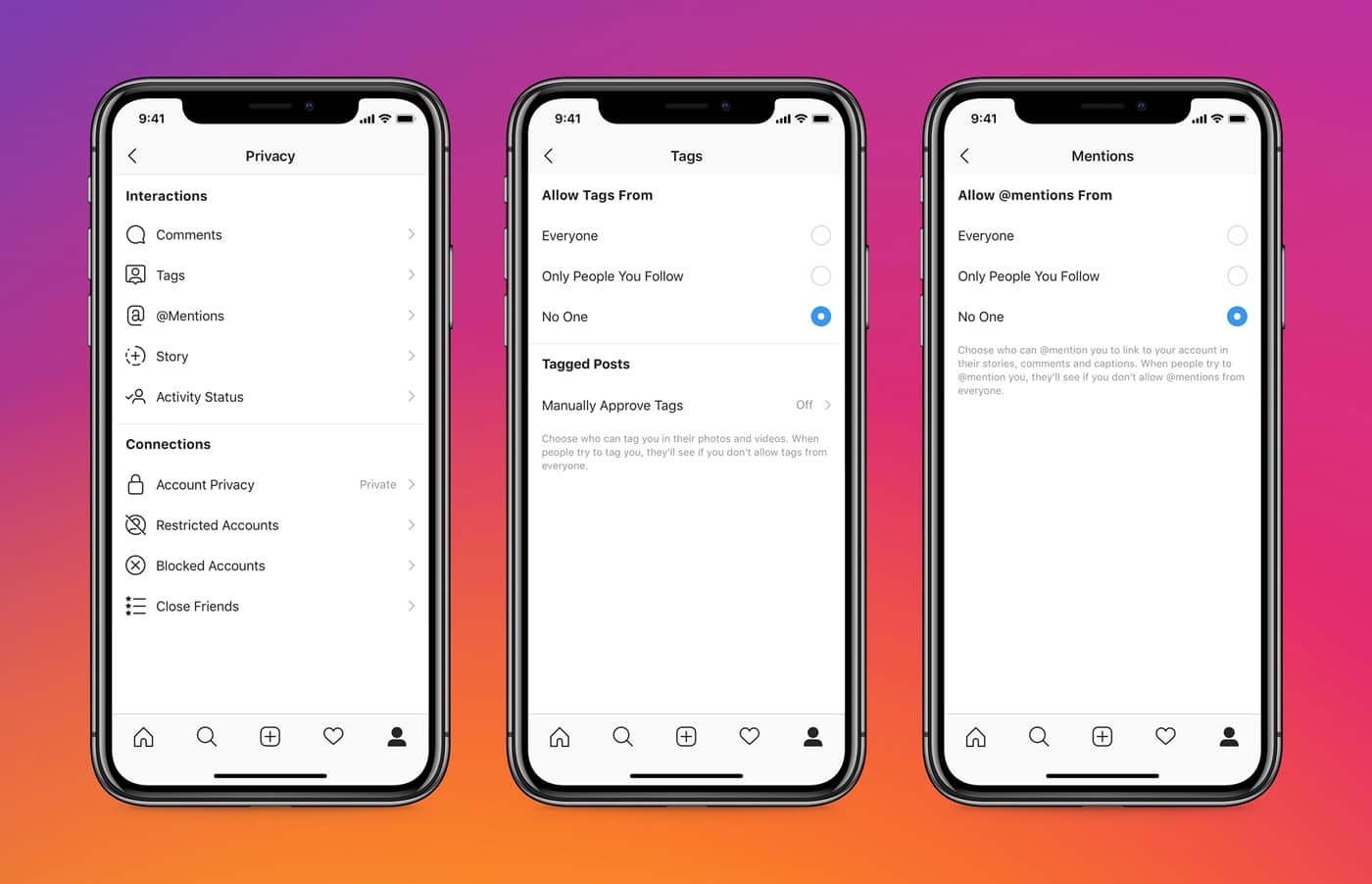 Though the features are meant to help individuals create a safe space on Instagram, brand managers can use them to cut down on interactions with trolls and repeat offenders. However, don't mistake criticism against your organization for bullying. Know when to listen and respond, vs. when to ignore.
---
WHAT YOU SAID
We asked what you consider the most important elements of purpose-driven messaging, especially as brand managers focus on social purpose and their actions within their communities during COVID-19. Nearly 70% of you said authenticity is crucial, and almost 14% said the messages should be relevant to your brand. Eleven percent of you said timing makes all the difference:
As many organizations double-down on social purpose and purpose-driven messaging, what are the most important elements for these kinds of messages? Share your thoughts with our hashtag #DailyScoop.

— PR Daily (@PRDaily) May 12, 2020
PR pro and host of the Confident Communications podcast Molly McPherson reminded us that you can't sell audiences on a message that's not believable:
All four choices are important, but I default towards authenticity. You can't sell a message if no one believes it. Organizations that illustrate how they serve audiences with authentic (truthful) messaging fulfill a purpose instead of promoting the idea of it alone. #DailyScoop

— Molly McPherson, APR (@MollyMcPherson) May 12, 2020
---
SOUNDING BOARD
Organizations across industries are starting to reopen with social distancing and other guidelines in place, while countries and states plan to open again. How much of your focus is on recovery communciations?
As countries, states and organizations across industries reopen (or make plans to reopen), how much of your focus is on recovery communications?

Tell us how you're handling the next #COVID19 comms stage as uncertainty continues. We'll share in tomorrow's #DailyScoop.

— PR Daily (@PRDaily) May 13, 2020
Share with us how you're handling communications as uncertainty continues through our Twitter Poll and with our hashtag #DailyScoop.
COMMENT