Uber highlights safety precautions, Condé Nast lays off 100 employees, and 44% of people talk about COVID-19 'most or all of the time'
Also: UK fragrance company offers 'pre-quarantine' scents, Ice Breakers reminds people to #MintBeforeYouMask, Headspace offers free subscription to unemployed consumers, and more.
Hello, communicators:
Hershey's, which owns Ice Breakers Mints, is thanking consumers for wearing a mask—along with suggesting a mint to cut down on "mask breath":
Ice Breakers' social media team has been reaching out to Twitter users who join the conversation under the hashtag #MintBeforeYouMask:
We agree, it is VERY real! Thanks for wearing a mask to protect others. Don't forget to use a mint to protect yourself #MintBeforeYouMask #MaskBreath

— Ice Breakers (@IceBreakersMint) May 1, 2020
The effort is a unique way to highlight a product that has seen declining sales during COVID-19 in a way that's relevant to the current crisis and appropriately humorous. Take a nod from the team's balanced messaging to inspire your next branding push.
Here are today's top stories:
Uber touts safety initiatives
 The ride-hailing startup recently released new policies and procedures designed to protect both drivers and passengers, including requiring masks, limiting individual rides to three passengers each, and not allowing people to ride in the front seat.
We're announcing a range of new initiatives to help keep our community safe when riding and driving with Uber in the US:

🔘Face covers or masks are required for drivers & riders 
🔘No front-seat passengers are allowed
🔘Added safety checklists
🔘New safety features in the app

— Uber (@Uber) May 13, 2020
In a press release, Uber wrote:
Our new technology will verify if the driver is wearing a mask by asking them to take a selfie. After we verify the driver is covering their face, we'll let the rider know via an in-app message. (Unlike our Real-Time ID Check system, this technology detects the mask as an object in the photo, and does not process biometric information or compare mask selfies to driver photos in our database.)
In the United States, Canada, India and most of Europe and Latin America, drivers who are not wearing a mask or face cover will not be able to go online beginning next Monday, May 18. We will maintain this policy through the end of June, and then reassess based on local public health needs. We've designed this feature to adapt to changing public health guidance and regulations as the pandemic evolves.
Why it's important: Preparing and executing recovery and reopening plans during COVID-19 requires frequent and transparent communications to both employees and consumers, both of whom are focused on their safety and how they can remain protected. Make sure you're highlighting this in your messages, while keeping your audience the focal point of your campaigns.
---
TACTICALLY SPEAKING
UK home fragrance company Earl of East and creative Studio Uncommon recently introduced a limited candle collection called "Scents of Normality." Each of the three candles reflect aromas sniffed pre-sheltering in place, and sales support Hospitality Action, a charity supporting UK hospitality workers affected by the crisis.
Each of the scents' descriptions take a humorous look at life pre-COVID-19. Here's how Earl of East describes "The Cinema" candle:
[A] heady fusion of salt popcorn, foam banana and glistening hot dog, enveloped in a fug of recirculated air. A waft of cloistered contraband chicken meets the allium tang of adolescent boredom, laced with juicy notes of melting slushie syrup. An evocative blend, with just the faintest whisper of third base in the back row.
"The Festival" is described as such:
[A] floral haze of cut grass, burned skin and sun-warmed cider, with just the merest shimmer of distant portaloo. Top notes of burger van and singed candyfloss bloom above an earthy bed of unwashed hair and dew-damp sleeping bag. A resonant bouquet, tied with a ribbon of sweet cannabis smoke.
"The Local" smells like this:
Evokes the classic British boozer. Top notes of spilt beer, hair pomade and chip fat jostle amongst a pungent base of varnished teak and sticky carpet. A waft of testosterone gives way to the ersatz-lemon of a urinal block, as the salted breath of pork scratchings is soused in cheap rosé and freckled with cigarette ash. A potent fragrance that lingers, like the melancholy ramblings of an old inebriate.
You don't have to create a new product to provide comfort during the crisis. Look at ways you can virtually connect with your community and partner with nonprofits and relief efforts in meaningful ways.
---
MEASURED THOUGHTS
A recent Pew Research Center survey revealed that though many consumers are taking breaks from COVID-19 news, 44% say they're talking about the outbreak most or all of the time. Forty-five percent say that they talk about COVID-19 "some" of the time, and women are more likely than men to discuss it (47% vs. 41%).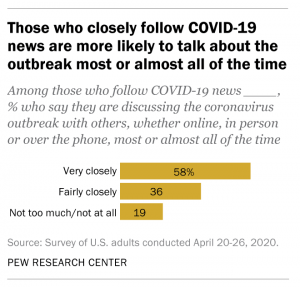 Image courtesy of Pew Research Center.
The results highlight an opportunity for communicators to connect with consumers during the crisis, especially as audiiences struggle to adjust to the "new normal." Though PR and marketing campaigns and messages have been altered to be sensitive to the crisis, more brand managers are breaking their silence online and across channels.
---
CRISIS LEADERSHIP BOARD
Looking for more insight on how to address the current global crisis and lead your organization into a strong recovery?
Join Ragan's Crisis Leadership Board to network and brainstorm with peers, get the latest intelligence and research, and start to strategize for the future of your organization.
Learn more about this exclusive membership here.
Condé Nast lays off 100 employees
The publisher of Wired, Vanity Fair, The New Yorker, GQ and more announced it was cutting nearly 100 jobs because of decreased advertising revenue during COVID-19.
The Wall Street Journal reported:
In a memo to employees, Chief Executive Roger Lynch said a similar number of people would be temporarily furloughed and a small number would have reduced work schedules.
"These decisions are never easy, and not something I ever take lightly," Mr. Lynch said in the memo. "I want to be transparent about the principles and approach we used."
Other media companies and publishers, including Vox Media, Group Nine Media, and Buzzfeed have announced similar layoffs as newsrooms continue to shrink during the ongoing crisis.
On March 25, BuzzFeed CEO Jonah Peretti announced tiered salary reductions, which ranged from 5% to 25%, according to a memo obtained by CNN Business. Peretti also said in the memo that he would not take a salary "until we are on the other side of this crisis."
… On May 6, Peretti said in a staff memo that the company was facing "even greater revenue declines than expected" and in order to keep losses under $20 million the company had to make further cuts. Peretti announced that day furloughs for 68 employees, who worked on the business side and studio team, for three months starting May 16. Peretti also said salary reductions would be extended through the end of 2020. At that time, Peretti said the company would negotiate with BuzzFeed News Guild about cost reduction for the news division.
Why it matters: Not only are headlines dominated by COVID-19 news and information, but journalists are under more pressure than ever as news media outlets grapple with loss of advertising and subscription revenues. Remember that when you're preparing a pitch or following up with a reporter. Tailor your stories to the publication and ask how you can help.
---
TACTICALLY SPEAKING
Meditation and mindfulness app Headspace is offering a free one-year subscription to people in the United States who have lost their jobs during COVID-19.
On May 18, the company is also launching six additional meditations as part of its "Living Through Unemployment" collection. The efforts fall under the company's COVID-19 initiative, "Headspace Promise."
In a press release, Headspace said:
"Job loss can have a substantial negative impact on people's self-efficacy as well as their sense of control, which are two important anchors of mental health," said Dr. Megan Jones Bell, Chief Science Officer, Headspace. "As a company committed to advancing the field of mindfulness and meditation through clinically-validated research, we know that Headspace meditations have been shown to have favorable outcomes of interventions on key measures like reduced stress, reduced irritability, decreased aggression, and increased resilience. These are really powerful markers in demonstrating how we can support the mental health of those experiencing job loss."
For brand managers looking for ways to help out their communities and make their organizations stand out, think past donations and offer products, services or partnerships that can help consumers' mental health, financial problems, wellness aims and more.
---
WHAT YOU SAID
We asked how much of your focus is on recovery communications, as organizations reopen and both countries and states make plans to relax or remove shelter-in-place orders. Roughly 29% of you are all-in, focusing on the safety messages and relaying to audience members the new procedures you're implementing.
In comparison, 29% are putting efforts into supporting employees and ensuring that working from home continues as smoothly as possible. Nearly 24% are balancing the focus between the two.
As countries, states and organizations across industries reopen (or make plans to reopen), how much of your focus is on recovery communications?

Tell us how you're handling the next #COVID19 comms stage as uncertainty continues. We'll share in tomorrow's #DailyScoop.

— PR Daily (@PRDaily) May 13, 2020
Louis De Nolf, general manager of B2B communications agency Duomedia, said efforts should also be placed on building brand awareness as recovery begins:
What about brand awareness to get things going again. How many times can you say you're doing everything you can to respect and maintain everyone's health and well being?

— Louis De Nolf (@ldenolf) May 13, 2020
---
SOUNDING BOARD
Besides crisis communications, what additional skill sets are you strengthening during COVID-19 and as we look to the future of the industry?
Besides crisis communications, what skill set have you been honing the most throughout #COVID19, to prepare for the future?

Tell us what you're strengthening and adding to your toolkit under #DailyScoop.

— PR Daily (@PRDaily) May 14, 2020
Tell us what skills you're strengthening and adding to your toolkit through our Twitter Poll and with our hashtag #DailyScoop.
COMMENT