Uber lays off 3,700 employees, Frontier Airlines' social distancing fee provokes anger, and Kraft Heinz Canada offers ketchup puzzles
Also: One-quarter of consumers think there's too many COVID-19 messages in ads, Spotify tests video podcasts, lessons from GE's failed media relations response, and more.
Hello, communicators:
Kraft Heinz Canada is offering Canadian consumers a respite from quarantine boredom with a contest to win one of 57 of its Heinz Ketchup puzzles:
The 570-piece puzzle is entirely red, like the condiment. All Canadian consumers must to do enter is tell the company whom they'd like to finish the puzzle with, using the hashtag #HeinzKetchupPuzzle. The contest goes through May 8.
The offering is a fun way to underline the brand while catering to the current crisis as people shelter in place. By encouraging conversation, Kraft Heinz Canada's social media team can also reach out for further engagement opportunities.
Here are today's top stories:
Uber lays off 3,700 employees
The job cuts amount to roughly 14% of the ride-hailing company's workforce, and follows layoffs from competitor Lyft as well as Airbnb's announcement that it cut nearly 25% of its positions.
Uber's chief executive, Dara Khosrowshahi, wrote in a memo to employees:
This is not in any way a reflection of these employees' efforts or contributions to getting us to where we are, as a service that everyone associates with movement and earnings opportunities. We wouldn't be here without their efforts and I want to personally thank them for everything they've done for Uber.

… Days like this are brutal. I am truly sorry that we are doing this, just as I know that we have to do this. And while it's easier said than done, we have to keep our heads down and keep executing, because that—and nothing less—is what will keep Uber going and get us to the other side.
Layoffs have now hit Uber, with about 14 percent losing jobs today. Dara's note to employees: pic.twitter.com/6kxpstqhCc

— kate conger (@kateconger) May 6, 2020
Why it's important: As layoffs and other difficult news continues during this crisis, it's more important than ever before to constistently communicate and listen to the members of your workforce. When sharing tough announcements, do so transparently, and drop the corporate speak. Your employees understand the reality and gravity of COVID-19. They want both guidance and compassion from their leaders.
---
TACTICALLY SPEAKING
 Spotify is testing video podcasts with two YouTube content creators, Heath Hussar and Zand Hijazi, hoasts of Zane and Heath: Unfiltered.
 Though Spotify did not confirm a feature beyond the tests nor offer additional comments, The Verge reported:
The global test, which allows the creators to upload their recorded video footage to the app, will show up for 50 percent of the show's Spotify podcast listeners, a source close to Spotify tells The Verge, and videos will only be coming to three recent episodes, numbers 28 through 30. The test doesn't visually indicate which episodes have videos to accompany them; listeners will only know once they tap to press play and they see the video footage at the bottom of their screen. They can tap it to make it full screen.
Communicators should keep their eyes on Spotify for future developments, as this could be another offering to boost branded video and podcast content—both hot formats.
---
HOW WE DID IT
 Sometimes failures can teach you more lessons than your successes. Gary Sheffer, PR professor and president of Spokesman Communications, shared key takeaways from General Electric's media relations misfire in 2011 (during which Sheffer was the organization's chief communications officer).
Learn from his experience by reading his lessons here.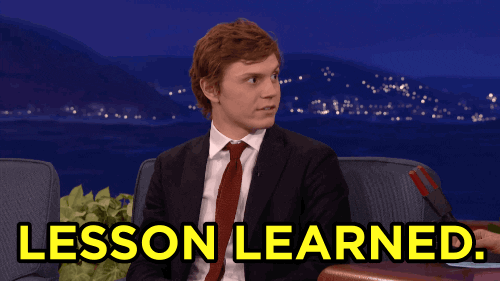 ---
MEASURED THOUGHTS
Pureprofile recently shared the results of a survey that asked what people want from brands as the crisis continues, revealing that one-quarter of consumers think there are too many advertisements that include COVID-19 messaging, and only 12% pay attention to the types of ads.
Though half of the survey respondents said COVID-19 marketing messages are OK, provided it's not insensitive, 48% said brand managers should offer discounts to customers instead, and 43% said organizations should donate to vulnerable members of their communities. Other top priorities include increased capacity in customer service call centers (40%), donations for essential workers (32%), and sharing tips on how to save during the crisis (31%).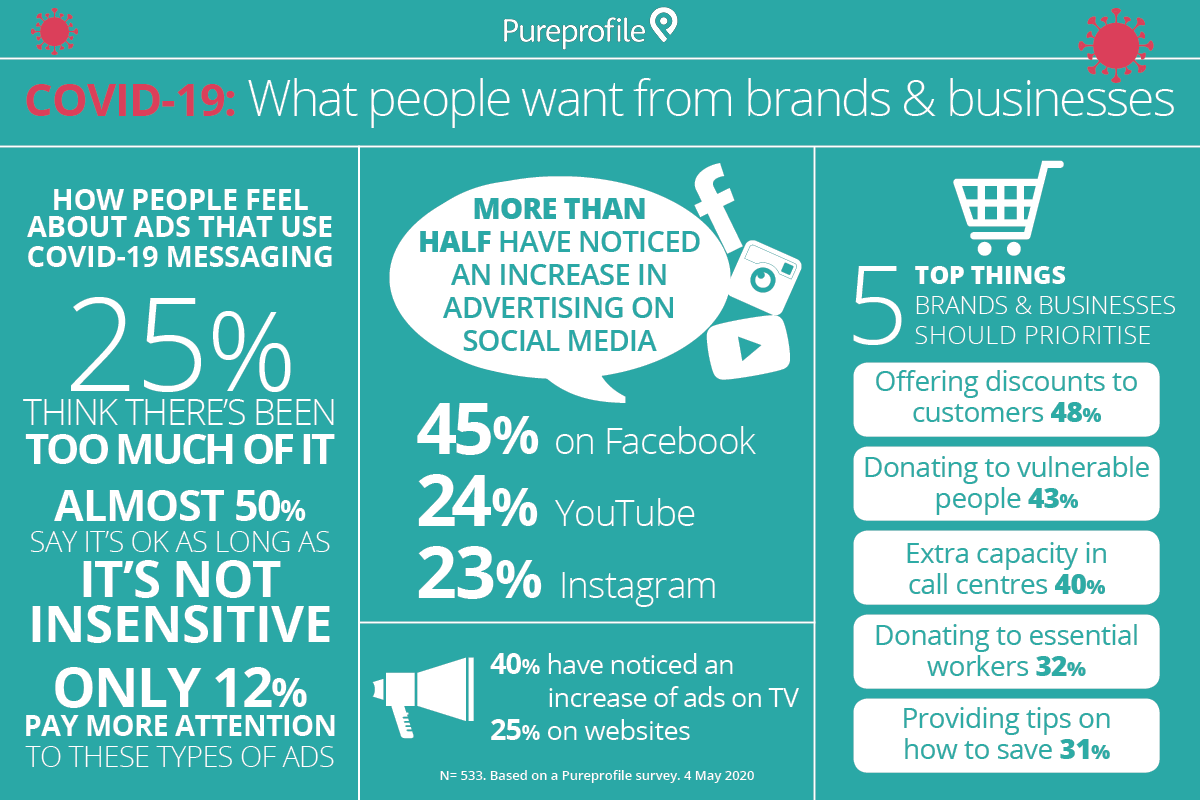 Image courtesy of Pureprofile.
---
CRISIS LEADERSHIP BOARD
Looking for more insight on how to address the current global crisis and lead your organization into a strong recovery?
Join Ragan's Crisis Leadership Board to network and brainstorm with peers, get the latest intelligence and research, and start to strategize for the future of your organization.
Learn more about this exclusive membership here
Frontier Airlines raises ire over social distancing upgrade fee
The airline announced that starting May 8, travelers could reserve a "More Room" assigned seat, which would guarantee a middle seat between them and another passenger. Reserving the seat comes with a price tag starting at $39.
Following backlash from members of Congress, Frontier said it's pulling the fee (though its announcement remains in its newsroom).
"We recognize the concerns raised that we are profiting from safety and this was never our intent," Frontier CEO Barry Biffle said late Wednesday in a letter to three lawmakers. "We simply wanted to provide our customers with an option for more space."
Why it matters: As organizations across industries test new revenue models and adjusted products and services, take care to ensure your offerings won't offend consumers by seeming to profit off the crisis. Airlines have long charged for seat upgrades and assignments, but when placed in the context of social distancing during COVID-19, the announcement comes off as more grostesque than innovative.
---
TAKE OUR SURVEY
We want to know how the current crisis is changing how PR pros see the future of their roles and the industry. Is the path ahead growing ever brighter, or will it be more difficult to walk?
Please take our three-minute survey here.
All answers will be confidential, and you'll receive a copy of the final report as thanks for your time. In addition, one survey participant will be randomly selected to win a complimentary ticket to PR Daily's Media Relations & Measurement Virtual Conference. The survey results will be announced at that event, running May 14–15.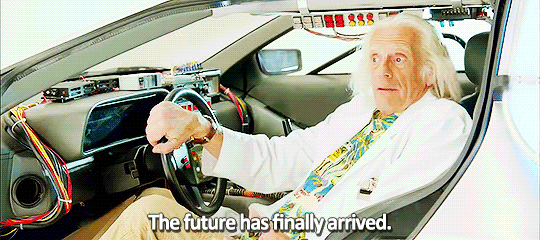 ---
WHAT YOU SAID 
We asked what's taking up your time and focus as you continue to connect to your audiences during this crisis, and rougly 38% of you said creating and sharing content tops the list. Nearly 29% of you are focused on communicating with and supporting your employees, and almost 24% of you are looking at new ideas and ways to increase revenue:
As you continue to connect to stakeholders during #COVID19, especially as people #StayAtHome , what's taking up the biggest portion of your time and focus?

Share your thoughts with us under #DailyScoop.

— PR Daily (@PRDaily) May 6, 2020
---
SOUNDING BOARD
Many of us are staying connected with colleagues, clients and peers through video chats and phone calls as we work from home. Have your meetings increased during COVID-19?
As many of us seek to connect to colleagues, clients and more as we work from home, how many video conferences and phone meetings are filling your agenda?

Weigh in below and share how you're making your meetings meaningful under #DailyScoop. We'll share in tomorrow's roundup.

— PR Daily (@PRDaily) May 7, 2020
Share your thoughts below and tell us how you're making your meetings meaningful under the hashtag #DailyScoop.
COMMENT