Walmart, Walgreens and CVS unlock 'multicultural' products, Lufthansa to lay off 22,000 employees, and companies honor 'Juneteenth'
Also: Sephora commits 15% of its shelf space to black-owned products and brands, Wizards of the Coast removes racist cards, 76% of employees consider racism a workplace issue, and more.
Hello, communicators:
 Sephora has joined the "15% Pledge" and promised to dedicate 15% of its shelf space to black-owned companies and brands:
We're joining @15percentpledge and @aurorajames. We recognize how important it is to represent Black businesses and communities, and we must do better. So, we're starting now. https://t.co/rmaiUmX2hW pic.twitter.com/3EdsJShRXh

— Sephora (@Sephora) June 10, 2020
As more consumers call for change, consider how you can do more than donate. This might be accomplished by amplifying minority voices on your social media accounts or through strategic partnerships.
Here are today's top stories:
Walmart, Walgreens and CVS stop locking down care products for minority consumers
 The organizations said they will stop keeping personal care items targeted to African American customers behind locked cases. Though Walmart previously said the decision should be left up to individual store managers, it reversed course after CBS Denver reporter Tori Mason tweeted a video that increased criticism over the practice.
The company on Wednesday said about a dozen of its 4,700 stores nationwide placed multicultural hair care and beauty products under lock and key.

"We're sensitive to the issue and understand the concerns raised by our customers and members of the community," Walmart said in a statement.
A Walgreens spokeswoman wrote in an email on Thursday that the company was also discontinuing that practice.

"We are currently ensuring multicultural hair care and beauty products are not stored behind locked cases at any of our stores, which has been the case at a limited number of our stores," the spokeswoman, Emily Hartwig-Mekstan, wrote.
Why it matters: Listening to both consumers and employees is crucial as Black Lives Matter protests continue and organizations navigate how to commit to meaningful change. It's also crucial to increase diversity and inclusion within your workforce to help you accomplish these aims. You might not consider a business practice or a campaign image to be discriminatory, but turning to colleagues from different backgrounds and experiences can reveal blindspots and potential pitfalls, helping you avoid future criticism and crises.
---
TACTICALLY SPEAKING
 Wizards of the Coast recently announced it was removing cards from its Magic: The Gathering game that "are racist or culturally offensive":
We are starting a review of every card we have printed. This first pass isn't meant to be an exhaustive catalogue of every problematic card in Magic's history, and we will continue to take actions on similar cards in the future.

— Magic: The Gathering (@wizards_magic) June 10, 2020
Removed images including "Cleanse," "Pradesh Gypsies" and "Invoke Prejudice" will now come with a statement that, in part, reads: "Racism in any form is unacceptable and has no place in our games, nor anywhere else."
Speaking of its "Invoke Prejudice" card, which shows a group of Ku Klux Klan members, Wizards of the Coast wrote:
The card is racist and made even worse by the multiverse ID it was unfortunately codified with years ago. There's no place for racism in our game, nor anywhere else.

But to that point, it should never have been published nor placed in the Gatherer. And for that we are sorry. The events of the past weeks and the ongoing conversation about how we can better support people of color have caused us to examine ourselves, our actions, and our inactions. We appreciate everyone helping us to recognize when we fall short. We should have been better, we can be better and we will be better.
Speaking out against racism and pledging to do better requires transparency and sincerity, not a spotless corporate record. Don't avoid being part of a historic tide of change. If your organization has erred in the past, acknowledge the transgression(s) and then outline what you will do to ensure it doesn't happen again, along with your commitment(s) to support diversity and inclusion efforts.
---
MEASURED THOUGHTS
Clutch revealed in a recent survey that 62% of employees in the United States support nonviolent protests supporting the Black Lives Matter movement—and nearly half (49%) say their organizations have addressed the protests, whether through public statements, donating to causes, or openly speaking with employees.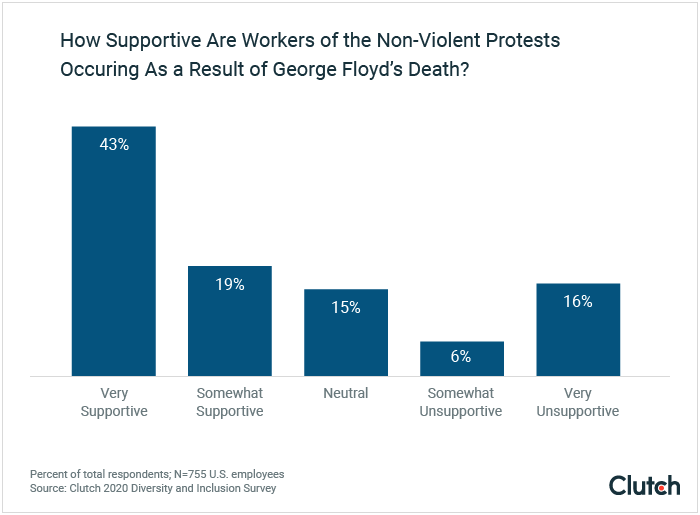 Though 76% of employees surveyed said racism and discrimination is an issue in workplaces across the U.S., 44% think it's an issue within their organizations.
You can view the entire survey findings here.
---
CRISIS LEADERSHIP BOARD
Looking for more insight on how to address the current global crisis and lead your organization into a strong recovery?
Join Ragan's Crisis Leadership Board to network and brainstorm with peers, get the latest intelligence and research, and start to strategize for the future of your organization.
Learn more about this exclusive membership here.
Lufthansa to cut 22,000 jobs
 The airline announced half of its impending layoffs will be in Germany. It's currently working with union representatives and aims to announce the job cuts by June 22.
"The aim is to pave the way for the preservation of as many jobs as possible in the Lufthansa Group," the company said.

… Lufthansa labour director Michael Niggemann said: "Without a significant reduction in personnel costs during the crisis, we will miss the opportunity of a better restart from the crisis and risk that the Lufthansa Group will emerge from the crisis significantly weakened."
Why it's important: Though some organizations have re-opened, the COVID-19 crisis continues and most have a long path to recovery. Make sure you're constantly checking in and communicating with your employees transparently, which includes giving them notice before news of layoffs reaches headlines.
---
TACTICALLY SPEAKING
Twitter, Square, Vox Media and Nike have committed to observing "Juneteenth" as an official holiday to commemorate the emancipation of enslaved African Americans in the United States.
Twitter and Square co-founder and chief executive, Jack Dorsey, tweeted:
Both Twitter and Square are making #Juneteenth (June 19th) a company holiday in the US, forevermore. A day for celebration, education, and connection.https://t.co/xmR3fWMiRs

— jack (@jack) June 9, 2020
This: https://t.co/cF8GJ2CidY

And if you're part of a company observing #Juneteenth, add the company name and announcement link here: https://t.co/y0jNgCGz69

— jack (@jack) June 9, 2020
Juneteenth honors the day in 1865 on which, more than two years after the Emancipation Proclamation was issued, Union soldiers landed in Galveston, Texas, and announced the news of the proclamation to enslaved African Americans. That coastal area of Texas was the last to hear that the Civil War had ended two months earlier.
Nike's observance of the holiday is part of its diversity and inclusion efforts.
"When we say that Black Lives Matter, it applies to the world outside of Nike and, importantly, it applies to our Black teammates within Nike. Simply put, we need to hold ourselves to a high standard given the heritage of our company and our brand," said [Nike's chief executive, John Donahoe.]

The $40-billion-in-revenue sportswear giant will also launch a diversity education program next week. The company will offer two weeks of programming and learning opportunities for all employees specific to racial inequality. "Our expectation is that each of us use this time to continue to educate ourselves and challenge our perspectives and learn," said the CEO.
Consider how you can increase diversity and inclusion efforts though education, observances and frank discussions within your workplaces.
---
RESEARCH SNAPSHOT
The COVID-19 crisis has drastically changed the landscape for communicators and PR pros. More than ever before, communicators must gain key skill sets and employ strategic communications and media relations strategies to boost their organizations' coverage, reputation and overall brand.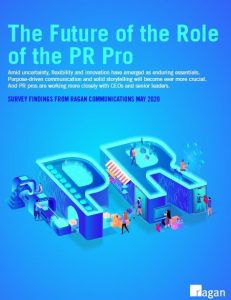 Learn what the 315 communicators we surveyed say about what parts of the PR function are more important than ever, how to adjust for COVID-19, and more with our free report revealing insights that can help you perservere during this uncertain time.
Download your copy of the report here.
---
WHAT YOU SAID
We asked you how to think about shining a light on diverse voices within your organization and the vote was split between respondents who wanted to focus internally and those who wanted to do both internal and external messages at the same time.
No one said that the focus should just be on external signaling:
How are you thinking about making diverse voice more visible within your organization? Are you expanding media training, updating comms plans?

Is you focus internal or external…or both?

Share some of your thoughts with our hashtag #DailyScoop

— PR Daily (@PRDaily) June 11, 2020
---
SOUNDING BOARD
Do you feel like the conversation around diversity at your organization is only focused on external signaling? Are you matching internal action with your messages?
Is your organization's message on racial justice and equity only focused on external signaling? Are you having the necessary internal conversations? Are you taking action?

Share your experience by tweeting us or use our hashtag #DailyScoop.

— PR Daily (@PRDaily) June 12, 2020
Share your experience with us by tweeting @PRDaily with out hashtag #DailyScoop. We'll share on Monday.
COMMENT
3 Responses to "Walmart, Walgreens and CVS unlock 'multicultural' products, Lufthansa to lay off 22,000 employees, and companies honor 'Juneteenth'"
Ronald N. Levy

says:

Top accounts like these could be wise to retain the PR Daily champions, the winners of PR Daily awards, especially those at PR firms so that winners can provide guidance—or that plus execution—as assignments while keeping the jobs they have.

Top marketing executives can learn from top HR execs that although you can't always learn from an interview or presentation which will be the best candidate, it may cost no more to hire a winner or to interview winners and honorable mention winners. These are people wo've already done the work and with exceptional success.

Can you imagine what it could cost, if it were possible, to hire the PR Daily panel of expert to serve on a selection committee for an account that's looking?

Excellent explanation, It's simple and focuses. Keep up the great work!

Your explanation is very neat and clear. I appreciate your work!