What is pre-newsjacking? Here's why you should try it.
Get ahead of the news cycle.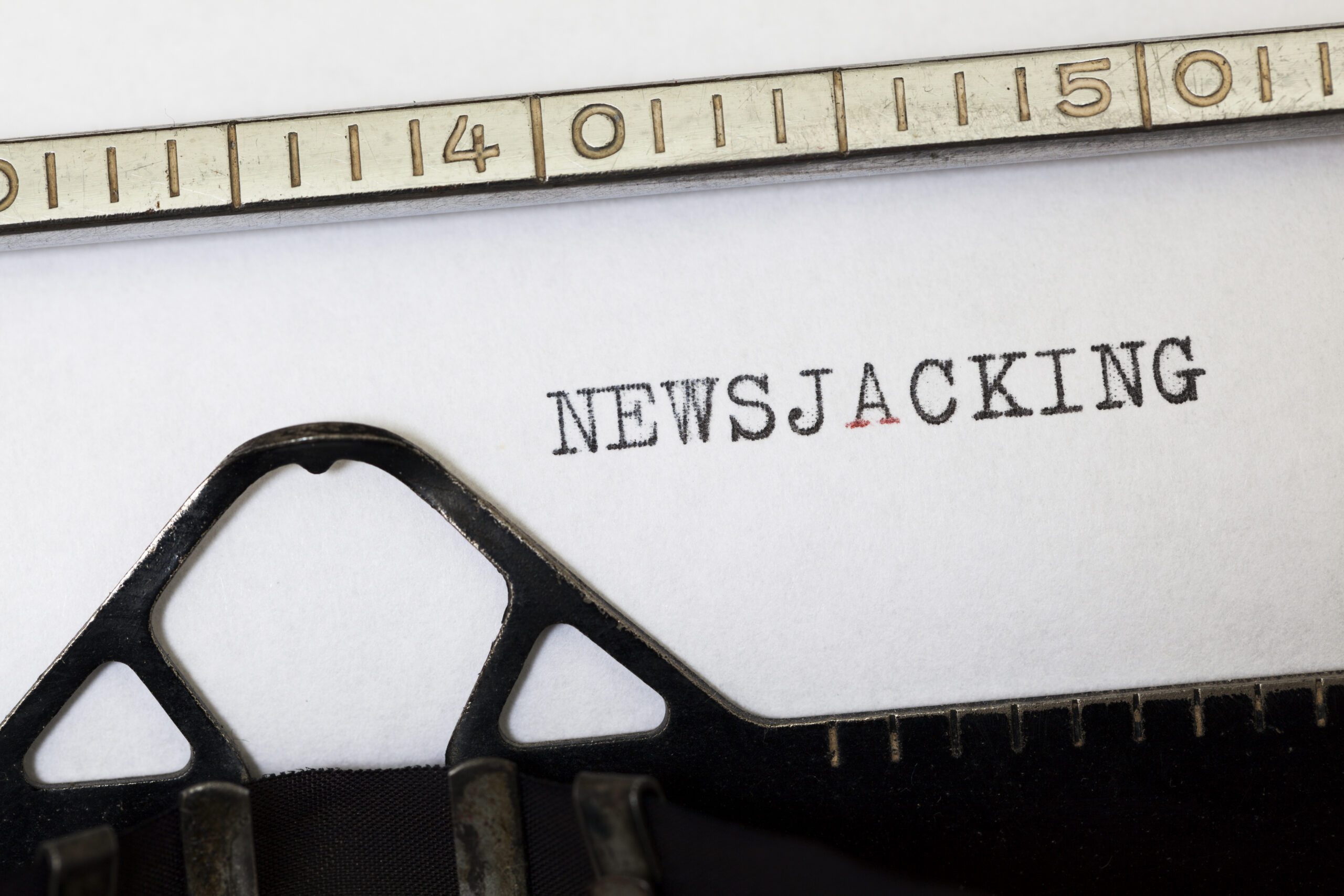 Anyone else feel a little jaded from the volatile news cycle? It's working at its fastest pace ever, posing a new challenge to media pros.
Not only is the pace of news changing, but the state of journalism and journalists is changing drastically. PR pros need to work fast and work ahead in order to get their brand and/or client in those highly coveted media stories. That's why I encourage PR pros to lean in and try pre-newsjacking.
Wait, but what is newsjacking?
Newsjacking isn't a new tactic for those who conduct media outreach. It is a process that describes monitoring news cycles for trending stories and finding opportunities to insert your brand or spokesperson into the narrative. Not only this is great for brand exposure, but also helps with SEO and boosting those highly sought-after search rankings.
Most news experts describe the newsjacking cycle as a bell curve, which you can see below: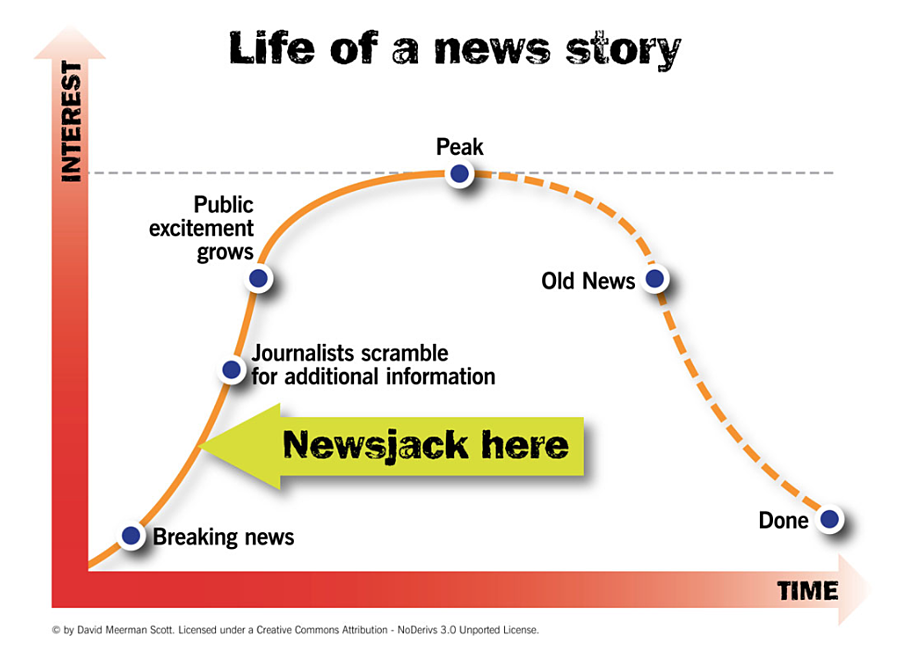 Essentially, this cycle of news is broken down into when news breaks, stories that provide additional information about the news that broke, its peak and then makes its way into old news.
The tricky part about newsjacking is that this cycle can be as quick as two hours … or as long last years. An example of a short newsjacking cycle is when Apple announces its new iPhone launch. While that is news that impacts a large subset of the population, most stories about the new launch only last a at most. However, a long newsjacking cycle can look like the pandemic – a topic that has spanned years and has many peaks and valleys. Brands rely on their media and communications teams to have a close pulse on these cycles and know how to best optimize them to put key brand messages and spokespeople forward.
So, how do I pre-newsjack?
So how do you get ahead of breaking news? You can't always predict when news is about to happen every time, but there are certain instances where you can. For example, some monthly/quarterly pre-newsjacking moments could include the jobs report, earnings, national holidays, heavy periods of travel (i.e. Thanksgiving) and so on.
In order to effectively pre-news jack, you need visual assets, an opinion from your company/spokesperson, communication with your key spokespeople and a robust media list (bonus points for one that includes warm, relevant media relationships). The goal is to have everything in a good spot before news breaks, so you're in a media contact's inbox (remember: most reporters use their inbox like a search engine, so the more relevant keywords you can use in your pitch, the better) for when they need a source or asset.
A real world example
At my last agency, we worked with a health system who had an ambitious goal of securing placements on primetime television and marquee morning shows. As our team was brainstorming ideas on how to make this a reality in late 2021, whisperings of Moderna and Pfizer getting FDA approval for kid's COVID-19 vaccines began. Understanding this was a huge historical moment, we worked with our communications team to turn this into a major media moment for them.
We worked with our onsite team to identify main characters for the human interest component, which in this case were families who were willing to be on camera when their children were vaccinated. These families were all encouraged to share their thoughts about why they were pro-vaccination for their kids. We also lined up and collaborated on a media friendly shot list that included all necessary B-roll and visual assets to send as soon as the vaccine reached necessary approval.
Our media team prepped a list of media contacts at these dream publications that we knew would be interested in resources and assets of this momentous moment, including our warmest media contacts. Lastly, we had regular calls and touch bases with our client contacts to better gauge our progress.
The Friday before the announcement, our team pitched a variety of media contacts at national television stations. We followed up on Monday and Tuesday morning, citing news articles stating that the approval was coming soon. On Tuesday, we had a variety of news outlets express interest in the assets that we would have once it was approved. Tuesday evening, the FDA approved the emergency authorization for the COVID-19 for kids ages five through 11. On Wednesday, we followed up with all of our warm leads and those who expressed interest that we were to have assets over to them by midmorning.
This strategy led to coverage in ABC World News Tonight, CBS Mornings, CBS Newspath, Good Morning America and TODAY Weekend.
I credit most of our success to our team's tenacity and getting ahead of the news. By being in a reporter or media contact's inbox before we they even needed us, we were able to secure the placements our client had been dreaming about.
A good pre-newsjacking strategy requires a bit of leg work upfront and a tenacious media pro. But when it works, you'll land the placements you have always been dreaming about.
Tori Simmons is a media relations strategist. You can keep up with her on LinkedIn here.
COMMENT