Where Americans get their news: New data from Pew Research
Digital sources continue to grow while everything else shrinks – but there are still some surprises.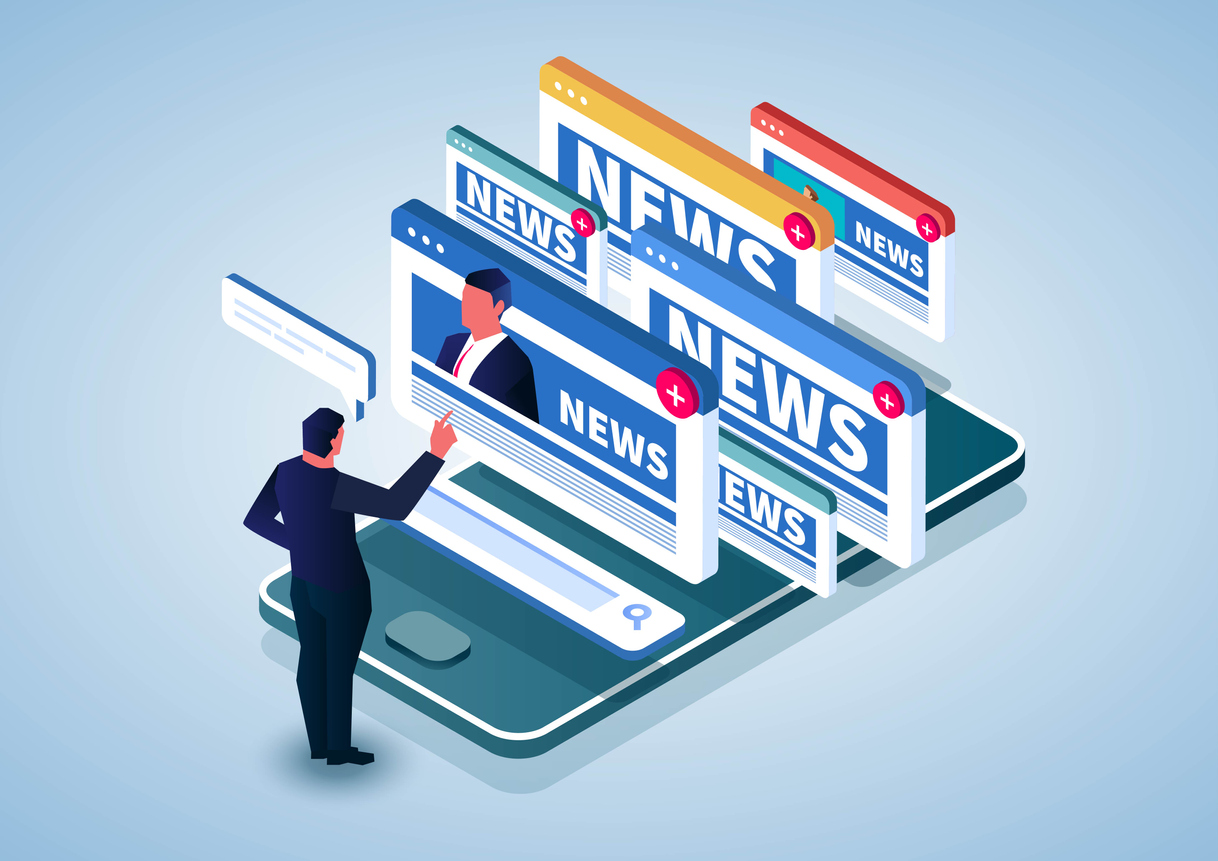 A massive 86% of Americans get their news from smartphones, tablets or computers at least some of the time, according to new data released by Pew Research. That's a 4% increase since last year. 
Additionally, Americans prefer to get their news from digital sources. The numbers are smaller, with 58% choosing apps and websites over any other kind of news. Just 27% tap TV as their first pick – but even those numbers are generous compared to the dismal 6% who prefer radio and 5% who prefer print.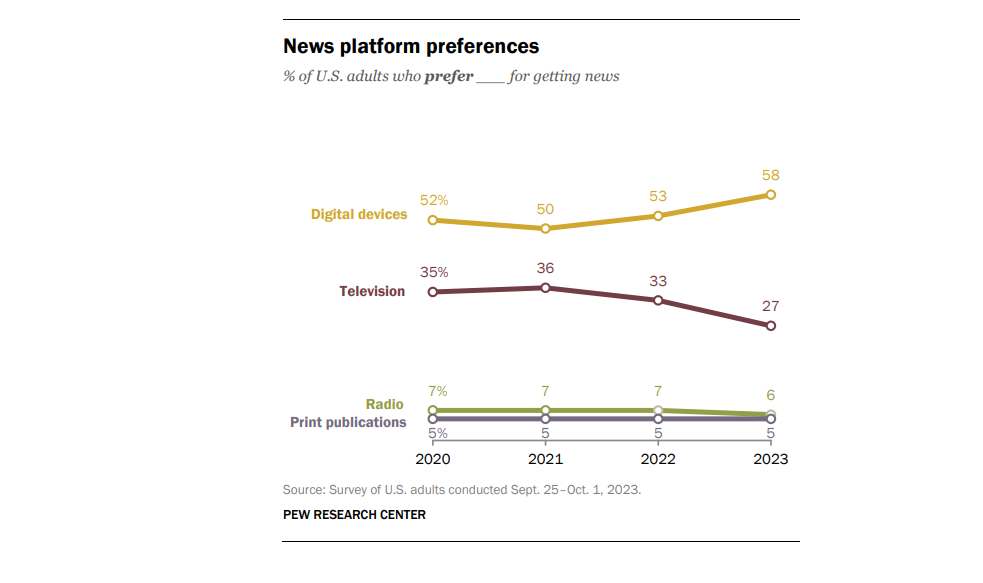 Now, this doesn't mean that TV, print and radio are dead. Pew Research found that 62% of news consumers turn to TV for news at least sometimes, with 51% and 37% doing the same for radio and print, respectively. But it's certainly notable that if given the choice, more than half would turn to digital sources first.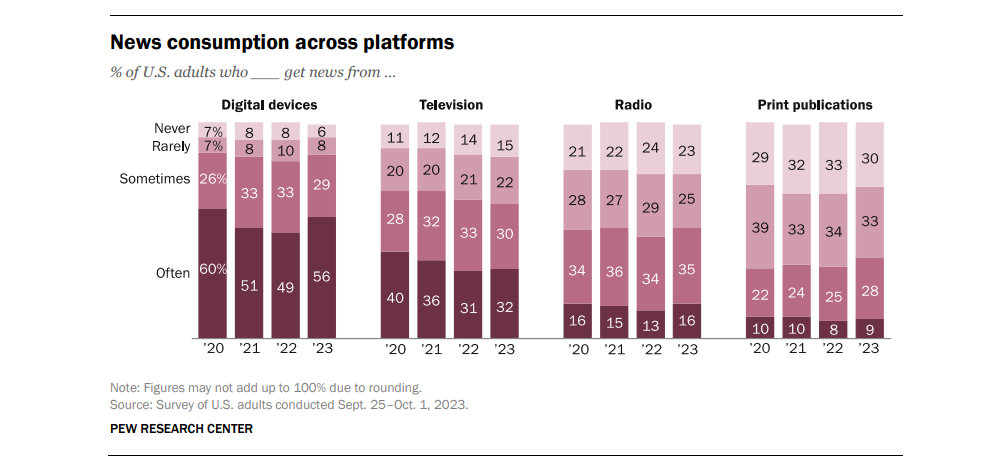 But where exactly are they going on the internet for that news content? There's a deeper dive on that. 
Online sources of news 
Despite the huge amount of chatter around news on social media, it's neither the first nor second place news consumers are likely to seek out information.  
Perhaps unsurprisingly, they're going to places they're sure to find news. 
Twenty-nine percent of consumers seek out information on news websites or apps often, with another 38% doing so sometimes. Additionally, 27% often use search engines for news and 44% do so occasionally. 
The use of social media as a frequent news source is stagnating. Nineteen percent of people go to social media apps for news often and 31% look there sometimes – numbers that are largely unchanged since 2022.  
The reasons for this aren't clear. Is this due to overall news fatigue? The concerns around dis- and misinformation on social media? The data doesn't tell us. But it does indicate to PR professionals that social media isn't the be all, end all. There is still a significant space for traditional media relations and landing on a news outlet's homepage, as well as using search engine optimization techniques to get your own brand journalism showing up high on a Google results page.  
The survey also shows a small but significant number of consumers get their news from podcasts – 9% often and 21% sometimes. This could present another avenue for getting in front of audiences without relying on fickle social media algorithms. 
Where people do go on social media 
But you can't ignore social media. It's a powerful tool for getting directly in front of audiences, despite its challenges. And each platform's users have different appetites for news.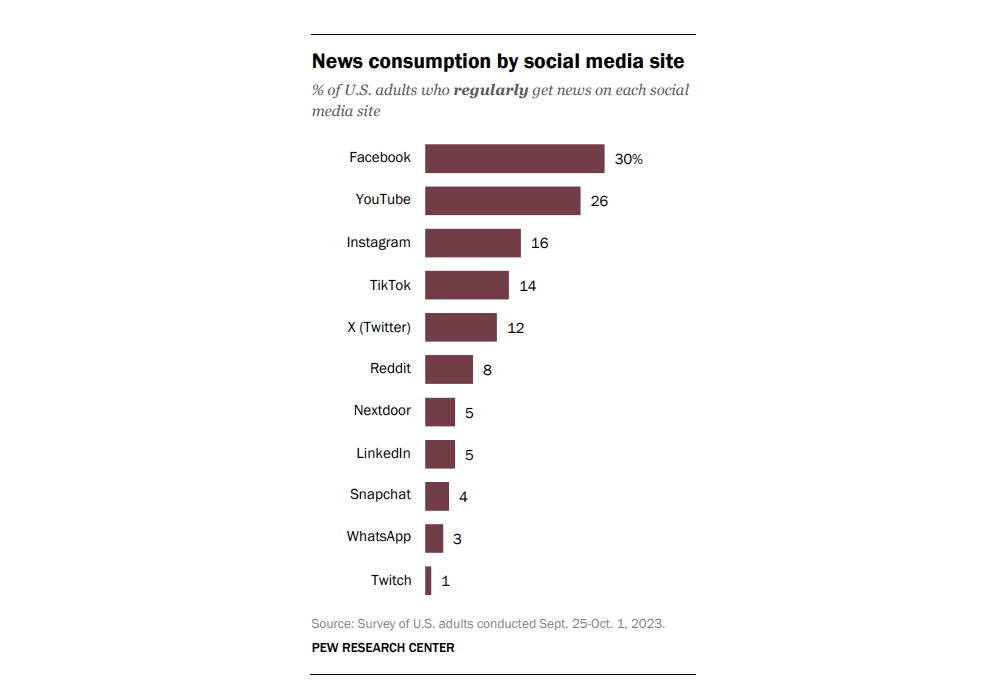 Now, remember, these numbers are just for news consumption, not overall use or time spent on each platform. But as you can see, reports of Facebook's demise have been greatly exaggerated. The granddaddy of all social networks still weighs in as the No. 1 news source for U.S. adults, with a full third regularly getting news there. Next up is YouTube, a replacement for traditional television with its buzzy, sometimes sensational video packages.  
Only 14% of Americans turn to current it-app TikTok for news – but keep in mind this figure only counts adults, not those under 18, who may represent a greater share on the clock app. And finally, X has long been known as a news juggernaut, but only 12% of Americans overall make this a regular part of their news discovery mix. 
Of course, these are broad strokes. The full Pew Research has more extensive breakdowns by age, gender and ethnicity that can better guide you to which platforms your audiences are using.  
Use this data to guide you in two ways.  
First, you want to look at your earned media strategies. Are you targeting media outlets with robust social followings on platforms that matter to your intended audience? Are you working to provide those outlets with the video or visual elements they need to make a splashy social presence instead of a bland, easy-to-miss link post? 
And second, ensure that you are cultivating your owned media platforms in a way that reaches your audiences. You no longer have to rely fully on legacy media to communicate with stakeholders. You have the chance to build your own publishing platform directly on these social media platforms. But you need to pick the right ones. 
Follow the data.
Allison Carter is editor-in-chief of PR Daily. Follow her on Twitter or LinkedIn.
COMMENT