3 tips for planning a return to live events
As every gardener knows, spring blooms require preparation and tender care well ahead of schedule.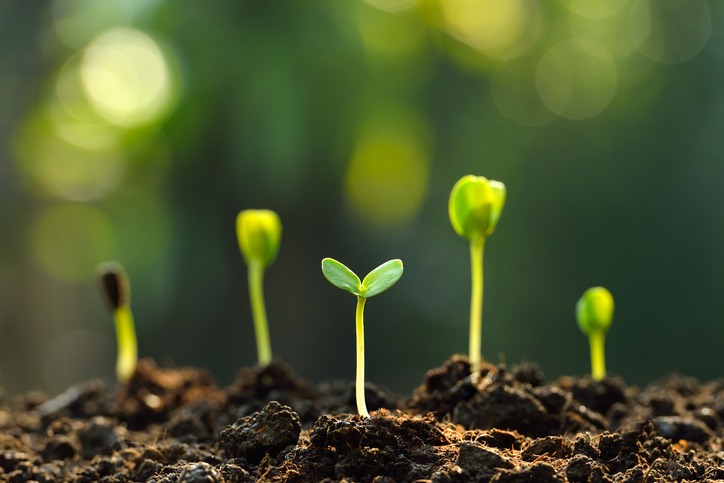 At this time of year, I often spend my spare moments glancing out the window of my home office and planning a spring garden. This enjoyable exercise reminds me of planning for another "garden" expected to bloom again in spring as we attempt to navigate a new world forever altered by the pandemic.
This "garden" is the return of in-person tradeshows.
Now is the time of year for comms pros to think about 2022 media relations strategies for industry events, many of which will be live once again after a two-year hiatus. The recently-held HIMSS conference, healthcare technology's largest trade show, gave me a good sense of what's both probable and possible.
HIMSS was held at the Sands Convention Center in Las Vegas with 17,000 healthcare professionals, vendor representatives, comms pros, press, and media attending, all fully vaccinated and strictly masked. For perspective, this impressive total was approximately one third the size of HIMSS's Annual Conferences in the past.
Most evening receptions were cancelled, and exhibit hall buffet lines remained closed. Even with these stringent safeguards, several important exhibitors and press outlets pulled 11th-hour exits.
This, I believe, epitomizes what will be emerging from the landscape of the upcoming spring trade show season. If there is one thing comms pros and others have learned these past 18 months, it is that COVID-19 is cyclical. In their recent New York Times article,  David Leonhardt and Ashley Wu, identify a "regular, mysterious, two-month cycle." The Delta variant has followed this pattern and experts predict that new variants will do the same. In a similar way, trade show planners will exhibit a similar pattern of optimism, followed by cold feet, as was the case with HIMSS '21.
The question is: How should comms pros prepare? Here are three new media relations strategies to help PR pros navigate trades shows and conferences in 2022, including what to expect, what new media relations strategies will prove successful, and when to start planning:
1. Expect cancellations, and reschedule quickly.
What I experienced at HIMSS '21 will occur (and reoccur) with live events and tradeshows if COVID-19 continues to run rampant. As you plan for the return of live industry events during this trade show season, expect last minute cancellations. Several of the meetings we had scheduled with clients, press and analysts were cancelled during HIMSS '21 as attendees backed out of the event.
Be prepared to quickly pivot to virtual meetings at the event. Book a meeting room or secure a quiet location to preserve the meeting via video call. If keeping the same time is not possible, reschedule meetings ASAP to maintain the momentum of your pitch. Waiting until after the show when you are back in the office is too late—everyone's focus shifts and daily calendars fill.
2. Use new meeting strategies that focus on brevity, not product briefings.
Health care media outlets always prefer to interview hospital, health system and medical group executives. But during COVID, many of these healthcare provider organizations remain under travel and meeting restrictions. Contamination risks are too great for health care personnel. There were far fewer attendees from health care provider organizations at HIMSS'21 versus in past years.
Other industries are taking similar precautions. The result? More vendors and consultants, but fewer real-world practitioners and subject matter experts for media meetings. You might find B2B meetings more commonplace than journalist interviews with your sources during this first rush back to in-person events. Fewer people will want to meet over a shared meal, preferring instead to remain masked during your conversations.
The silver lining is that B2B meetings at HIMSS '21 were more relaxed and insightful, and resulted in better business partner outcomes. This is something to relay to clients as a prospective benefit of attending, especially if they seem concerned that participating might not be worth it.
Also, consider the initial rush to attend live tradeshows as an opportunity to build relationships with your target media outlets and analysts. Instead of trying to secure press for dedicated one-on-one meetings or product briefings, try a casual meet-up to get reconnected in person and hear about their current editorial needs. Create a brief one-page takeaway for each media meeting that lists all stories and sources you can provide for their target audience or specific media beat. Briefly discuss each one and follow-up afterwards on those that spark the reporter's interest.
According to Colin Hung, a top 50 healthcare IT influencer and co-host of health care's popular Healthcare IT Today podcast, "Brevity works; product briefings don't." Hung collated several important points about pitching press for meetings at HIMSS '21 in his Healthcare IT Marketing Conference blog. These tips are valuable to us all.
3. Still plan early—and be brief.
 In a normal year, Hung would receive over 700 emails in the three weeks leading up to HIMSS '21. This year, he received only 211 emails with the majority from PR firms versus healthcare IT companies. And while product announcements and requests for product briefings were the most prevalent pitches that Hung received they were the least likely for him to accept. All successful pitches included outcome statistics: how a specific software or service saved dollars or lives in the real world of health care.
Timing of pitches was another interesting statistic Hung shared. He prefers to receive pitches three weeks ahead of time with follow-up six or seven days before the event. While there is no "best time" to send a pitch, three proven rules apply for your upcoming tradeshows:  Be clear. Show impact. Stay brief.
Summer always follows spring  
In these planning days, as we look out our windows and try to envision something new, we cannot know whether spring will come in like a lion or lamb. Consequently, we have to hope for the best and prepare for the worst. Assume the return to in-person tradeshows and live events will be marked by cycles of warm spells and frosts. Rely on the three strategies above to help your clients and their relationships grow regardless.
And also remember this: Summer will follow spring. This season will be a time of learning that will usher in a new season of flourishing. When we plan to survive, we ultimately thrive.
Beth Friedman is a senior partner with FINN Partners' Global Health practice. She and her team specialize in health IT.
COMMENT