6 questions with: Andrea Trapani of Identity
Andrea Trapani shares why it's valuable to "take the stairs" in the communications industry.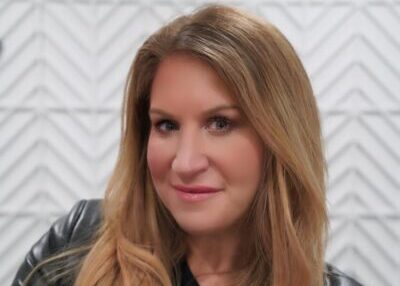 In her role as managing partner of Identity, Andrea Trapani has driven the agency to great success, recording the most successful years in recent history. As a firm believer in clear and concise communication, Trapani was recently recognized in Ragan's Top Women in Communications Awards.
She also was at the helm of other award-winning agency work, including Identity's win in Ragan's Crisis Communications Awards in the nonprofit/government category and for its winning crisis management campaign in Ragan's & PR Daily's 2022 Media Relations Awards.
Trapani has nearly 20 years of experience at the agency and continues to fuel her passion for people, by providing team members mentorship and direction and counseling clients on their communications strategies. The managing partner embraces all the tools, sage advice, countless books and origin stories and experiences from other agency leaders that help shape her career and more. 
We caught up with Trapani to get her thoughts on the future of the communications industry.
What book, podcast or other media do you recommend to other comms pros?
Trapani: I love several industry podcasts. Smart Agency Masterclass is my favorite because it's great to hear experiences from other agency leaders and owners to understand what is happening industry-wide. I also like to listen to The Agency Blueprint, The PR Week, and The Friday Reporter, which all also provide a look behind the curtain at different aspects of our industry. The CMO Podcast is another one I love, for insights from leaders at the top of their game.
Countless books have impacted my career, but the one that stands out as having a great influence is one I first read at the recommendation of a journalism professor in college: On Writing Well.
What's your favorite tool you use regularly for work?
I'm never without my phone, Slack, and—my favorite tool!—my Airpods. I'm a huge believer in real-time and verbal communication for clarity of tone and context as a tool to build strong relationships with trust, so I value and preach the importance of connecting on the phone with clients and our team and not leaving anything open to interpretation.
What excites you most about the future of communications?
We're at the most exciting time in our industry. The past few years have shown the value, impact and business case for the PR vertical more than ever before. And the need for crisis response has really shown the nuance and depth of expertise required—especially to navigate crisis moments effectively. I'm energized by how our industry seems to be having a moment all on its own as the importance of effective communications can't be overstated. We work in the best industry and it keeps getting better, and I'm excited to see how the disciplines in our industry drive business success.
We often say 'great PR cures many ails," and more and more in-house marketing and communications leaders are understanding the unmatched impact of expert counsel and what PR can really do to cut through an ever-fragmented attention environment.
What communications challenge keeps you up at night?
Our industry has always evolved rapidly, but in my 19 years on the agency side, we've never seen such speed. Internal contacts have more and different pressures today, and balancing the need for speed of delivery with thoughtful, compelling work is certainly a challenge. I firmly believe all challenges present opportunities, so we're constantly assessing how we can lead the market by being agile and nimble and how we can integrate leading technology to address that speed while delivering what we know is needed.
Part of adapting to the swiftness of today is how to foster growth for the next generation of talent in an environment where seasoned expertise is greatly needed. Learning and growing in the industry is not always done within a defined workday, especially not in this industry. The best professionals I know have cut their teeth being exposed to exciting, and often unpredictable, moments that require an elevated investment of time and energy in order to build a wealth of knowledge and expertise. Motivating others to see why and how being engaged in such moments will help their careers can be an intense struggle, across all generations. Some don't have the fire ready to be lit inside of them. Others simply may not want it. But this is how they get unstuck in their professional growth and reach the next place.
We've decided to run an agency that doesn't conform with how I've seen many other firms showcase their operations or culture. We're aggressive. Direct. And expectations are high. That approach doesn't meld well with every employee…or client. It's not an easy way to run an agency. Not every opportunity is going to be right for us, and we're not going to be right for them. But, our growth and reputation have served as an indicator that we're proud of the intentional choices we've made and share them clearly.
What's the biggest challenge you've overcome in your career?
When COVID hit, there was so much unknown for all of us. Navigating a portfolio of 80+ clients all in crisis mode with uncharted needs, while being completely thrust into a world where every way we operated had changed was a leadership challenge. It taught me so many lessons to myself as a leader and to our team about the importance of change, resiliency, teamwork and how we embrace the journey as communicators.
This moment also led to a much-needed assessment of how we needed to evolve the agency for a new chapter and the way we were working prior to such a leveling moment of change. We ultimately made a decision to embrace new and modern ways of working, moved our headquarters and created a fresh space built specifically for collaboration, connection, training and events while keeping the elements of remote work that worked so well for us during the heart of the pandemic. We held onto the lessons and focused on being clear on our expectations and approach and it's worked incredibly well for us in all ways from a growth, client experience, employee retention, and culture perspective.
What is the best advice you've ever gotten? 
I've had many wise people share sage advice with me over the years, and I've been so fortunate to learn from those around me—clients, colleagues and leaders—who all have had an impact on me as a woman and a leader.
My mother and father provided so much meaningful advice to me about the value of commitment to work and professional excellence, doing the right thing, and remaining true to your personal values can never steer you wrong. Mark Winter, who founded Identity 25 years ago and is my partner in our business, has also shared so many meaningful pieces of advice over the years about career and life, but probably the best is that in this industry we always need to "take the stairs." There isn't an easy path or shortcut to success—and we need to take the stairs to immerse, learn and grow, always. I've used this advice as a guide during every chapter of my career and use it as a filter now as we look to the future.
Isis Simpson-Mersha is a conference producer/ reporter for Ragan. Follow her on LinkedIn.
COMMENT