6 questions with: Margery Kraus of APCO Worldwide
Founder and Executive Chairman of APCO Worldwide Margery Kraus shares why AI keeps her up at night.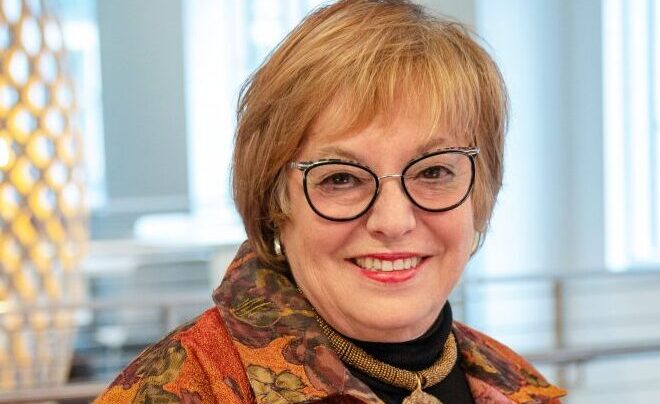 Margery Kraus, founder and executive chairman of APCO Worldwide, specializes in public affairs, communication and business consulting for major multinationals. A true industry leader, Kraus founded APCO in 1984 and transformed it from a company with one small Washington office to a multinational consulting firm in major cities throughout the Americas, Europe, the Middle East, Africa and Asia.
Despite decades of success, Kraus inevitably has endured some tough times, too.  Through the challenges of dealing with the buyout and financing of her company, Kraus learned the importance of digging deep in difficult times. Not only as an entrepreneur but as a woman, who learned the power of being underestimated and the value of keeping a low profile when necessary. The biggest challenge of Kraus' career shaped her into a stronger, more resilient leader who is better equipped to navigate the complexities of the business world and beyond.
We caught up with Kraus to get her thoughts on the future of the communications industry.
Kraus: What book, podcast or other media do you recommend to other comms pros?
At a moment in which the business world is going through so much transformation, a book like Alan Murray's Tomorrow's Capitalist: My Search for the Soul of Business, is very useful. Another book I would recommend is my colleague Barie Carmichael and James Rubin's Reset: Business and Society in the New Social Landscape.
What's your favorite tool you use regularly for work? 
Like the rest of the world, I've become addicted to Zoom. 
What excites you most about the future of communications? 
The recognition that communications has become central to everything we do, and that more and more communication professionals have earned their "seat at the table" and are engaged in the strategy of the business. 
What communications challenge keeps you up at night? 
Figuring out the balance of how we incorporate AI into our work in the future. 
What's the biggest challenge you've overcome in your career?
Dealing with the buyout and financing of the company over the years were some of the biggest challenges I've faced in my long career. Perhaps it is a women's issue when people with some power over your future treat you with such disrespect, but it happens—not just to me, but to many other women, as I have learned over time. It is very hard when, intellectually, you know this is a game to some and it is a way of trying to get their way or obtain some financial benefit. It is challenging when you work so hard to build something that you think is special, only to then have to put up with and be subject to such condescending and prejudicial behaviors.
However, I did learn a lot in the process. I learned there are times you really need to dig deep, especially when others are counting on you. There is also real power in being underestimated, and sometimes, it pays to bite your tongue, put your head down, and plow your way through. 
What is the best advice you've ever gotten?
Almost since the beginning of parenthood, I had a little sign in my house that read, "The only lasting thing of value you give your children is roots and wings." It always struck me that these words were a great guidepost for raising my kids. It later became the underlying philosophy that guided the spirit and culture of my company. I believe my professional "roots" helped me found the company while my "wings" kept driving me to be bold and take risks.
I am proud that my firm has been able to help our clients understand the complex and converging worlds of business, media and public policy. We work on some of the most sensitive and important issues of our time, and we have a rigorous process for taking on new clients and their concerns. My "roots" continue to influence my actions to this day, as my firm has taken on some things that have made a real difference in people's lives, like protecting vaccine programs for kids or working with women in Africa on economic empowerment.
Isis Simpson-Mersha is a conference producer/ reporter for Ragan. Follow her on LinkedIn.
COMMENT
One Response to "6 questions with: Margery Kraus of APCO Worldwide"
Ronald N Levy

says:

APCO isn't the lowest cost firm for Washington PR, not in fees, expenses nor in what they pay their genius top people. But for a major reason APCO is worth many times what they bill:

No bullshit!

They don't flatter the client, don't try to snow the public or congress, nor do they kid themselves that PR is successful when the client is happy. PR is successful when the client WINS.

APCO doesn't allow a client to see itself as totally innocent which no one is, but takes clients other firms don't even try for, and shows how what the client wants is good for the public, sometimes almost a blessing. It works beautifully because the public decides on issues not by the "beyond the shadow of a doubt" standard of criminal trials but by the "preponderance of evidence" standard of trials for damages.

A drug company's withdrawal of a product was seen by millions, thanks to APCO, as not a confession of guilt but as cautious protection of the pubic. Countries are successfully defended in America not on the basis of what is "fair" for the country but what is best for Americans.

In issues such as corporate governance, APCO teaches clients to first decide what's best for the company, then decide which facts to present to the public to gain public support.

Most people, APCO teaches the clients, don't give a damn about you or your issue, and once a client understands this, it is easier to decide what and how to communicate in a way that will win.

I suspect that our Arab allies, one or several of which may have retained this great PR firm, have been counseled that the PR goal should be not just positive press coverage and meetings with congressional leaders but invitation to gain the safety of NATO mutual-protection membership. Perhaps this could be brought closer by giving America's Sloan Kettering a "Saudi-American Anti-Cancer Institute" building.

But I can imagine a king or prince thinking: "Ridiculous! I'm royalty, this PR firm WORKS for me, and they are telling ME what to do?"

Margery Kraus and her firm have done a lot for clients and the public and she has a lot more to do. Many clients and the public have a lot to learn, and affluent APCO has a lot more to earn.