6 questions with: Megan DiSciullo of PwC
Megan DiSciullo shares the biggest challenge she's overcome in her career.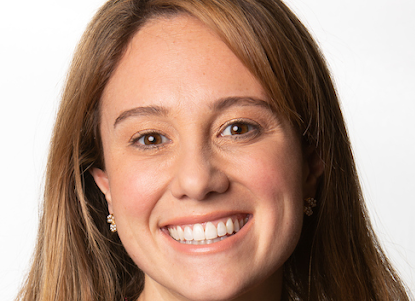 Megan DiSciullo, US & Mexico Communications leader for PwC, is a powerhouse in the realm of communications. With a career adorned by accomplishments such as being named a "Top Woman in PR" by PR Week and "40 under 40" recipient. DiSciullo is also a member of Ragan's Communications Leadership Council.
DiSciullo has two decades of experience sculpting and safeguarding global brands. Currently, at the helm of PwC's communications for the US and Mexico, her skill set encompasses a kaleidoscope of disciplines from media relations to crisis management.
The communications leader champions DE&I and is an advocate for crafting innovation on an international canvas.
Ahead of her session at Ragan's upcoming Future of Communications conference, we spoke with DiSciullo to get her thoughts on the future of the communications industry.
What book, podcast or other media do you recommend to other comms pros? 
The podcast The Crux is at the top of my list and is a great resource for getting up to speed on the industry and what's in the hearts and minds of corporate affairs, communications and public relations professionals. I also find immense value in books written by communicators for communicators, so Sally Susman's Breaking Through: Communicating to Open Minds, Move Hearts, and Change the World is one I recommend. It's not only a beautifully transparent look at all of the emotions we experience in this profession but also a realistic illustration of the hard skills necessary to succeed for our teams and our businesses. 
What's your favorite tool you use regularly for work? 
I feel the good, old-fashioned phone call is one of the more underappreciated and undervalued tools in this tech-driven world. Video chats, instant messaging, and even social media have proven invaluable in staying connected, especially over the past few years. Still, I can't underscore the importance of picking up the phone and speaking to colleagues, reporters, or stakeholders one-on-one for a variety of reasons, including relationship development, efficiency, clarity in understanding, and genuine human connection. Plus, it can be done on the move, allowing you to get your steps in at the same time. 
What excites you most about the future of communications? 
The communications function is a critical collaborator and stakeholder to the business when designing, setting, and executing strategies. I'm thrilled the world is finally waking up to this reality we've known for so long. The data our team has the ability to glean from our various audiences and stakeholders, coupled with our ability to communicate critical and trusted messaging, sentiment and insights across multiple platforms, are critical to strategic decision-making, reputational management, and creativity. I love that this reality has enhanced our value to every organization, driven a new wave of upskilling for our talent, and shifted what it means to be a modern communicator.  
What communications challenge keeps you up at night? 
Managing our business' reputation and connection to many different stakeholders representing many different expectations, beliefs, needs, opinions, and realities is top-of-mind for me daily. It requires a constant focus on our firm's purpose and values, the ability to couple judgment and experience with data and insights, and the courage to adapt or pivot when necessary. Generative AI is one example of this—how to incorporate it responsibly, use it, and scale it across the firm. That definitely keeps me up at night but in a good way. 
What's the biggest challenge you've overcome in your career? 
Learning how to continue having a meaningful, fulfilling career alongside being a mother of two young children. It's an exercise in balancing the scales while layering priorities—family, friends, responsibilities—and the unexpected needs that arise on any given day. I'm fortunate to work for a firm that has made the wellbeing of its people a strategic priority, so I have the resources and support I need, but the "guilt" is my Achilles heel. 
What is the best advice you've ever gotten? 
One of my early mentors told me, "Megan, you can have it all, but you can't have it all at the same time…and that's okay." This advice has helped ground me when the ebbs and flows of work and personal intersect and/or conflict. Some days work wins…other days my family wins, and that is ok.  
Join Megan DiSciullo at Ragan's Future of Communications Conference on Nov. 6-8. She will speak alongside communications leaders from AARP, Ben & Jerry's, Lockheed Martin Missiles and Fire Control and more.
Isis Simpson-Mersha is a conference producer/ reporter for Ragan. Follow her on LinkedIn.
COMMENT