'It's actually incredible:' CNBC's Carl Quintanilla on how Hispanic representation is changing
Quintanilla tells Hispanic communicators during Hispanic Heritage Month that hard work will lead to success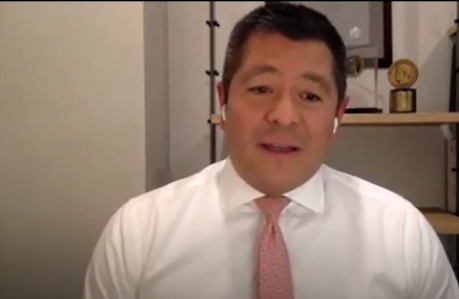 There is still work to be done, but the Hispanic community is being recognized more in business and through the media.
That's the message that CNBC anchor Carl Quintanilla shared during the recent "Celebrating Latino PR 2022" presentation at The Museum of Public Relations virtual event from New York City.
The event was held as part of Hispanic Heritage Month, which runs from Sept. 15-Oct. 15.
Quintanilla said the growth stories of Hispanic small business are finally being told on a national level.
"We've actually done whole hours on CNBC for primetime about the economic engine, that is (Hispanic) small business, I mean, it's actually incredible," he said. "The power they have in just growing employment and growing commerce."
[RELATED: Submit your nominations for our Top Women in Comms Awards by Oct. 21!]
These stories will help shape the perception of how Hispanics are being viewed in the future, he added.
"I think we're actually graduating now from a story where, oh, what a cute little small business you have to these people who have built their empires into real wealth, that's gonna be the story of the next 20 years … but it points to sort of our initiative," Quintanilla said. "The past 20-30 years, we've sort of become an icon, but they'll start to think of us more and more as a people."
How the hiring process is changing for Hispanic people in the media
These changes are also moving into the workforce and the hiring process, Quintanilla said, especially in media.
"Being (Hispanic) gets you a first look sometimes," he said. "There is an honest effort to diversify and the newsroom of this, so that leads to opportunity, period."
But keeping those opportunities open is an ongoing process, not one that will be completed all at once.
"You actually have to push the door open and then keep it from closing again on you," Quintanilla said.
"You have to be realistic and very determined that you are going to have to chase (opportunity), it is not going to come to you entirely. And that involves what I always tell when I speak at colleges and high schools about always saying 'yes.'"
Saying yes, Quintanilla explained, is about demonstrating to your bosses that you're willing to show up and do the work, whatever other complications may be going on in your life. It's an ethos that has served him during the 25 years of his career.
""Yeah, I'll do it," he said. "You need someone to do that? Absolutely."
Chris Pugh is a staff writer for PR Daily. Follow him on Twitter and LinkedIn. Send story ideas to ChrisP@Ragan.com.
COMMENT
Tags: Carl Quintanilla, CNBC, National Museum of Public Relations