Community relations isn't just about good press
How to connect the dots and move beyond the surface.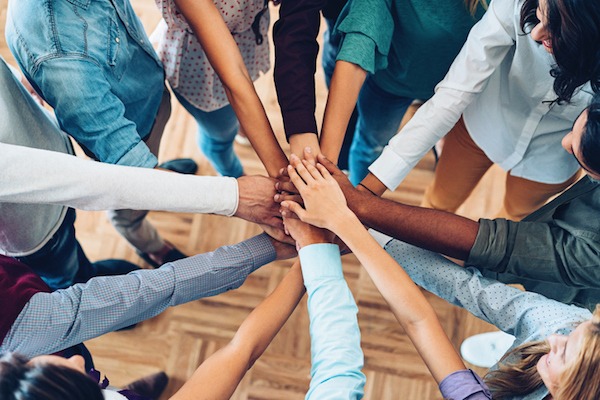 Community relations brings brands, initiatives and communities they serve together with a common goal and vision.
It's also part of developing good public relations overall, Nicole Gainer, associate vice president at Red Thread PR x Brownstein Group, told PR Daily.
Gainer said that community relations allow a business to market itself to customers, investors and media, through brand awareness and more.
"It's a great tool in a toolbox for PR pros to be able to communicate a brand's mission and values," Gainer said.
Gainer said that community relations is an effective employee recruitment and retention strategy that creates a "halo effect of goodwill" internally and externally
Community relations can help promote ideas and initiatives, too.
Rhiannon Hendrickson, founder and CEO of Orapin Marketing + Public Relations, told PR Daily that one of her firm's favorite community relations projects was promoting a Denver-area construction company joining forces with a Girl Scouts group for an event.
The construction company's strategic priority is to help bring more women into the skilled trades workforce, which is predominantly male.
"They brought in girls and had demonstrations and hands-on projects with manufacturing and building things," Hendrickson said, adding that STEM-related fields were highlighted to encourage and introduce girls to this industry. "They were able to garner media attention for it, which is great, too."
Hendrickson added that while media attention is key and a vital part of community relations, it's not the end all, be all.
"I think that too often, community relations is seen as a strategy for media coverage, as opposed to a strict strategy to support the organization's bigger goals," she said.
"I think the most important thing is that it is authentic and just makes sense for their brand, as opposed to doing some random, one-off partnership with an organization," she said. "It really should make sense for the brand and for the company in what they are doing in tying it back to their own strategic goals."
Another critical component of community relations is donations. Gainer said that her company's clients periodically make donations to nonprofits serving a community or for an event.
"When developing a true community relations program, we always encourage the brands we work with to think bigger and consider other elements. I like to refer to them as the three T's, and they are time, talent and treasure," Gainer said. "When brands consider having those three elements as part of their community relations program, it really makes the program as impactful as it possibly can be for them."
Gainer said that time is using community volunteer opportunities for employees, talent is when a company lends its knowledge and expertise to a cause, and treasure is financial donations.
"If a financial services brand, for example, is trying to reach small business owners, they might create a community relations program around offering financial literacy for the small businesses," Gainer said.
Hendrickson said that making a difference at the local level is at the heart of community relations.
Her team worked to help spread the message about a public awareness campaign called "Tough As a Mother."
Hendrickson said that the statewide initiative launched a free online support group to assist moms in need of a safe space and community as they recover from various issues.
The community relations initiative, she said, homed in on how to serve mothers in the community to "help break down some of the barriers that they face."
Gainer said when "businesses go beyond writing checks," they not only are more valuable community partners, but they create more opportunities for all involved. This could mean more press coverage or story pitches to the media, too.
"At the end of the day, community relations programs can become really powerful storytelling platforms about the brand's mission and values and so what we see to be really effective is when the two come together," Gainer said. "They identify the community (needs and) focus around the brand's mission and values and the cause that they're championing really does maximize that storytelling potential."
Sherri Kolade is a writer at Ragan Communications. When she is not with her family, she enjoys watching Alfred Hitchcock-style films, reading and building an authentically curated life that includes more than occasionally finding something deliciously fried. Follow her on LinkedIn. Have a great PR story idea? Email her at sherrik@ragan.com. 
COMMENT
Tags: community relations