Former Hearst publishing director talks media trends and the future of the industry
Michael Clinton gave the keynote at PR Daily's Media Relations Awards.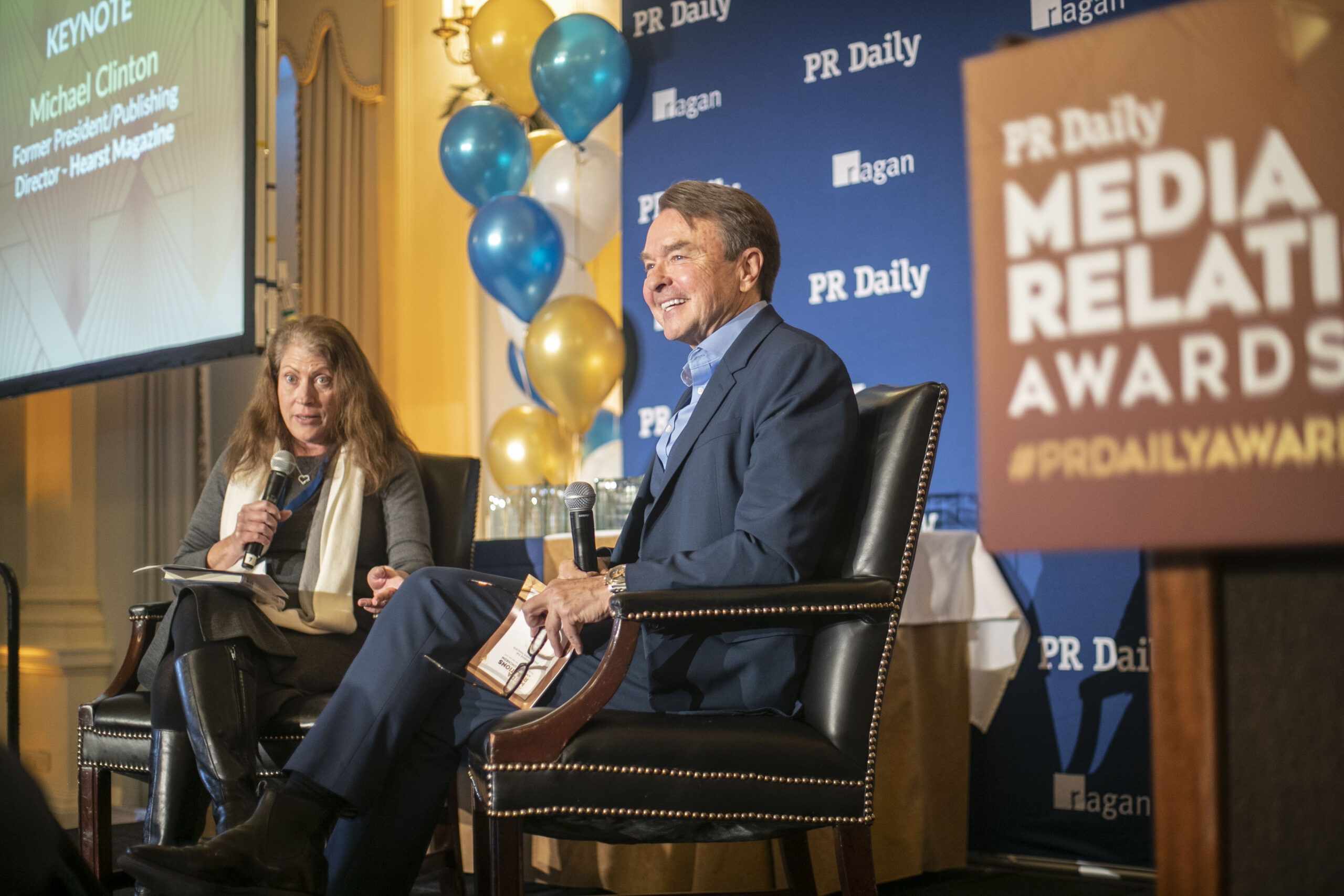 In an increasingly complex media landscape, communicators hoping to place pitches must stay keenly aware of new trends on the horizon including how audiences are consuming information differently through new mediums and membership models. At Monday's PR Daily's Media Relations Awards, former Hearst publisher Michael Clinton spoke to nearly 100 communications pros from all parts of the industry about what he sees on the horizon in the media world and lessons that can be learned from them. Clinton's years of valuable experience provided an expert lens on a seemingly fragmented future of media.
Read more of Clinton's insights below, and check out the full list of award winners here.
Changes to media consumption
Among the many changes that have taken place in the media industry over the last couple of decades, how media is consumed is paramount. Clinton pointed to the many ways that media can be taken in and what that count means going forward.
"The splintering of the industry is going to continue," he said. "I'd also like to add that are a few big trends happening with media consumption."
At Hearst, editors and reporters acknowledge the increased importance  of data to determine what content is being consumed, continued Clinton, no matter the publication. "Across the company, editors are tracking the data to figure out the next big story that'll resonate with the audience," he said.
Clinton added that carefully tracking media metrics can have both positive and negative consequences.
"It's a good thing because you know what people want and you can optimize the messaging accordingly," he said." But the negative side is that you can lose discovery because it can sometimes strip great editors of their ability to bring great unknown stories to the masses. Regardless, data infusion is the biggest trend out there right now."
Perfecting the pitch
For communicators looking to place a story, the biggest key is often nailing down the pitch. Clinton reaffirmed that it's all about finding the proper angle to break through to reporters.
"Some things never change, and it's all about finding a fresh angle," he said. "There is a lot of sameness out there. The media is a hungry beast and there are many options to get a story out. Luckily, there's an appetite for content. "
Clinton said that those hoping to break through the clutter of a journalist's inbox will only get there with something really unique and different, but reminded attendees that it's a different world than it used to be. "Because there are so many content platforms, the standard of excellence has changed," he said. "Many trained journalists are still at the top of the pyramid, but there are also a lot of untrained pros out there because of the current media landscape."
His advice? "Don't get too seduced by something just because it lands, and be sure to have a discerning eye. Find the journalists that have the right sensibilities for your story by doing your research."
Trends on the horizon
The media ecosystem is often an unpredictable beast. However, there are a few general patterns that Clinton sees coming soon.
"Many media brands are shifting to a membership model," Clinton said. "This includes bundles of things, like a member getting a print edition, access to exclusive events, special offers and more. It's much deeper than just a subscription."
He also urged the audience to keep an eye on emerging media properties.
"There are always new media brands being born and we need to see how they take hold in our culture," added Clinton. "There are a lot of hidden brands and influencers out there. And it's important to tap into them as they come on the scene."
Sean Devlin is an editor at Ragan Communications. In his spare time he enjoys Philly sports, a good pint and '90s trivia night.
COMMENT