How Bojangles engaged NYC media to grab the national spotlight
With no stores in the Big Apple, the Southeastern restaurant chain was keen to make a big-city splash. It turned to food trucks and free meals to reach national news outlets and influencers.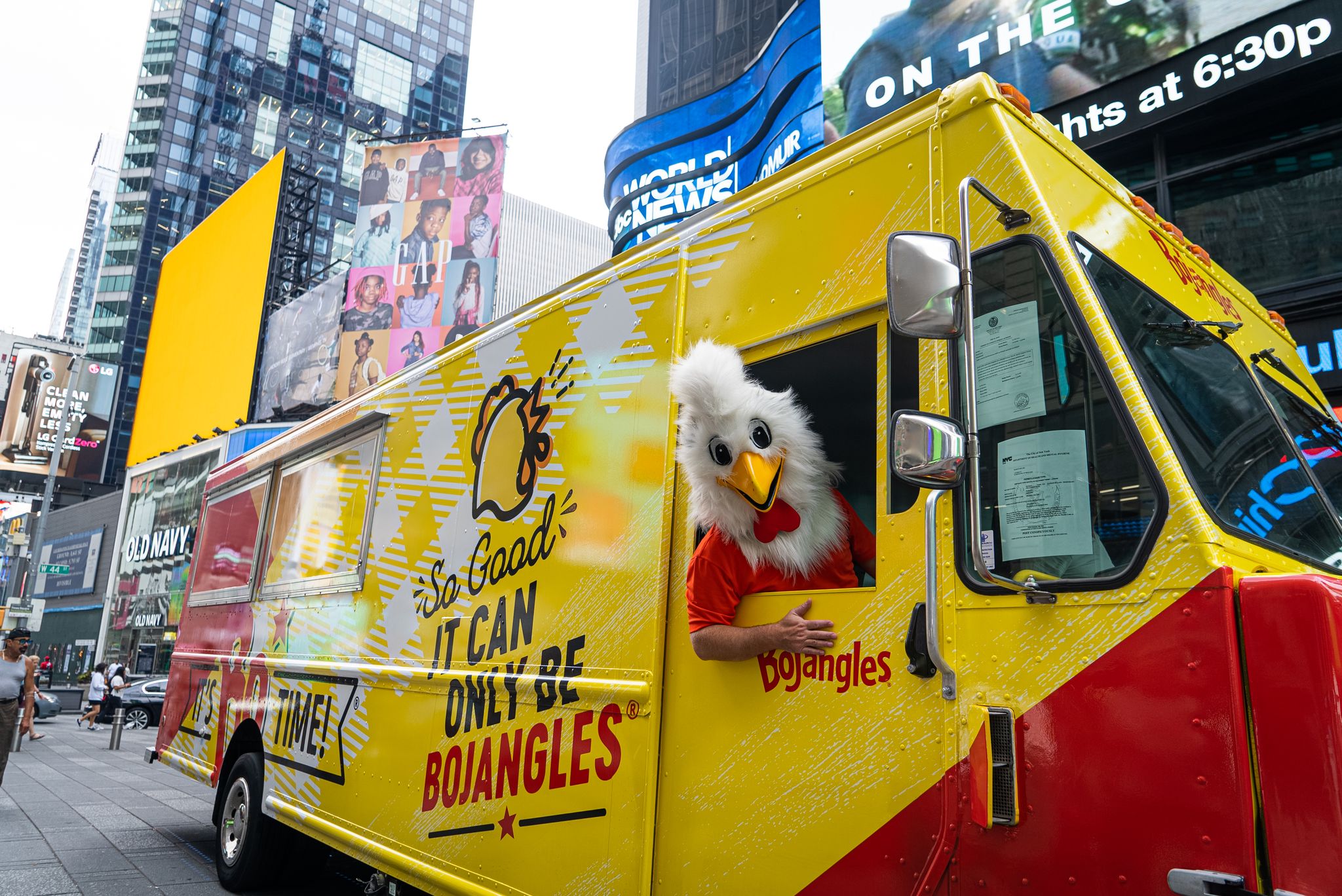 Fast-food chain Bojangles is at a disadvantage in the chicken wars that have engulfed the industry. With no locations in New York City, where many national outlets are headquartered, the team needed to take action to break through.
The answer, developed in coordination with PR and marketing firm Luquire, was to blitz the city with food trucks over three days to capture the imagination of media outlets and influencers to get a wider audience. It also hoped to tap into the love displaced Southerners have for the chicken and biscuits brand.
"Bojangles is growing beyond its core markets in the Deep South, with recent expansion deals announced in places like Florida, Ohio and Texas," explains Barry Finkelstein, senior vice president and director of public relations for Luquire. "They need to be part of the national conversation, but because there isn't a Bojangles within hundreds of miles of New York City, many national journalists have never tried their food. So, our strategy was to bring Bojangles to them while creating buzz by tapping into the thousands of Southern transplants in New York City who crave Bojangles."
The campaign gave out more than 2,000 sandwiches to Bojangles fans in Times Square, as well as at private events for restaurant workers in Brooklyn and military veterans and their caregivers at a local VA medical center. The campaign also targeted influencers and national media outlets, including Matt James from "The Bachelor" and Michael Strahan from "Good Morning America."
The result was 176 organic media placements, over 800 million earned impressions and coverage on CNN, Business Insider, "The Today Show" and "Fox & Friends."
Are there other cities besides New York City that would make sense for a national earned media strategy? Sure—but New York is in a class of its own.
"There are certainly markets across the country with high concentrations of Bojangles fans, and we're currently contemplating what kinds of activations we might plan for the future," says Finkelstein. "In terms of national media, New York really is our primary target, and we came away with some great ideas on how to stay engaged and continue being part of that national conversation."
Targeting influencers
How did Bojangles and Luquire identify the influencers to target for their campaign? It starts with carefully curating your list.
"Bojangles has a well-curated list of influencers who've expressed their love of the brand on social, so that was our starting point," says Finkelstein. "There are a lot of celebs and other influencers who've spent meaningful time in the South, like Matt James from 'The Bachelor' who's from Raleigh, or Jonathan Jones from CBS Sports who went to Chapel Hill."
Importantly, the influencer strategy focused on earning mentions through engagement and a crafted experience. "We didn't pay for any influencer endorsements or any media coverage," Finkelstein says. "People came out because they love Bojangles and are excited to help spread the word."
Measuring success
What metrics were the markers for success for the team? The impression count is exciting, but Finkelstein notes that the real number that counts has a dollar sign attached.
"The most important metric of course is sales," he says, "and while we can't share specifics, we can say that this was far and away Bojangles' most successful product launch in years."
There were PR metrics that also made the team happy. "We were thrilled with both the quality and scale of coverage," says Finkelstein. "Bojangles isn't often featured on CNN, The Today Show and Fox & Friends." He adds that the organic reach and engagement levels on social media were stellar.
Lessons learned
For Finkelstein, the biggest lesson from the campaign was to never give up on an idea just because there were obstacles.
"One of our key learnings is that we don't have to bundle the consumer and media components together as we did here," he says. "With the food truck, we can do a stand-alone customer activation anywhere in the country. And by renting a commercial kitchen for the day, we can prepare menu items and deliver to media even when there isn't a Bojangles restaurant nearby."
By being flexible, big things are possible. And when the team went the extra mile, especially when adapting to conditions created by an ongoing pandemic, reporters noticed.
"One of the big challenges we faced was arranging food deliveries to media during a pandemic, when so many people are working from home," explains Finkelstein. "We actually got called out by one reporter for that on social media, but a lot more of them came to our defense. It took a lot of creativity to connect with media and make individual arrangements, but in the end, they really appreciated the extra effort and we saw that positively reflected in their coverage."
The value of partnership
Finkelstein is quick to give credit to the many people who made the campaign possible.
"You can't have a great campaign without great client support," he says.
"Bojangles' CMO Jackie Woodward challenged us to help the brand 'punch above its weight,' then she backed it up by committing the resources to make this a successful effort. Chef Marshall Scarborough, who heads up menu innovation and is the brains behind Bo's Chicken Sandwich, took a week out of his schedule to conduct media interviews and cook 2,000 sandwiches in a food truck in New York City. And Senior Director of Communications Stacey McCray was invaluable, from helping us sell in the idea all the way up to the CEO to championing the program with Bojangles' operations, supply chain and other internal teams."
It's a reminder that PR programs can only be as effective as the client allows them to be. For Bojangles and Luquire, the extra trust allowed them to take a big swing—and grab some big earned media wins.
COMMENT