How Pinterest is working to be a positive social network
Social media is often known for its toxicity. Pinterest wants to be a force for good.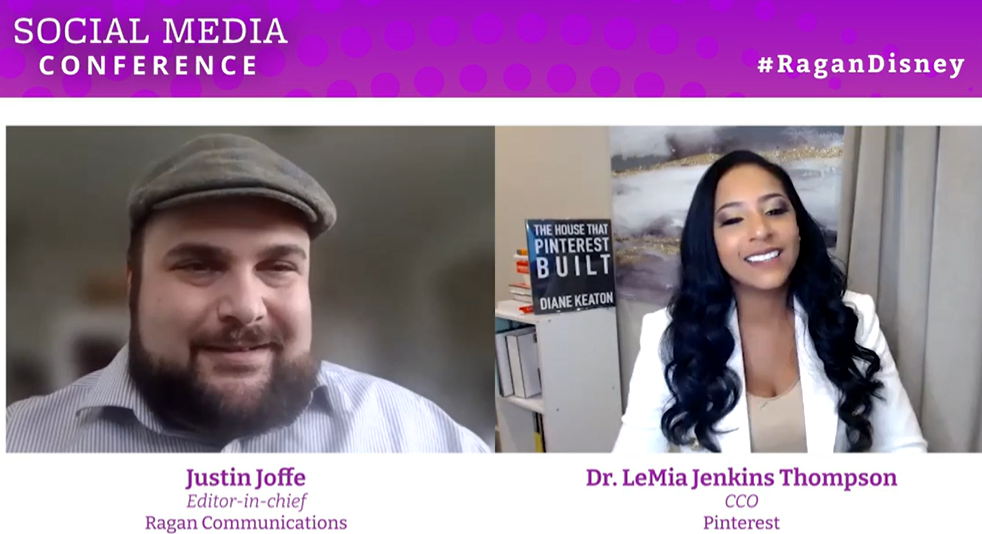 Social media networks can often feel like organizations devoid of corporate purpose. They spread misinformation, encourage toxicity between users and overall can make you feel pretty down about yourself and the world.
Pinterest is trying to buck that trend and be a force for positivity.
They've banned advertising on political topics and weight loss, outlawed climate misinformation in ads or posts, and rolled out a "compassionate search" that connects people to resources based on their Pinterest searches.
But the organization's commitment to purpose extends beyond user experience and into the employee experience as well.
Dr. LeMia Jenkins Thompson, Pinterest's chief communications officer, keynoted Ragan and PR Daily's Social Media Conference with her presentation "A Platform for Purpose: How Pinterest Leads With Its Value." Here's how the pinning platform is trying to buck the trend of negativity and become a force for good.
A safe space for inspiration
Unlike many other social networks, Pinterest does not monetize election search results or advertising. However, they do direct users to reputable information on registering to vote and other crucial resources.
"You can come onto the platform and feel like you're getting the right information," Jenkins Thompson said.
On a similar note, during the pandemic Pinterest also chose to ban weight loss ads. They realized women are disproportionately targeted for these ads but they aren't making us healthier and happier. After the ban, searches around weight loss decreased by 20%, but users began searching for items like "healthy recipes" that will help them build better lives that aren't based on appearances, but true and lasting change.
A company refusing lucrative advertisers like weight loss and politics may seem crazy for a company. But that's what purpose is all about. Both advertisers and users responded. Users got the positive, affirming, safe space they wanted, while advertisers got access to happier users with a curated, customized purchasing journey.
Happier employees, better work
At Pinterest, inclusivity runs deep. For instance, Jenkins Thompson lives in Mississippi — a far cry from Silicon Valley. Living outside that tech bubble allows her to bring a different kind of diversity to the organization, as well as allowing her to live the life she chooses.
"Diversity of location is just as important as diversity of thought," Jenkins Thompson explained.
They also thought about the journey for parents and others raising families, offering employees up to 26 weeks of paid leave for birthing parents, and additional time if a baby is in the NICU or even for pregnancy loss.
"We want to make sure they feel like this is a great place to raise a family," she said. And once employees return from leave, they're happier and able to focus on their work while they learn to become a new parent.
Inspiring inspiration
Still, Jenkins Thompson acknowledges that Pinterest doesn't have everything figured out.
"We're not perfect," Jenkins Thompson said. "You're going to find problems."
But by being intentional in how they're serving both customers and advertisers, they can bring more people on a journey with them.
"We get to help people build the life they love."
Allison Carter is executive editor of PR Daily. Follow her on Twitter or LinkedIn.
COMMENT