In a post-crisis world, experts and peers are the most trusted
As audiences lose faith in media outlets, government and institutions, personal relationships with colleagues or an individual's employer competes with expert insights.
When it comes to trust, there's not much going around these days.
After the worst public health crisis in a generation, a botched government response and intense loss and suffering, audiences have retreated to a very small sphere of influence. They still put value on experts—both academic and company technical experts—people with advanced and specialized knowledge who can be trusted. However, people are also turning to personal relationships.
More than half (56%) of people say that "my employer's CEO" or "a person like yourself" is an extremely credible source of information about a company, according to Edelman's Spring update on its 2021 Trust Barometer.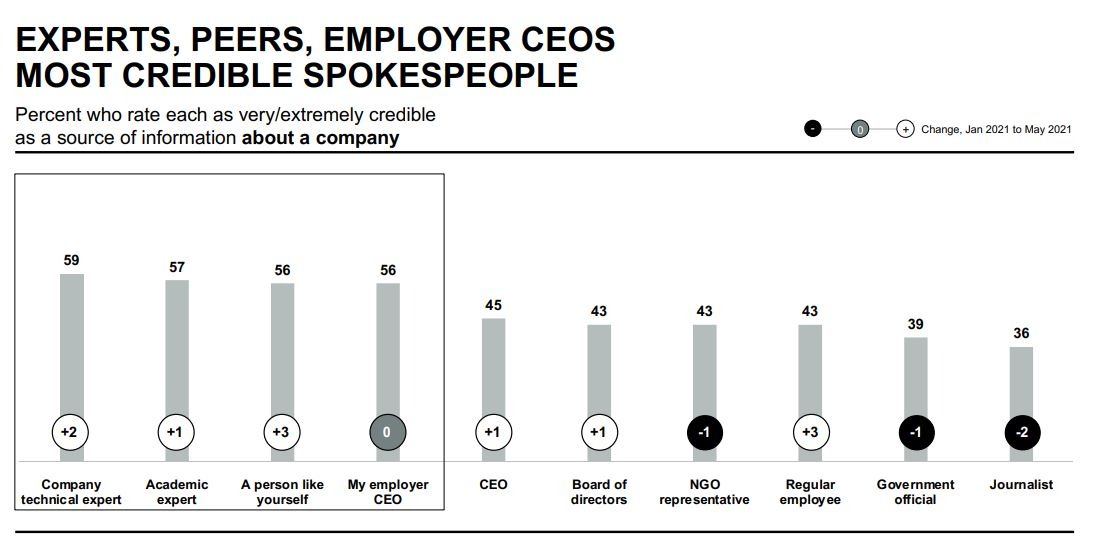 A CEO who is not the leader of a person's employer—removing the personal relationship—drops the trust score to only 45% who say that leader is extremely credible.
The call for brand journalism
Communication from employers is some of the most compelling information audiences consume, according to the barometer, perhaps an indication of how audiences have been trained to look to employers for updates during the pandemic. Conversely, social media is some of the least trusted content when it comes to establishing a corporate reputation or narrative.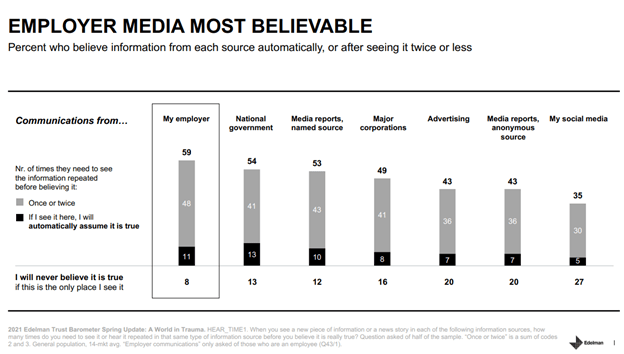 When it comes to rating the effectiveness and reputation for institutions looking back on a year of crisis response, only government has seen a decrease in credibility and perceived honesty. The data shows the dangers of a mismanaged  crisis response—embodied by the conflicting and often ineffective messages from public health authorities in the early days of the pandemic.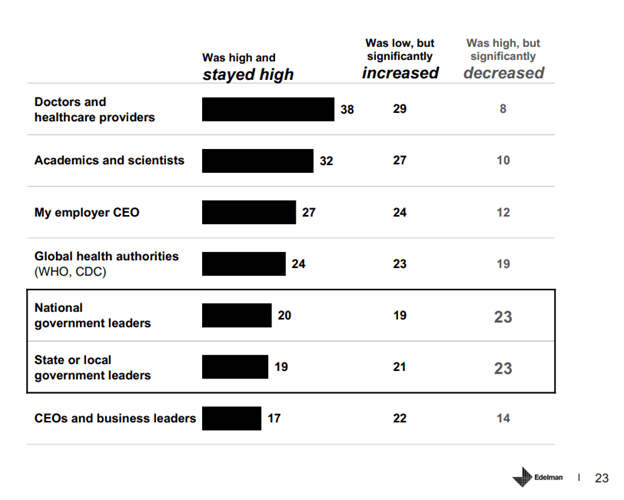 The trust drop is also a reminder for business leaders that audiences will be looking to them—perhaps above the CDC or other health authorities—for guidance in approaching the next phase of COVID-19 response. The loss in trust is on display in the raging debate over the CDC's latest masking use guidance and how businesses are trying to adapt to a changing landscape.
Focus on the employee
For building trust and establishing the reputation of a company or brand, the employee experience has become the focal point. Where customers and buyers were prioritized by organizations, now the workers that keep the organization running have become more important.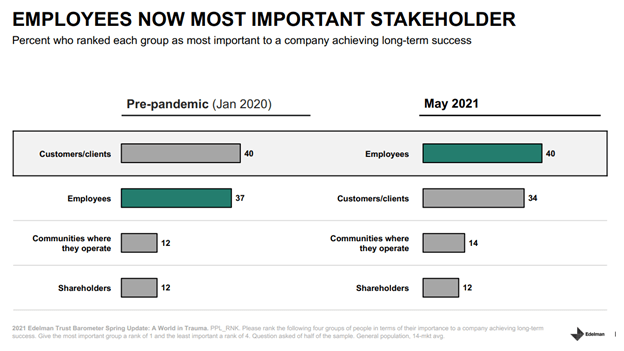 Edelman's Cydney Roach, global chair of Edleman's employee experience team, says this shouldn't come as a surprise:
In our 2017 Edelman Trust Barometer Special Report: Institutional Investors, 69 percent of investors said companies that prioritize their commitment to employees positively influence their trust in them. More explicitly, respondents ranked "poor relationships with employees" as having a negative impact on investor confidence. In short, investors increasingly take notice of how well organizations treat their people.
And when it comes to crisis communications and brand management, the employee has become an increasingly visible part of the equation. How employees were prioritized and protected during the COVID-19 crisis has put a spotlight on the way business leaders didn't put employees first. Now, employee activism and advocacy has been on the rise for companies, including Google and Apple. The #MeToo movement and the Black Lives Matter protests have also shown up in the transformation to "stakeholder capitalism"—the model which looks to put value on all the components of an organization, not just shareholder value and profits.
Roach continues:
Corporate reputation is formed by many factors, and human capital research tells us that every employee touchpoint—from how you treat candidates during interviews to how you offboard the impacted during headcount reduction/synergy capture—can directly impact trust. And in a post-pandemic world, trust can also be won or lost in return to office, vaccination, gender pay equity and DEI policies. But keep it real: In our work with clients, employees tell us authenticity ranks highest in building trust with them, the first step in building trust from the inside out.
Despite the pain and hardship, this is a moment for optimism. Many Americans are looking for positive change in response to the hardship of the past year, and that perhaps is the biggest takeaway for crisis communicators heading into the second half of 2021.
Audiences are feeling hopeful, but that hope is built on an expectation of change. Efforts to "go back" or "return to normal" might not produce the results many hope for in a slowly reopening world.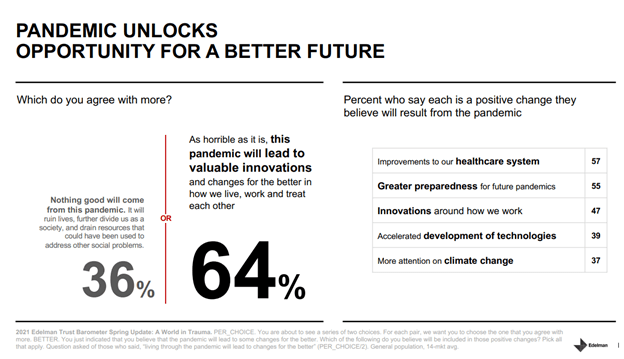 That means updating crisis communications plans, building a better employee experience and making sure that whatever mistakes you make, they aren't repeating the mistakes of last year. A company that refuses to adapt will get little sympathy from a public that has seen unprecedented disruption to the very essence of what makes life worth living.
Looking for more insights on protecting your reputation and what's next in crisis communications? Be sure to join us for Ragan's Crisis Communications Virtual Conference June 10.
COMMENT