Google employees unionize, WhatsApp hits record numbers, and Epic invests in new NC headquarters
Also: Microsoft gets scooped on planned visual rebrand, how Americans are split over COVID-19, our survey is still taking responses, and we ask PR pros to share their resolutions for 2021.
Good morning, communicators:
An 82-year-old man in the U.K. became the first recipient of AstraZeneca's version of the COVID-19 vaccine.
82-year-old Brian Pinker receives the Oxford University/AstraZeneca COVID-19 vaccine from nurse Sam Foster at the Churchill Hospital in Oxford as the NHS ramps up its vaccination programme with 530,000 doses of the newly approved jab available for rollout across the UK. . pic.twitter.com/bkRrKi0QGG

— Elliot Wagland (@elliotwagland) January 4, 2021
Vaccine rollouts have received heavy scrutiny and criticism, as health care pros have struggled to communicate the logic behind who qualifies for a shot and explain reports of unused vaccines wasting away in storage facilities.
Meanwhile, cases of the COVID-19 virus continue to rise in the U.S., topping 350,000 deaths. It might be a new year, but 2021 will begin very much in the shadow of the year that has passed.
Here are today's top stories:
Google responds to new employee union
Workers for the tech giant say that a new union—a members-only collective that will not have bargaining power to negotiate companywide contracts but rather push for employee priorities—is a necessity after bumpy year marred by scandal and widespread mistrust.
"This union builds upon years of courageous organizing by Google workers," said Nicki Anselmo, a Google program manager. "From fighting the 'real names' policy, to opposing Project Maven, to protesting the egregious, multi-million dollar payouts that have been given to executives who've committed sexual harassment, we've seen first-hand that Alphabet responds when we act collectively."
In the current climate, where support for employees and emphasis on worker well-being is at a high-point for the corporate world, Google is affirming its commitment to workers' rights.
The Verge continued:
In a statement emailed to The Verge, Kara Silverstein, director of people operations at Google, said: "We've always worked hard to create a supportive and rewarding workplace for our workforce. Of course our employees have protected labor rights that we support. But as we've always done, we'll continue engaging directly with all our employees."
Why it matters: Expect 2021 to be the year of employee relations, and for employee activism trends to dramatically shape corporate policy. For organizations that want to build trust with their workforce, finding ways to support employee growth and development will be essential. And companies that fail to prioritize their workers needs might find their hand being forced later down the road.
---
MEASURED THOUGHTS
More than half of Americans changed their Thanksgiving plans last year to account for the COVID-19 pandemic, according to Pew Research. The number shows the sharp divide that still exists for Americans when it comes to responding to the ongoing pandemic and adapting lifestyles and other major decisions.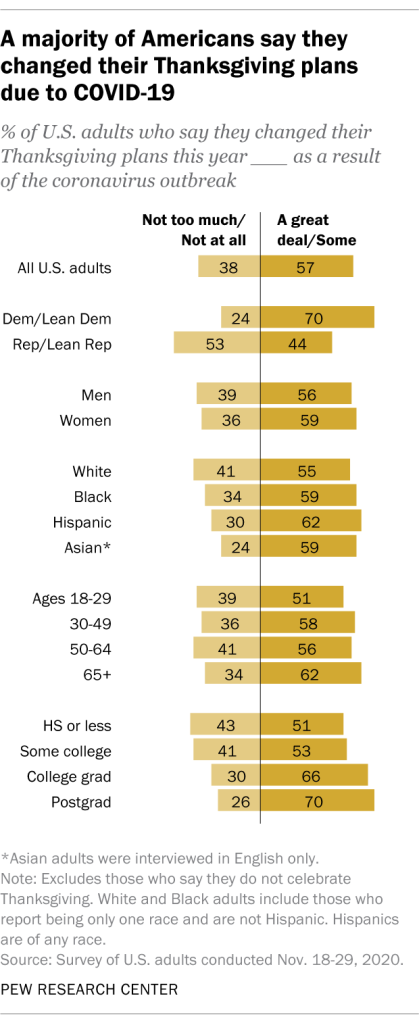 See more analysis by visiting Pew Research Center.
Epic bets on office work with new HQ
The video game developer behind Fortnite is buying a former mall in Cary, North Carolina, for its new headquarters, with plans to make use of the premises by 2024.
Epic has hundreds of employees at its current headquarters. Last year, the company announced plans to build a 450,000- to 550,000-foot expansion that would allow it to add an estimated 1,750 to 2,000 employees.

Sunday, a spokeswoman confirmed that planned expansion would not move forward, with the company instead shifting its focus to the Cary Towne Centre location.
What you should know: Not every company is betting on a remote future. At least some office space is still seen as central to future plans for growing organizations. Companies like REI might be ready to shed their brand-new HQ campuses, but others are still looking for that flagship central location.
---
SOCIAL BUZZ
WhatsApp logged record user numbers on New Year's Eve, according to a company blogpost. The app logged "more than 1.4 billion voice and video calls were made on New Year's Eve 2020 globally, the most ever calls in a single day on WhatsApp."
WhatsApp wasn't the only service to see growth in the digital transformation of 2020. Facebook also reported big numbers for Facebook Messenger and Instagram Live.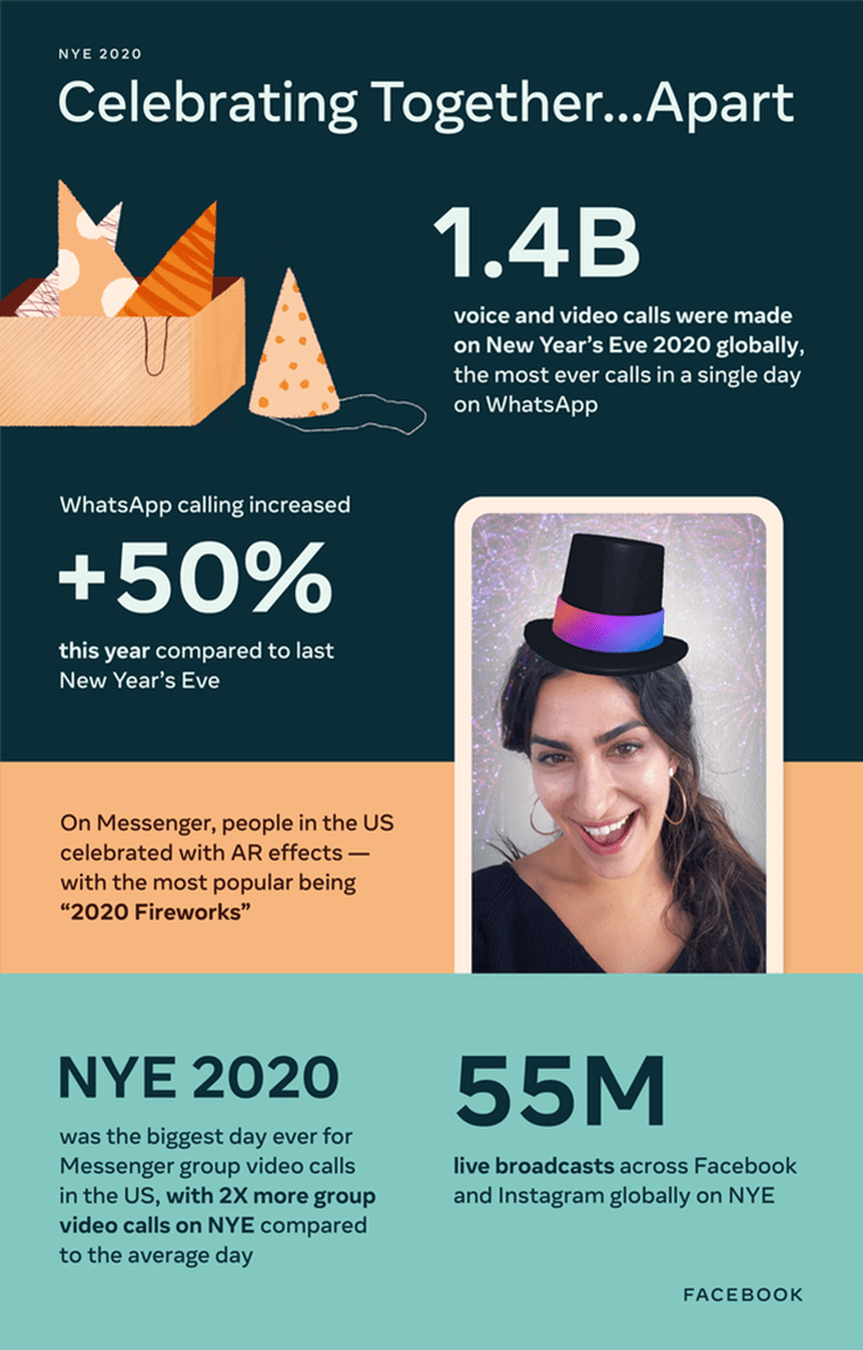 Microsoft is planning a 'visual' update to Windows
The company was scooped by brand enthusiasts who noticed job openings that were looking for a skillset and promised work to rejuvenate the storied tech brand.
The Verge reported the job listing which read:
"On this team, you'll work with our key platform, Surface, and OEM partners to orchestrate and deliver a sweeping visual rejuvenation of Windows experiences to signal to our customers that Windows is BACK and ensure that Windows is considered the best user OS experience for customers."
After being spotted, Microsoft quietly removed the language calling for a "seeping visual rejuvenation," but the story has already been picked up by trade press.
What you should know: The internet allows for everyone to be an investigative journalist, and crowdsourced reports about your plans for new staff and future brand work are fair game for press coverage. The problem for any company in the digital age is the sense of leaked secrets driving a narrative rather than a bold and transparent plan to reimagine a brand. If you can't hide your plans, make them part of your message to stakeholders.
---
TAKE OUR SURVEY
We want to know how PR agencies are building lasting, sustainable relationships with clients, including what is working and what is rubbing both parties the wrong way. That's why we're partnering with The Institute for Public Relations on a new survey to learn more about the state of the agency/client relationship.
Please take this 10-minute survey here.
---
SOUNDING BOARD
Do you have a new year's resolution you want to share, PR Daily readers? Let us know your wishes and hopes for 2021 with our hashtag #DailyScoop, or write your own resolution in the comments.
What's your New Year's Resolution for 2021, PR Daily readers? Share with our hashtag #DailyScoop.

— PR Daily (@PRDaily) January 4, 2021
COMMENT