Keeping it real with California Treasurer Fiona Ma: How to lead with empathy
Fiona Ma gets real on how she's working to put people back into public service.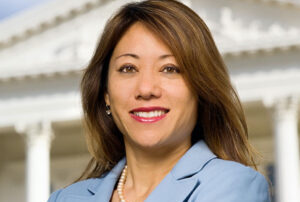 Fiona Ma is California's 34th State Treasurer and the primary banker for the world's fourth-largest economy. But as the highest-ranking Asian elected official in California, she's overcome countless obstacles on her journey — and has done so with an authentic communication style and win-win mindset.
Ahead of her session at PR Daily's Public Affairs & Speechwriting virtual conference, we sat down with Ma to discuss how she "keeps it real" at work, on social media and at the podium:
How has your leadership style been informed by the obstacles you've faced?
As an Asian-American woman, I've had to overcome "glass and bamboo ceilings" in my career. Thankfully, I was able to work with mentors and others who helped me along the way. So I've also tried to do that for the next generation of leaders.
For example, I mentor a group of students. We call them "The Ma Squad." It all comes down to being available and listening, while also giving them opportunities to shine in the real world. My office also works extensively on uplifting Socially and Economically Disadvantaged individuals (SEDI) and businesses and entrepreneurs. So we practice what we preach when it comes to helping others — and that reflects on the kind of help that was extended to me along the way.
What kind of advice and mentorship are you providing this next generation of leaders?
I try to give them a sense of true-north principles that can help them in their careers — just like the principles that were imbued in me. For example, I've formulated a series of eight principles that have helped guide me in my own work — and I like to share them with younger people whenever possible. They are:
Treat everyone with dignity and respect. We must consciously choose to be positive, especially in our communications with one another and with the public; we must seek to understand as well as to be understood.
Be honest and have integrity.
Find a solution and path forward instead of putting up roadblocks.
Work independently and proactively, but towards the team's goals.
We stand on the shoulders of those that came before us. Let us commit to becoming the shoulders of the future generations.
Be a good steward of the State's resources and conscious that all citizens are your employer. If we serve our stakeholders well, our personal successes are inevitable.
Be accountable and take responsibility. We must accept personal responsibility for the outcomes we promise. We must be accountable for what we don't deliver.
Exercise mindfulness towards yourself and towards others.
How do you "keep it real" in your speeches and presentations — any advice you can share ?
One of the biggest things I learned when first ran for elected office was to ground my speeches with personal or communal stories. I realized that it's not what you know — but who you know (in the audience). So, I engage and ask questions of people in the audience in advance.
For example, I ask them about their experiences and everyday issues before taking the podium. I want them to know I hear them and that I'm human, as well. So, my advice is to be inquisitive and to find out what your audience members are going through before you take the stage. Then you can mention a few of those things with a nod to the audience members when talking. It helps you keep it real and relevant — even if it's about taboo topics like depression, menopause or even domestic violence.
I also like to have people in the audience from my life who can help me share real-life case studies. That lets me say something like, "When Mary went through X procedure and couldn't get the treatment she needed…" before introducing a new health policy or something similar. It also helps me get "outside of the podium" and make it about people, not policy.
This really comes down to storytelling. With a roaming mic in hand, you can point out people in the audience and incorporate their stories — if you've taken the time to know them.
How can others ensure more diversity and inclusion in speeches or presentations?
First, it's important to understand and explore the difference between cultural competency and ethnic estrangement. Cultural competency is the ability to respond effectively to people of all cultures, classes, races, ethnic backgrounds, sexual orientations and faiths in a way that recognizes and values their worth, dignity and contributions. Ethnic estrangement is feeling that the larger culture's values aren't yours.
As public servants and communicators, we need to do more work on bridging those divides. We need to remove barriers between communities and typecasting in speeches. More specifically, we need to study inclusive language — and incorporate it whenever we can.
But that's just the beginning. We also need to step outside of our silos — and engage in-person with others who experience things differently. Being in the community helps you understand the tailored use of language in various communities versus only appearing once or infrequently.
We should also strive to limit labels. It's easy to classify and label someone based on their unique experience. For example:
homeless person versus a person experiencing homelessness
low-income person versus a person earning a low income
disabled person versus a person living with a disability
Those kinds of labels get in the way of respect and empowerment. That's why our office vigorously avoids them — and is working on a variety of savings programs like SIB, CalABLE and CalSavers to empower people to experience better outcomes, no matter what labels or limits others have put on them. We all need to put "people" back into "public service."
Speaking of keeping it real, I've seen you share everything from karaoke posts to keynote convos on economic empowerment with the likes of Tiffany Haddish on social media. How do you strike a balance between your personal and official brands on social media?
Our goal with our official social media posts is to humanize the office — so we can make tapping into our services more welcoming and accessible. It's also all about fostering greater public engagement and feedback. In terms of balancing that with what I post personally, I think it comes down to embracing the challenge of living a life as an elected official. While there may be a sacrifice in time and privacy, the reward is that I get to engage directly with the people I serve.
Social media has become a lot of other things since it started, but that two-way conversation has always been at its core—that's what I love about it. It's a way to remove the barrier of an office so your communities can receive news, information and services directly. It's a direct line and that motivation of service gives me the energy and drive it takes to maintain a healthy presence on social media.
Join Fiona Ma at PR Daily's Public Affairs & Speechwriting virtual conference on April 4. She'll speak alongside speechwriters and communications leaders from the U.S. Navy, Edelman, IBM, the U.S. Department of Labor, and more. 
Brian Pittman  is the Dean of Ragan Training and will be moderating the April 4 event. For more information about Ragan Training, contact him at brianp@ragan.com. 
COMMENT