Making visuals that get noticed on LinkedIn
Tips and tricks live from Ragan's Social Media Conference.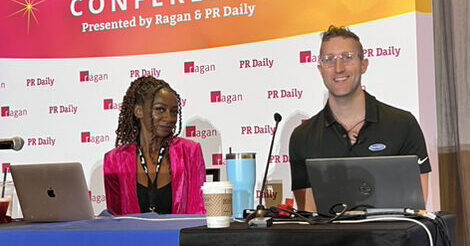 Storytelling is the heartbeat of every social strategy, according to Chaka Cumberbatch, U.S. social lead for Google Pixel. "It's how we learn from the past and how we ground ourselves in the present. It's how we plan for the future. It's a tool that we use to build connections, develop relationships, to form attachments."
That core focus on storytelling is something every communicator must understand.
But many of us have a tendency to view storytelling as a primarily linguistic endeavor, stories we tell with words, whether written or spoken. But with TikTok stealing eyeballs and shortening attention spans and images dominating Facebook, LinkedIn and Instagram, we as communicators need to stretch our brains to incorporate visuals into our storytelling strategies.
At the Social Media Conference, presented by Ragan and PR Daily at Walt Disney World this week through Friday, Cumberbatch was joined by Tim Stergiou-Allen, global social media manager for Carrier, for "Visual Storytelling and Design for Social Media."
The workshop was packed full of tips for designing a visual-forward social strategy, but let's zoom in on Stergiou-Allen's advice on creating visuals that work on LinkedIn, especially for B2B organizations. Using these techniques, Stergiou-Allen said that Carrier saw a 110% increase in engagement across platforms in 2021 vs. 2022.
Creating a visual hierarchy
No matter what platform you're creating imagery for, following a few visual design guidelines can help make everything pop, even if you aren't a trained graphic designer.
Stergiou-Allen recommended keeping these principles in mind, to ensure the most important elements of your image are standing out:
Size: This one's pretty obvious: we notice the largest elements of an image first, so make the most important point bigger.
Color and contrast: Use bright colors or contrasting colors to draw attention, within a text treatment. Find colors that complement your brand colors for added contrast.
Fonts: Use your proprietary fonts, but don't be afraid to incorporate bold, italics or other simple tweaks that can make a few words stand out. And Stergiou-Allen reminded the crowd that all fonts should be ADA compliant for people with visual disabilities — that usually mean staying away from scripted fonts or super narrow fonts, which can be tricky for screen readers to decode.
Space: Don't clutter. Use empty space or negative space to emphasize. The blank spaces are just as important as the content.
Rule of thirds: Imagine a nine-square grid over your image. Put the focus of the image on either the left or right third of the image for maximum impact.
Videos and imagery on LinkedIn
With those basics out of the way, let's get specific about what works on LinkedIn.
In general, you want to limit your text. LinkedIn will truncate your post behind a "read more" cut after just 140 characters — just like an old-school tweet. So, choose a handful of strong words, but let polished visuals and videos do the talking.
Yes, videos.
You might not think of the buttoned-up LinkedIn as a great video platform, but Stergiou-Allen says you should think again. "Believe me, I've seen it in my numbers … videos work," he said.
Let's take a look at an example.
Carrier created this 37-second video to celebrate the 120th anniversary of the air conditioner, invented by Willis Carrier. The video shows a timeline of notable moments in the history of this technology (pro tip: If you have a voice-over, as this video does, make sure to include closed captions, both for those with hearing impairments as well as those listening without sound).
The video earned strong engagements, with more than 12,000 views to date. However, the team didn't stop there.
They pulled out notable moments from that video into eight second snippets, which they released over the course of eight weeks.
They drew people in with the long video, then encouraged them to come back with the shorter videos. They built anticipation and actually had people asking about the next video.
They saw no decrease in momentum over the course of the campaign and earned two million total views and a whopping 40% engagement rate on LinkedIn.
Keep your eye on the visual
No matter what network you're working on, remember that social networks are driven by visuals. Keep them simple, streamlined and find creative ways to re-use content and grab your audience's attention.
The successful numbers speak for themselves.
Allison Carter is executive editor of PR Daily. Follow her on Twitter or LinkedIn.
COMMENT