PR Daily announces leadership network for career development and connections
Members of this exclusive group include Microsoft, L'Oreal, Target, Hotwire Global, Novo Nordisk, Metlife, Encompass Health, Goodwill, Cargill, AARP, Sheetz and UPS.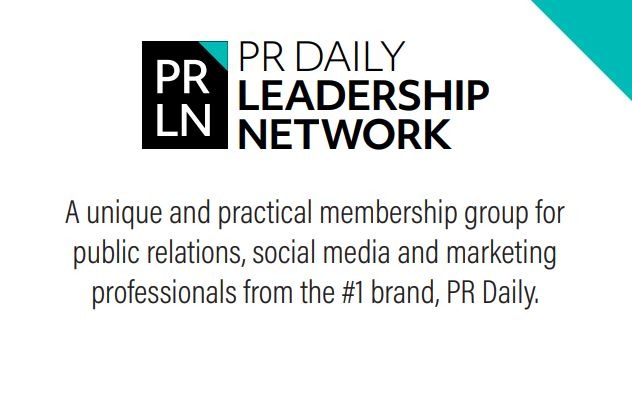 PR Daily is launching a unique peer-to-peer networking council for external communicators: The PR Daily Leadership Network.
The offering, bolstered by the company's best-in-class virtual and in-person conference programming and video training, offers a one-stop portal for communicators to get tools, tips and counsel on the challenges they face every day.
"The fast pace of change coupled with the demand on public relations professionals to protect and sometimes defend their company's reputation make it imperative for leaders to tap into the wisdom of other communicators and continue to learn and grow," says Diane Schwartz, CEO of Ragan Communications. "The PR Daily Leadership Network provides the answers but also encourages members to question the status quo and push for positive change."
The network builds on PR Daily's industry coverage, offering daily insights and consistent deep dives on topics such as social media, crisis communications, media relations, DE&I, industry tools and leadership solutions.
Members of the PR Daily Leadership Network are accepted on a rolling basis by a Ragan-appointed selection committee. Those wishing to attain the charter rate—and get complimentary passes to the Future of Communications Conference (Nov. 17) and the Writing & Content Creation Conference (Dec. 8)—should apply no later than Nov. 12.
Benefits of membership
The PR Daily Leadership Network offers a special opportunity for comms and PR pros to learn from peers, access industry-leading reports and research, and participate in ongoing conversations about the future of the industry.
Member offerings include:
Member-only meetings and calls
Member access to Ragan conferences, workshops and webinars
Concierge service
Online members-only portal
Proprietary research and data
Newsletters and other exclusive content
Media training sessions
Expert measurement sessions
Discounts on Ragan Awards programs and other services
Networking and industry matchmaking with PR and marketing pros
Included in the membership are consulting hours with measurement and media training experts to prepare your team for its next big presentation or pitch.
To learn more, check out the full announcement here.
COMMENT
One Response to "PR Daily announces leadership network for career development and connections"
Ronald N Levy

says:

Advantages of the network are appealing.

KNOWLEDGE: Members learn things that non-members don't learn.

CONTACTS: A friend tipped me off to what turned into a superb job, then weeks later I tipped him off to a job better for him than for me.

RESUME POWER: A recruiter is more likely to put a member's resume on the "see" pile.

FINAL DECISION: If three finalists are close, the one who's a member may get the win.

FUN: If you're single, so are many other members. Even if not, you meet friends with common experiences laugh about.