PR Daily welcomes industry leaders to its Advisory Board
A group of 13 industry insiders will guide PR Daily coverage and programming for 2022.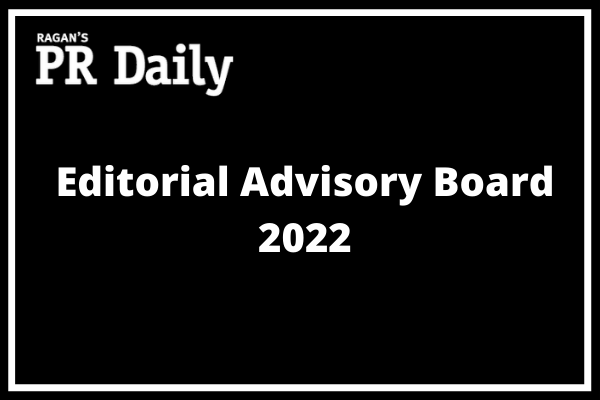 In what will undoubtedly prove to be a momentous year for the PR profession, we've asked a handful of PR leaders to help guide our coverage in the year ahead.
Here's a quick look at our 2022 advisory board:
Ellen Gerstein, senior director, content strategy & engagement, corporate affairs, Pfizer
Gerstein leads above-brand digital and social content strategy as a part of the company's global media relations and digital communications team at Pfizer. A leader with more than 20 years of delivering outstanding results, Gerstein is an accomplished marketer and communicator with a vast background in creating successful social media engagement and innovative marketing strategies.
Prior to Pfizer, she held leadership positions at organizations in a diverse range of industries, including publishing, nonprofit and media. Her most cocktail party-conversation-worthy role was Wiley Publishing's head of global social media and "For Dummies" brand manager (yes, the yellow and black books).
Carmen Collins, social media lead, Wish
Collins is the social media lead at Wish, helping to keep online shopping fun! She formerly created Cisco's award-winning @WeAreCisco strategy, leading the Talent Brand team for Cisco.
Collins was named a 2021 Top Woman in Communications, a 2020 Social Media Trailblazer, along with several Stevie Awards for Digital Communicator and Marketer of the Year, and Social Media Professional of the Year four years in a row!
She is co-authoring a book about empathy, due from Pearson publishing in 2022 and is an engaging keynote speaker on the marketing conference circuit.
Outside of her professional work, she loves to travel (as soon as Covid lets her again), has gotten drawn into the world of NFT communities, and spends a lot of time in her new sunroom in her Virginia home with her husband and fur-kid, a cat.
Nicole Dye-Anderson, SVP, director of media relations and influencer strategy, Wells Fargo
Having worked for some of the nation's most prominent politicians (President Joseph R. Biden), esteemed media outlets, international brands, Grammy Award-winning artists and NBA legends, Anderson's PR experience is extensive.
She has orchestrated national media tours, coordinated red carpet events, created strategic integrated marketing plans, and produced prominent media and influencer press events. She's built strong working relationships with top national media and media influencers and leverages those connections to generate positive press for her company, clients and community. Known for her high energy and staunch work ethic, she currently serves as SVP, director of media relations and influencer strategy for Wells Fargo's co-brand cards division, supporting the company's partner brands.
Prior to joining Wells Fargo, Dye-Anderson served as VP, head of media relations for Barclays where she led media relations for some of the country's most successful travel, entertainment and retail institutions including Uber, American Airlines, JetBlue, the National Football League, Wyndham, Upromise, Emirates and Priceline, to name a few.
Jill S. Davison, senior vice president, global brand communications, Mastercard
Davison is responsible for the communications activities of Mastercard's global marketing operation and healthcare business. She is focused on elevating the brand's footprint across consumer and business media, digital content creation, employee awareness, and managing executive visibility and thought leadership programs.
Prior to Mastercard, she spent two decades in the media industry during a period of significant transformation. Davison was vice president of corporate and brand communications at Meredith Corporation (formerly Time Inc.), where she played a vital role articulating the company's narrative and strengthening its profile. Before joining Time Inc., Davison was vice president of corporate communications of American Express Publishing, which was a wholly owned subsidiary of the American Express Company. She also worked for Hachette Filipacchi Media US, Hearst Magazines, and the international public relations agency Edelman Worldwide.
Jill began her career at DeVries Public Relations. She earned a Bachelor of Science in Journalism from Boston University.
Michael Kaye, communications manager, LinkedIn
Kaye is a corporate communications manager at LinkedIn, the world's largest professional network with 800+ million members in more than 200 countries and territories worldwide. He was previously the senior global communications and public relations manager at OkCupid, where he led PR programming in the United States and for countries across Europe, the Middle East and Oceania. Michael has been featured in ABC News, Ad Age, Business Insider, Bustle, CBS, CNN, Cosmopolitan, Elite Daily, Forbes, Good Morning America, The New York Times, PR News, PRWeek, VICE and The Washington Post.
Michael graduated from the University at Albany with a Bachelor's Degree in Communication and Sociology, and later earned his Master's Degree in Strategic Communication from American University. In 2020 he earned his Certificate in Corporate Communications from Cornell University.
Marcia DiStaso, Ph.D., professor and chair of Public Relations Department, University of Florida
Dr. Marcia DiStaso, APR, is a professor and chair of the Public Relations Department at the University of Florida. Her current research primarily focuses on corporate purpose—or how companies create value for all stakeholders. Much of her past research has been on digital/social media, financial communication (internal and external communication for financial companies like banks) and investor relations (communication about financial topics of special interest to investors).
She is the 2021 Institute for Public Relations Pathfinder Award winner for lifetime achievement in public relations research. In 2019, she won the PRNEWS Educator of the Year Award and was elected into the PR Measurement Hall of Fame. In 2016, she won the Public Relations Society of America (PRSA) Educator of the Year Award. Plus, with her students, she has won a Silver Anvil Award of Excellence, a Hermes Creative Award, and MarCom Awards.
As an Institute for Public Relations trustee, a member of Page and a past board member of the Global Alliance she is extremely involved in the public relation industry.
Johna Burke, global managing director, AMEC
Burke has 30 years of experience in PR, communications and marketing. Leading the PR and investor relations efforts at a Fortune 500 company provided first-hand experience in the challenges and trials of PR and communication professionals.
During her career Burke has managed regional business and national business lines including responsibility for production, sales, HR, finance and the overall client experience, which further developed her understanding of the P&L and the impact of communication. Her success and expertise give her unique experience and perspective making her a tireless advocate of tying communication efforts to business results.
Johna is a member of the ICCO Hall of Fame, an AMEC Fellow, PRCA Fellow, PR News Measurement Hall of Fame, and serves on the IPR Measurement Commission.
Mandy Menaker, director of communications, Orchard
Mandy Menaker is director of communications at Orchard, a real estate tech solution for home sellers and buyers. Menaker previously served as head of PR at ClassPass, where she led numerous tentpole announcements such as a $285 million Series E fundraise. Her communications efforts resulted in 400 pieces of global coverage across publications such as The New York Times, CNN, Fast Company, Fortune, Bloomberg, and TechCrunch and earned ClassPass a distinction by Forbes as the "first unicorn of the decade." She also led the 2021 ClassPass Trends Report, which was covered by over 100 publications and featured by Good Morning America.
Before ClassPass, Menaker led global communications for professional networking app Shapr. She was the first hire in North America and led brand positioning and development, earning coverage in publications such as The Wall Street Journal, BBC, and Wired, and writing all ad copy for a subway campaign that appeared in 584 NYC subway car interiors. She also spearheaded a VIP networking group called Connectors Club that featured events such as cocktails with Entrepreneur's Editor-in-Chief in a private West Village loft.
In 2021, Menaker was honored to be named to the "15 under 35" list published by the Public Relations Society of America (PRSA) New York chapter. She was also named one of the Top Women In Communications, Class of 2021 by Ragan Communications and PR Daily. Between pitches, she can be found cycling through Manhattan with her 8-pound Maltipoo catching a ride.
Ronald Roberts, managing partner, Finn Partners
Roberts is a managing partner for FINN Partner's Nashville Office and leads its client retention program.  He is a member of FINN Partner's crisis communications team and is certified in crisis communications management via the Institute for Crisis Management.  He helps direct the agency's quick response teams during extensive crisis management situations.
He also specializes in media training, message development, media relations and strategic planning.  Roberts speaks/presents on branding and messaging, both from a corporate as well as individual standpoint, and has expertise in corporate communication and conflict resolution.
Roberts is a co-leader of the 100+ member FINN Partners Diversity, Equity and Inclusion (DEI) Committee.  He also provides counsel and direction for clients in the development and implementation of DEI and DEI-related programs.  He has also served on panels, written blogs and multiple articles in the PR trade publication PR Daily on DEI programs and initiatives.
Juan ("Dren") Meng, Ph.D., associate professor, University of Georgia
Dr. Juan (pronounced as "Dren") Meng is associate professor of public relations in the Grady College of Journalism and Mass Communication at the University of Georgia. She is the founder and director of UGA's Go Global Choose China program. She also founded Grady College's Cooperative Education 3+1+1 programs with Shanghai Normal University and Shanghai International Studies University.
Meng has published more than 75 refereed journal articles, scholarly book chapters and research reports on leadership-related topics. She has present at various panels, workshops, webinars, and symposiums and won different research awards nationally and internationally.
Meng serves on the national advisory board of The Plank Center for Leadership in Public Relations and leads several signature research projects funded by The Plank Center, including the largest global study of PR leadership, Millennial Communication Professionals in the Workplace, the biennial Report Card on PR Leaders, the biennial North American Communication Monitor, and Women and Leadership in PR. She is a Page member and currently serves as the Research Co-Chair on the executive committee of the PRSA Educators Academy.
Lauren Lawson-Zilai, senior director, PR Goodwill Industries International
Lawson-Zilai is an external communications executive for Goodwill Industries International, North America's leader in workforce training and development, job placement and other support services for people looking for employment or career advancement. As a spokesperson for Goodwill®, she has been quoted frequently in the media including the Associated Press, The Chronicle of Philanthropy, Forbes, MarketWatch Radio, The New York Times, The NonProfit Times, PEOPLE, PR News and USA TODAY.
Lawson-Zilai has spent most of her career using marketing and communications to drive social change and impact and elevate the brand awareness of mission-driven nonprofit organizations in both a for-profit and pro bono capacity. Lawson-Zilai is the immediate past president of the Public Relations Society of America – National Capital Chapter, an Advisory Council member of Washington Women in Public Relations, Advisory Board member of the National Digital Roundtable, a member of the PR Daily Leadership Network, and Leadership Council member of Lycoming College, her alma mater, personally appointed by the President of the College.
Mark Weiner, measurement expert and author
Weiner is the author of "PR Technology, Data and Insights" published by Kogan Page in 2021. He is an authority on topics related to communications research and analysis.
He has led communications analytics and advisory services for over 30 years and recently joined PublicRelay as its Chief Insights Officer. In this newly-created role, he is responsible for enhancing and growing the company's insights and consulting practice and accelerating delivery of advanced, data-informed analysis, insights, and guidance.
Weiner is a member of the Arthur Page Society and an advisor to The Museum of Public Relations as well as the 2018 winner of the Institute for Public Relations Jack Felton Lifetime Achievement Award and for whom he serves as a trustee. Weiner provides thought leadership through speaking, writing and his monthly column for PR Daily ("Tell Me About it") which he co-writes with Tina McCorkindale and which explores the lighter side of trends in public relations.
He is a frequent speaker at conferences and universities around the world.
Melissa Lander, vice president of communications, Trinity Health
With more than 20 years of experience in directing business-driven communications strategies, Lander is responsible for leading communications at Trinity Health, one of the largest healthcare systems in the country.
Her career includes more than 15 years in the healthcare industry, where she has excelled at crafting innovative plans for media relations, community relations, brand development, change management, integrated marketing/communications campaigns, internal communications, and crisis communications. In addition to her ability to confidently lead teams through crises, Lander has become known for her strong problem solving and storytelling skills, leveraging them to elevate internal and external reputations as well as influence and inspire communities and stakeholders.
Lander holds a bachelor's degree from The Ohio State University.
COMMENT