Ragan and PR Daily honor the 2021 top women in communications
The list of honorees includes leaders in the profession who are working to build bridges and support communities, mentor young pros and champion DE&I, as well as facilitate innovation and trust.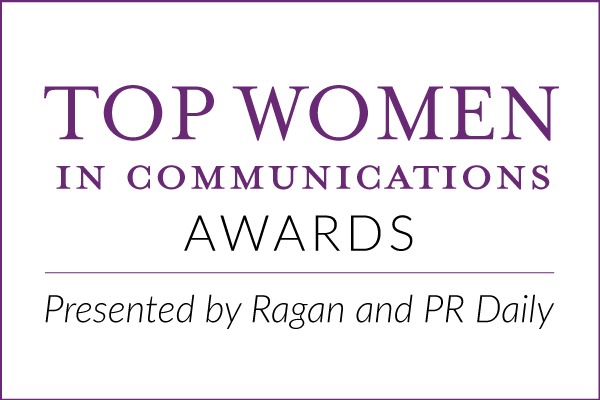 After an extraordinary year, the business world has gained a keen understanding of how essential a good communicator is.
Whether tasked with helping employees transition to remote work, deliver timely and accurate public health messages or keep distributed communities connected, the work of the communicator has become indispensable. And it's against this backdrop that the 2021 class of top women in communications rose to the challenge.
From the many outstanding leaders who are being recognized this year, we are highlighting a few exemplary individuals—women who went above and beyond for their colleagues and communities in a year of crisis, turmoil and doubt.
'Bridge Builder' – Latoya Bennett-Johnson, Director, Mastercard
Mastercard's employer brand has never been clearer, thanks to the efforts of Latoya Bennett-Johnson. Bennett-Johnson has developed a Recruitment Marketing toolkit to help the company communicate its priorities and strengths to new hires. She shapes strategy on the "In Solidarity" steering committee and is the familiar voice of the company's "Inside the Circles" culture podcast.
For her inspiring work across multiple company activities, Latoya has been recognized as an honoree in the Bridge Builders category of Ragan's 2021 Top Women in Communications Awards.
'Diversity, Equity & Inclusion Champion' – Crystal Borde, Vice President, Vanguard Communications
2020 will forever be remembered for the global pandemic and the global reckoning on racial equality. Many communicators were tasked with addressing deep issues and how systemic oppression continues to create profound imbalances—even when leaders have better intentions.
Crystal Borde has been an advocate for DE&I long before the protests arose after the murder of George Floyd. In her work as a vice president for Vanguard Communications, Borde has delivered presentations for the National Press Club and the Social Marketing Association of North America. She also developed statements related to multiple DE&I headlines, from George Floyd's murder to a Supreme Court decision on LGBTQ rights in the workplace.
For her many achievements, Borde is honored as a DE&I Champion in Ragan's 2021 Top Women in Communications Awards.
'Mentor' – Geri Johnson, Senior Vice President Innovation, Next PR
Geri Johnson knows how to inspire a team to deliver their very best work.
"My role is to keep us all kicking ass and doing great work," Johnson says. "When that happens, it creates a snowball effect. We're happy, our clients are happy, and that's apparent in the awards and accolades we've brought home over the last year."
Her leadership was instrumental during the protests and social justice movements of 2020 when employees looked for a place to have a conversation about race and identity. She led a series of "Courageous Conversations," posting two-to-three-minute topical videos on the agency's internal communication feed and hosting candid discussions about serious issues.
Her work and unyielding support for her team at Next PR has earned her recognition as an honoree as "Mentor" in Ragan's 2021 Top Women in Communications Awards.
'Leader' – Katie Huang Shin, President, AxiCom
Extraordinary circumstances demand extraordinary leadership.
When Katie Huang Shin joined AxiCom as president, California was under a shelter-in-place order. Immediately, she moved to foster a remote culture and build a community of colleagues working toward a shared goal.
Working with her newly established leadership team, she formalized annual reviews, set criteria for career development and advancement and created AxiCom's first Axi-Academy—a learning and development program with a fully developed curriculum. To date, more than 90% of AxiCom's staff have attended Axi-Academy's virtual learning sessions.
Shin initiated weekly Friday emails that provide business updates as well as amusing anecdotes. She leads quarterly "Ask me anything" sessions, and she has an open-door policy that enables employees to connect with her any time.
For her tireless efforts, she is recognized as a "Leader" honoree in Ragan's 2021 Top Women in Communications Awards.
'Community Giver' – Niki Lim, Director of Business Development, Big Communications
Niki Lim has found not one cause—but four to champion in her community of Birmingham, Alabama.
As a member of Leadership Birmingham, Lim worked to help with the 2020 Census, working to get community members to take the vital government survey. As a board member for animal-therapy organization Hand in Paw, Lim worked to integrate Zoom virtual visits to medical facilities, schools and nursing homes during the pandemic.
Lim also serves with the Junior League of Birmingham and The Women's Fund of Greater Birmingham, helping to support victims of sexual assault and offer other services to the community.
For her many acts of service, Niki Lim is recognized as a "Community Giver" honoree in Ragan's 2021 Top Women in Communications Awards.
'Trailblazer' – Fabiola Morera, Founder and Managing Partner, Fabiola Morera Communicaciones
Fabiola Morera defines what it means to break barriers.
As the founder of a trailblazing PR agency in her home country of Colombia, Morera became an active agent of change, promoting optimism, creating opportunities and generating positive messaging for multinationals, local companies, business associations, governments and NGOs.
Ten years ago, Morera took her firm in a new direction. Focusing on purpose-driven work, Morera rededicated her practice to efforts that target behavioral impact, cultural transformation and social cohesion. Her work has helped to create social and economic inclusion opportunities for vulnerable populations, underrepresented communities, women's empowerment and more.
For her outstanding contributions to her community and the communications industry, Fabiola Morera is recognized as a "Trailblazer" in Ragan's 2021 Top Women in Communications Awards.
'Crisis Navigator' – Stacey Sunday, Manager of Communications & Public Affairs, Renown Health
A global health crisis presented unique challenges to health care communicators in the past year.
As Renown's public affairs manager, Stacey Sunday has responded to a constant flood of requests to coordinate with journalists, the local community, doctors and employees. Sunday responded by pursuing every communications opportunity. For example, the coronavirus site on the company's intranet attracted more than 76,000 views, nearly twice as many as the next most viewed page. She also obtained more than 600 editorial mentions in news outlets.
Internally, she updated the health group's intranet more than 100 times and sent 77 emails to staff recapping recent news coverage and sharing how Renown's experts were featured in media reports.
For her excellent work in an extraordinary time, Stacey Sunday is recognized as a "Crisis Navigator" in Ragan's 2021 Top Women in Communications Awards.
'Dynamic Do-er' – Anna Boisvert, Senior Vice President, Group Director, Consumer & Lifestyle, Access Brand Communications
Every organization relies on those crucial employees who just get things done.
For Access Brand Communications, Anna Boisvert represents a handful of big clients, including some of the biggest consumer brands in the world, including Philips, Reckitt Benckiser and Blue Diamond. But it was Lysol, makers of disinfectants and cleaning products, that received outsized attention during the early days of the pandemic in 2020.
When the brand's products disappeared from shelves, Boisvert delivered around-the-clock strategic communications and social media support for the brand to address shortages, along with reinforcing proper use of the product. She saw even bigger success with an effort to support parents with a campaign about saving and sanitizing beloved stuffed animals.
The "Teddy Repair" initiative provided parents with the tools to fix and clean their children's stuffed animals. The campaign included influencer engagement to deliver tips to parents—and was named one of the top 40 campaigns of the year worldwide at the Global Sabre Awards.
For her many accomplishments, Anna Boisvert is recognized as a "Dynamic Do-er" in Ragan's 2021 Top Women in Communications Awards.
'Visionary' – Victoria Gillespie, Chief Marketing and Communications Officer, National Association of Realtors
In a very short time, Victoria Gillespie has proven to be indispensable for her organization, the National Association of Realtors (NAR).
In just over two years on the job, she has overseen development of the most successful consumer advertising campaign in NAR's history, a full redesign of the association's website and its seamless pivot to a fully virtual events operation.
Looking for truly innovative solutions, Gillespie's team produced an eight-episode TV series which looked to offer viewers a more comprehensive and accurate view of the home buying process. The series was broadcast to more than 40 million households on Roku TV.
With her many achievements, Victoria Gillespie is recognized as a "Visionary" in Ragan's 2021 Top Women in Communications Awards.
There are many more members of our outstanding Class of 2021, and we encourage you to check out the full list of these impressive leaders in our special edition. You can read it here.
COMMENT