Roblox defends partner Chipotle after server crash, employees facing burnout want more time, and Patagonia takes aim at Facebook
Also: McDonald's creates first NFT of the McRib, Twitter expands live audio recording feature, University of Florida clarifies choice to prevent professors from joining lawsuit, and more.
Hello, communicators:
McDonald's is introducing its first non-fungible token (NFT) today to mark the 40th anniversary of the McRib sandwich and celebrate the fan favorite's return to restaurants nationwide. McDonald's will give away the unique digital art to 10 McRib fans who retweet the contest invitation.
"Our McRib NFTs are digital versions of the fan favorite sandwich—almost as saucy as the McRib itself," McDonald's says in its press release. "With the McRib NFT, you'll never again have to say goodbye to the sandwich you love."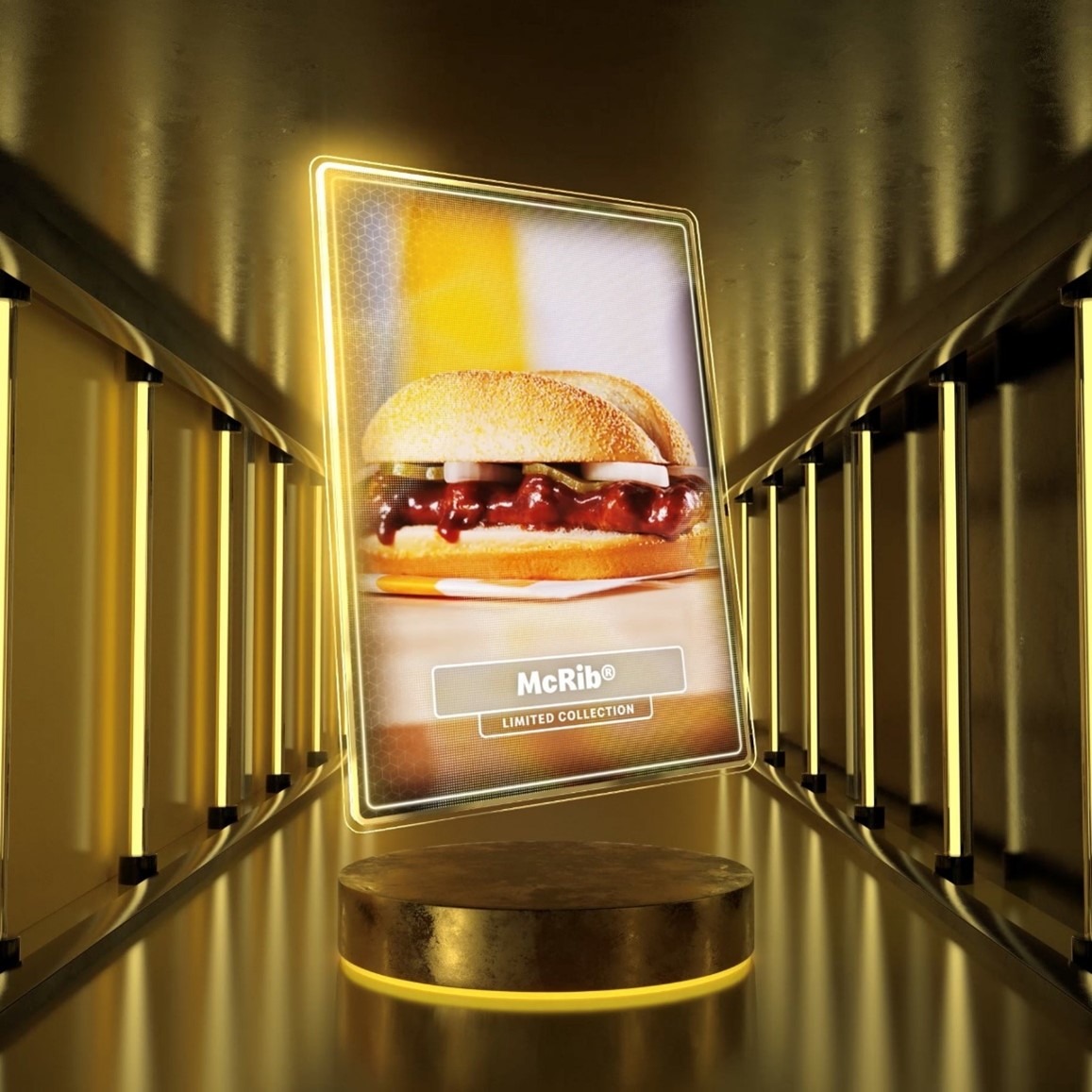 McDonald's McRib NFT commemorating the limited-time menu item suggests how the new technology can become part of your communications strategy, with virtual merch as souvenirs to engage audiences around brand milestones.
Here are today's top stories:
Metaverse platform Roblox defends Chipotle after server crash
Metaverse gaming and experiences platform Roblox was down most of the weekend citing server issues, which some blamed on Chipotle's "Boorito" promotion where the company planned to give away $1 million worth of free burritos. The promotion went live on Oct. 28 and Roblox's servers were down minutes later.
Roblox was quick to stand by its brand partner:
Still making progress on today's outage. We'll continue to keep you updated. Once again, we apologize for the delay.

We know that this outage was not related to any specific experiences or partnerships on the platform.

— Roblox (@Roblox) October 29, 2021
In a statement to The Verge late Saturday, Roblox confirmed its platform wasn't down due to an "external intrusion," and that the company is working "around the clock" to resolve the huge outage. "We believe we have identified an underlying internal cause of the outage with no evidence of an external intrusion," says a Roblox spokesperson. "We are in the process of performing the necessary engineering and maintenance work to get Roblox back up and running as soon as possible. We apologize that our community is unable to be on Roblox during this time."
With just a few hours of Halloween left, Chipotle announced that the metaverse promotion was back online and made light of the incident:
Back in business on @Roblox pic.twitter.com/g8uXip0qgk

— Chipotle (@ChipotleTweets) October 31, 2021
While some users expressed frustrations over not being able to claim their burrito, others saw this promotion as an example of the metaverse's potential for brand activations:
Chipotle opened a store in Roblox and handed out free burritos.

Over 14,000,000 people logged in to claim one.

Metaverse? Probably nothing.

Guac? Probably extra.

— NATΞ R◎TH (@NathanCRoth) October 31, 2021
Chipotle opened a store in Roblox, handing out free burritos, and 14m people logged in to claim.

And you doubt the metaverse?

— Anish Agnihotri (@_anishagnihotri) October 31, 2021
Why it matters:
Arriving just days after Facebook's rebrand to Meta bought renewed attention to the concept of a metaverse, the popularity of Roblox's partnership with Chipotle highlights how much potential the metaverse has for branded partnerships. It also suggests that some metaverse platforms may not have the infrastructure to support large brand activations quite yet.
While Roblox's statement takes full responsibility for the outage as the host of the activation, its failure to provide specifics of why its servers were down for so long invites more questions. Embracing new technologies sometimes requires you to communicate the growing pains that come with being an early adopter, and brand managers can reframe campaigns' initial failures as opportunities to improve.
---
MEASURED THOUGHTS
In a recent Aflac report, 57% of those surveyed said that flexible scheduling and paid time off are the most meaningful ways that an employer could help them deal with burnout.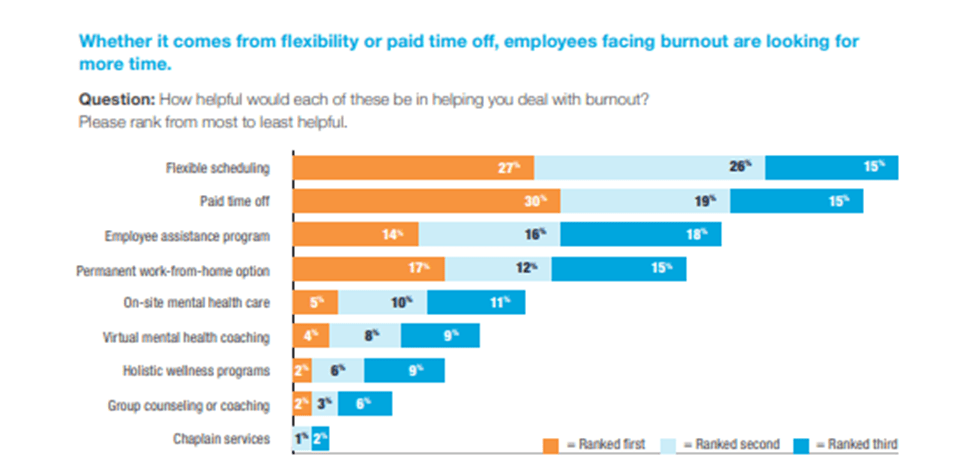 "Employee perceptions of how PTO is viewed at their organizations are strongly associated with their beliefs of whether or not their employer cares about their mental and physical health," Aflac director of organizational communications Sarah Plaster told PR Daily about these findings. "I think it is fair to say [that] companies that are providing flexibility and generous PTO are helping their employees cope with burnout if taking time off is seen as a positive thing in the culture. As leaders, we need to use our time off and talk about it to reinforce that time off is provided by the company to use."
---
SOCIAL BUZZ
Twitter announced that it will allow some hosts in its live audio app, Spaces, to record their conversations and download them after the broadcast ends:
🔴 REC has started

one feature you've been asking for is Spaces Recording and the ability to replay. Some hosts on iOS will now be able to record their Spaces and share it out to their audience. pic.twitter.com/Puz78oCm4t

— Spaces (@TwitterSpaces) October 28, 2021
Like the recording feature on Spotify's live audio app Greenroom, the ability to record conversations allows your brand or organization to repurpose programming for a podcast or other promotional material. This can extend the footprint of your conversations and pull out important takeaways for audiences who engage with your company elsewhere.
---
TACTFULLY SPEAKING
The University of Florida (UF) announced that it will deny professors permission to testify in a voting rights lawsuit against the state of Florida, framing its decision around a potential conflict of interest while emphasizing its commitment to free speech.
Recent news reports have indicated the University of Florida denied requests of some faculty members to participate in a lawsuit over the state of Florida's new election laws.

The University of Florida has a long track record of supporting free speech and our faculty's academic freedom, and we will continue to do so. It is important to note that the university did not deny the First Amendment rights or academic freedom of professors Dan Smith, Michael McDonald and Sharon Austin. Rather, the university denied requests of these full-time employees to undertake outside paid work that is adverse to the university's interests as a state of Florida institution.
Understanding that higher-education institutions are often accused of suppressing free speech, UF takes a proactive approach by offering transparency about the reason behind its decision. The university's terse, direct statement is a textbook example of what it looks like to take control of the narrative before your critics do.
---
TAKE OUR SURVEY
The HarrisX – Ragan CEO/Communicators Competencies Survey is looking for chief communications officers, senior vice presidents and top comms officers to take our first-of-its-kind poll. The survey seeks your feedback on what you consider to be the most important skills and attributes communicators must master—and we're asking your CEO as well.
The findings—and comparisons of CEO views vs. those of communicators—will be announced during Ragan's Communications Week Nov. 15-19 and in a special report this winter.
Can you spare a few minutes to help us chart the future of the communications role?
Patagonia calls on other companies to join its Facebook ad boycott
The clothing company's CEO Ryan Gellert has spoken out against Meta (formerly Facebook), urging other companies to join the outdoors brand in pulling its ads from the platform.
"We believe Facebook has a responsibility to make sure its products do no harm, and until they do, Patagonia will continue to withhold our advertising," Gellert said in a statement to CNN. "We encourage other businesses to join us in pushing Facebook to prioritize people and planet over profit."

"Patagonia stopped all paid advertising on Facebook platforms in June 2020 because they spread hate speech and misinformation about climate change and our democracy. We continue to stand by that boycott 16 months later," Gellert said.

"The internal Facebook documents released over the last few weeks have made it incredibly clear that they know the irreparable damage that their lack of accountability causes their three billion users and the corrosive effects that has on society itself," Gellert said. "Facebook's executives know what steps it can take to mitigate such harm—yet they have repeatedly failed to reform."
Sharing the statement on Twitter, Gellert explained how its boycott has affected stakeholders while stressing that the decision was worth it:
This decision has affected our business & the environmental NPOs that we support—whose campaigns benefit from the social media amplification that we fund and execute. But we have learned to adapt. We are smarter in how we grow our community as a result of this advertising ban.

— Patagonia (@patagonia) October 28, 2021
What it means:
Patagonia's eagerness to remind audiences and other businesses of its objections to Facebook's practices suggests that Facebook's rebrand was not enough to paper over past criticisms of the company. While Facebook's rebrand to Meta focused primarily on the user experience, its messaging around privacy failed to acknowledge how the company will engage in privacy-minded relationships with brand and ad partners.
Patagonia's boycott also reveals how brands that are "purpose-driven" are willing to put principles above profits—a calculation that is made clear in Patagonia's explanation of the lost opportunities due to a absence on Facebook's global platform.
COMMENT
One Response to "Roblox defends partner Chipotle after server crash, employees facing burnout want more time, and Patagonia takes aim at Facebook"
Ronald N Levy

says:

Patagonia boycotting Facebook is like a flea yelling "Look at ME everyone, I'm biting the elephant!"