This is what the most popular podcasts have in common
New research from Pew gives insight into top listens.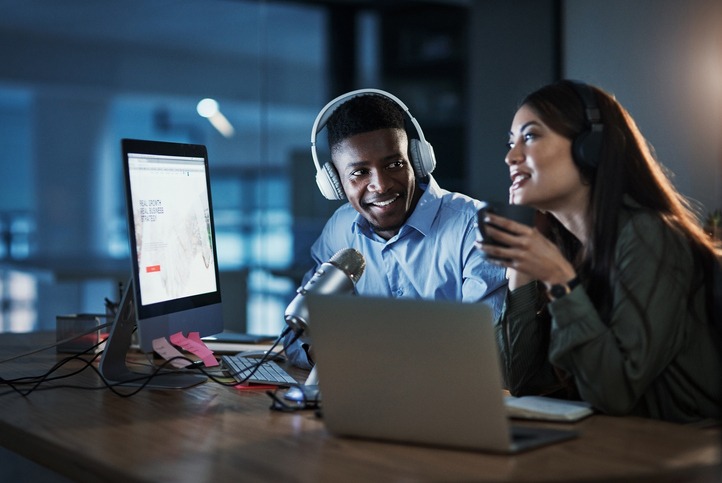 Have you placed a client on a podcast before as an interview subject? Or listened to a popular one as of late with a subject matter expert giving sage advice or expounding on an idea? If not, you are missing out. Podcasts are still all the rage and will be for quite some time, according to a Pew Research Center top-ranked podcast survey.
The Pew Research Center recently revealed an analysis of the 451 top-ranking podcasts on Apple Podcasts and Spotify from April 1, 2022, to September 30, 2022. The podcast data homed in on show formats and primary factors that made these podcasts popular.
Of those 451 podcasts, these are the most popular genres:
True crime: 24%
Multiple topics: 20%
Other topics: 12%
Politics and government: 10%
Entertainment, pop culture and the arts 9%
Self-help and relationship: 8%
Sports: 6%
History 4%
Money and finance, comedy, and religion: 2%
Science and technology and health: 1%.
Audiences are also heavily engaged in podcasts. Pew Research from this past spring finds that roughly half of Americans have listened to a podcast in the last year (49%).
That's a lot of listeners. With so many tuning in, podcasts are the perfect place for people to learn about your client and brand. They can offer a fresh perspective or bold take to an already popular show on topics discussing true crime, entertainment and self-help.
The top-ranked podcasts come in various formats with 38% featuring deep reporting or explaining a topic. About a quarter (23%) of podcasts are interview shows, and another 16% are commentary-centered.
Your subject matter experts have stories to tell and can share their expertise, advice, or overall amplify the brand with their knowledge.
Putting them on interview-based podcasts could be a great place to start where they could naturally lend their expertise to the topic at hand.
Adding their voice to a popular podcast could elevate the brand in new ways and could connect them to more audiences, too.
Across all genres, about 15% of the top-ranked podcasts are primarily news focused, the study found.
"There are several possible reasons for this, including that many podcasts that do not primarily focus on the news occasionally discuss news-related topics," according to Pew.
Podcasts with a news slant can touch on various topics including politics, sports and entertainment.
However, nearly half (49%) of the news-focused podcasts are centered around politics and government, like "The Dan Bongino Show" and "The Kyle Kulinski Show."
Also, 63% of news-focused top podcasts feature a video element to their show. Podcasting is no longer merely a visual medium, as platforms like YouTube move into the space. Be sure to prep your clients that they need to be camera ready for podcasts — and consider preparing visuals to help them.
Hannah Nieves, founder and principal at Hannah Nieves Consulting, said in a Forbes article that sharing your story can go a long way because "your story is your most powerful asset."
"Similar to sharing your story, showcasing your expertise in your field is a great way to spark the interest of a potential podcast host," Nieves said. "Sharing your knowledge with an audience provides credibility for your experiences and allows you to show what you bring to that community. Your expertise can be shared through similar outlets such as on social media platforms, at larger events and with your clients."
Sherri Kolade is a writer at Ragan Communications. When she is not with her family, she enjoys watching Alfred Hitchcock-style films, reading and building an authentically curated life that includes more than occasionally finding something deliciously fried. Follow her on LinkedIn. Have a great PR story idea? Email her at sherrik@ragan.com. 
COMMENT
Tags: podcasts