What targeted PR outreach to journalists should look like
Your template might save you time, but it is undermining your relationship with important industry contacts. Here's how to make your pitch stand out.
The primary objective and challenge of any PR pro is ensuring that your client's content reaches a broader audience. In a perfect world, it would be as easy as identifying the best media outlet and journalist, sending a quick email, and—Presto!—your client's work is published for readers to enjoy.
It's too bad we do not live in a perfect PR world.
Journalists receive dozens of pitches a day. In addition to having limited editorial calendars, many of the pitches they receive are impersonal and irrelevant to their beat and their audience. With flooded inboxes and finite story bandwidth, digital PR professionals must go the extra mile to cut through the noise.
To get a writer's attention, many of us understand that targeted PR outreach and personalization are superior methods for demonstrating the value of your content, developing relationships with publishers, and earning quality media coverage for your clients.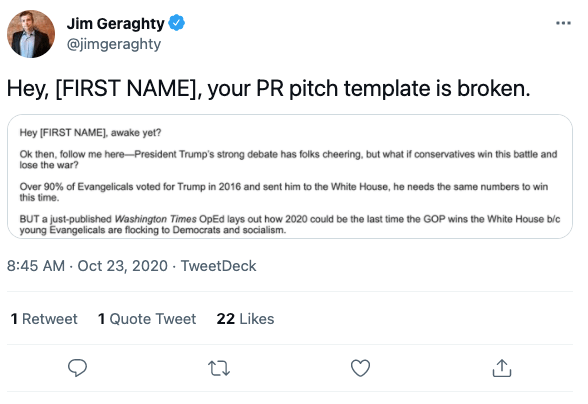 Here are some of the tactics that we used to nab coverage a month before the 2020 U.S. Presidential Election for our clients.
1. Check out Twitter to mine personal details to tailor your pitch.
College Finance, a company dedicated to helping students make informed choices about college education, surveyed hundreds of eligible Gen Z voters to get their thoughts on the issues that mattered most to them.
In a wild and saturated media landscape leading up to the election, here's how a member of my team used an editor's Twitter biography to strike a personal connection and earn coverage at a high-profile political outlet.
The outreach email:
I gathered from your Twitter that you're also a Giants fan. I'm always curious, how do you feel about Daniel Jones? Personally, I'm not convinced he's the guy. With the election upon us, I have new research you and your readers may appreciate that reveals how the youngest voters are likely to participate.
Their response: 
Thank you, sir! If the Giants win, then we're definitely going to win this election lol…Regarding the poll, if you don't mind, I'll be writing this up tonight.
Here we see the value of demonstrating shared interests in personalized pitches, which would be lacking from a templated "email blast."
2. Read their work to understand their interests and beat.
While sleuthing through a publisher's social media can be a viable means of establishing a personal connection, a writer's body of work also reveals enough about their interests and preferences for PR professionals to make an informed pitch.
Take, for example, this fitness writer for Military.com, which we identified as the ideal writer for a story on an exercise study. Their beat focuses on actionable workout programs and often includes advice on optimal exercise conditions (i.e., time of day).
With this information handy, a tailored subject line, personal connection, and call to action were used to maximize the appeal and relevance of a campaign about how and when employees exercise during the workday.
Subject line:
Study finds A.M. exercise is most beneficial for workplace productivity [Exclusive]
Message:
I love the home gym fitness challenge! I've adapted to life away from the gym with rubber bands, a 25 lb. kettlebell, and running around my apartment. I prefer exercising before work, and new research finds that most professionals experience the most benefits doing so as well.
Call to action:
Certain exercises performed at different times of day can have a dramatic impact on one's work performance and job satisfaction. Would you be interested in the exclusive?
This targeted approach garnered the following response:
Thanks. I have been an AM exerciser for over 35 years now so I always love to see my anecdotal evidence / experience validated…. 🙂 This looks like great content. Let me know what you want me to link to in the article.
Before outreach, it pays off for PR pros to spend extra time and effort researching publishers' interests to cultivate a targeted PR approach. Securing coverage with templated emails can be effective, but the tactic is unlikely ever to receive glowing feedback from writers.
The creative use of subject lines and personal photo attachments can also go a long way for targeted PR outreach, far beyond what's possible with templates.
3. Make the most of your email subject line.
In the early months of the pandemic, it was an incredibly challenging time to get coverage for non-health-related content. Here's how we were able to get the attention of a Bustle writer, drawing inspiration from her Twitter feed, on behalf of a bathroom supply company who'd conducted a survey on couples' cohabitation habits during quarantine.
Subject line:
Social distancing with my cat [Exclusive New Study]
Message:
I've been practicing social distancing with my cat as well. Tabby's been a great work-from-home companion, despite not being as fashionable as your cat (pic attached). Felines aside, I have a new relationship study you may find interesting.
Your mileage may vary with sharing photos. However, here's what the writer had to say in this instance:
I have to commend you for great PR tactics here. I open so few of these, much less respond, so mentioning my cat AND sending a pic of yours AND including info that's relevant to my beat gives you an A++.

I have a new editor and I'm still feeling out what she likes, but let me pass this along and see what she says.
In a sea of bland, templated pitches, cute dog and cat photos will win 99 times out of 100.
While it's possible to find success using a templated approach, targeted PR outreach and personalization are the best ways to stand out from the crowd, make lasting impressions and deliver stellar results for our clients.
Brad Daiber is a Digital PR Supervisor at Fractl, a leading content marketing agency. Connect with him on LinkedIn.
COMMENT
One Response to "What targeted PR outreach to journalists should look like"
Interesting piece, Brad.