The Daily Scoop: What's next for brands after Montana bans TikTok
Plus: More news you can use today.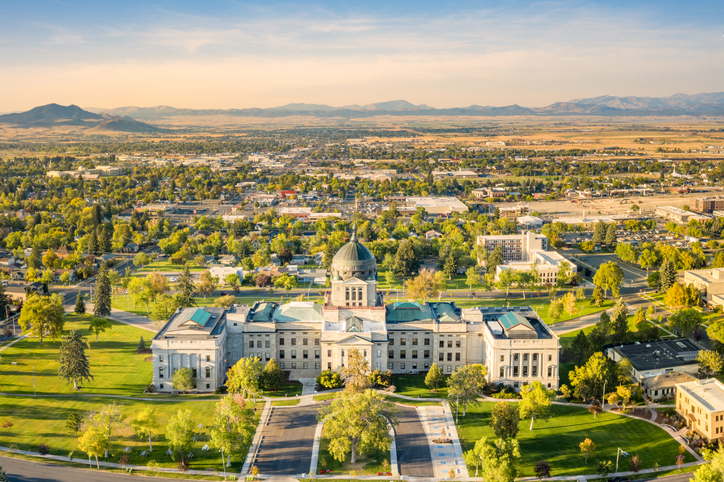 A controversial ban on TikTok in Montana means that come January, this social media platform will be no more in the Treasure State, CNN reported.
Montana Gov. Greg Gianforte signed the ban this week, calling it a way to "protect Montanans' personal and private data from the Chinese Communist Party," he said in a recent tweet. 
The CNN article explains:

The controversial law marks the furthest step yet by a state government to restrict TikTok over perceived security concerns and comes as some federal lawmakers have called for a national ban on TikTok. But it is expected to be challenged in court.

The bill, which will take effect in January, specifically names TikTok as its target, prohibiting the app from operating within state lines. The law also outlines potential fines of $10,000 per day for violators, including app stores found to host the social media application.
TikTok told CNN in a statement that the bill "infringes on the First Amendment rights of the people of Montana." 
The statement also reassured the residents to continue using the app as plans are underway to "defend the rights" of users in and out of the state.
TikTok influencers have also sued the state to overturn the app ban, CNN reported.
The American Civil Liberties Union also believes that the ban is trampling on the free speech rights of "hundreds of thousands" of residents using the app.
The article added that there is no concrete evidence that the Chinese government is interfering with TikTokers' data. 
Why it matters: TikTok has about 150 million American users with hundreds of thousands represented in Montana alone. The writing was on the wall when Gianforte banned the app on government-issued devices and supported the state university's decision to do the same. 
 As legal disputes are underway while others wonder what's next, the lead-up to January's ban – and reactions and subsequent fallout – will be interesting to see for sure.
While some will take the "wait-and-see approach", brands, let's start planning now. Montanan brands – and marketing companies targeting residents – on TikTok, kindly use this opportunity now (time is still slightly on your side) to develop a game plan for your next step before the clock runs out. Other states (and even maybe the federal government) will certainly be watching the surrounding court cases as they decide to enact their own bans — so even if you aren't worried about reaching this single small state. 
Will your brand slowly ease out of TikTok along the way or shut it down now while there's still a choice? Whatever you decide, ensure that your next step is intentional, carefully planned and communicated. 
Now is not the time to leave your followers in the dark – let them know what you will do and take them along that journey. While TikTok is a distinct space and can't be easily replicated (despite many, many attempts), ask your followers where they'd be willing to follow you next. 
According to an April Capterra's 2023 TikTok Marketer Sentiment Survey, 65% of survey respondents said they would create a new social media strategy overall if TikTok was banned in the country. The survey added that 80% would consider Facebook and 79% would consider YouTube as an alternative.
Finding a platform that works best for you and feels authentic to your brand and your followers is doable. Just ensure that you're continuing to connect with audiences along the way in whatever decision you make. 
 More top headlines: 
 Sherri Kolade is a writer at Ragan Communications. When she is not with her family, she enjoys watching Alfred Hitchcock-style films, reading and building an authentically curated life that includes more than occasionally finding something deliciously fried. Follow her on LinkedIn. Have a great PR story idea? Email her at sherrik@ragan.com. 
COMMENT
2 Responses to "The Daily Scoop: What's next for brands after Montana bans TikTok"
Ronald N Levy

says:

What's next for brands and for each of us after Montana's effort to ban Tik Tok: protection by a U.S. Supreme Court decision based on the constitution.

Congress under President Grover Cleveland passed a law in 1889 that seemed to grant statehood to Montana in 1889. But America's constitution says in the First Amendment that "Congress shall make no law . . . abridging freedom of speech."

So Montana's effort to ban Tik Tok isn't really a law as our courts will soon make clear. What's next for brands and for each of us will be continued freedom of speech.

Ronald N Levy

says:

Notice how skilled PR is being used here.

In an Accusation PR situation, the accusers often say the law was broken by the accused, and a boss of the accused almost cries out that the accusers are "being unfair." But does the public care much about laws on the books or fairness to the powerful accused?

So notice how TikTok's defending spokeswoman accuses the accuser and argues for fairness not for TikTok but for the public: "We are challenging Montana's unconstitutional TikTok ban to protect. . .the hundreds of thousands TikTok users in Montana." That's from spokeswoman Brooke Oberwetter's quote in The New York Times. "We believe our legal challenge will prevail based on an exceedingly strong set of precedents and facts."

Courtroom lawyers can present to a jury only what the judge allows into
evidence based on the rules of evidence but PR can reach the jury—even before jurors are selected—with whatever the newspapers will print! And look who's saying it, not a politician or a rich boss but top newspapers!

Brooke Oberwetter's opponent, a spokesman for the attorney general, is no slouch and is quoted with this by the Times: "We are fully prepared to defend the law that helps protect Montanans' privacy and safety." Also in the Times perhaps also from the attorney general's side is the fact that TikTok has "Chinese ownership." This goes straight to the jury even before jurors are selected and even without a judge allowing admission into evidence of reference to "Chinese" ownership which could be ruled inadmissible as "prejudicial".

The Wall Street Journal also cites the accuser's avowed intent to "protect Montanans' privacy and security." Also in WSJ: "A spokesman for the Montana governor's office said the governor has been clear about his intentions to protect Montanans' privacy rights."

"Ask not for whom the bell tolls," it has been written, "it tolls for thee." A senior PR Daily faculty member teaching Crisis PR may point out: "Ask not in Accusation PR who has a right to ring the bell. What can help you win your contest and be hounded by flattering headhunters is that opportunity to ring the bell—pointing out what's arguably best for the PUBLIC—belongs to thee."