6 signs a PR career is right for you
Considering joining the communications industry? If you meet these qualifications, consider what the field has to offer, because you might be a great fit.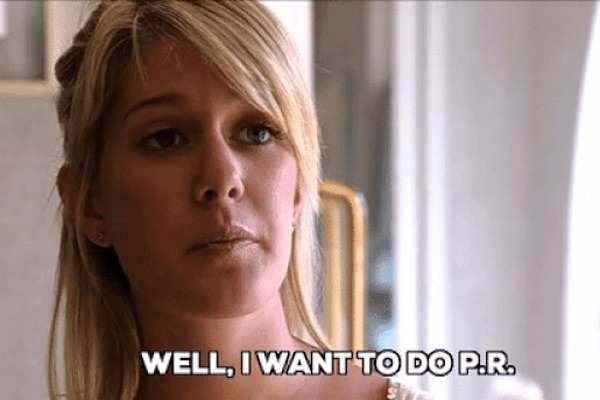 Editor's note: This article is a re-run as part of our countdown of top stories from the past year.
PR isn't a career as fierce as Olivia Pope makes it seem on "Scandal" or as sexy as Samantha Jones portrayed on "Sex in the City," but those in the industry love what they do.
It's also an industry with opportunities for growth.
U.S. News & World Report ranked PR as the No. 3 best creative and media job, writing:
The Bureau of Labor Statistics projects employment for public relations specialists will grow 6 percent between 2014 and 2024. During that time period, 14,900 new jobs will need to be filled.
PR is also becoming more important to marketing efforts, which opens even more opportunities.
Public relations has always played its part in the marketing mix, even if it was added to plans late and rarely recognized like other disciplines. But the emergence of skippable, blockable, opt-out-able advertising, not to mention ever-more integrated campaigns, means PR can suddenly demand more than a supporting role—and maybe even take center stage.
Considering a career in PR? Here are six signs that the industry is right for you:
1. You are constantly looking at your phone.
Forget Candy Crush—most PR pros have their phones nearby to answer incoming emails, take a reporter or client call and respond to social media followers.
PR is not a 9-to-5 job, especially if you work on digital campaigns; Facebook, Twitter, Instagram and Snapchat run 24/7. If you're OK being interrupted during your favorite prime-time TV show and can swivel quickly to hook up a reporter with a source for a breaking news event, you'll excel in public relations.
2. You thrive on deadlines.
PR pros often feel the pressure of client and executive expectations, such as quotas. As newsrooms shrink, PR pros can help shoulder the load, but they face ever-tightening deadlines—and those who can keep pace will come out on top.
Great PR pros don't crumble under pressure, but instead are motivated to solve problems and produce ideas, press releases and connections to reach their goals under the wire.
3. You're a master at building relationships.
Though it's a misconception that all PR pros are extroverts , successful communicators are skilled in creating and maintaining relationships with customers, clients, partners, vendors and other parties that organizations require for success.
PR pros also often must collaborate with their counterparts in marketing, advertising, human resources and the executive suite.
If you listen well, understand what motivates particular partners and excel at bringing people together, PR is the right field for you.
4. You focus on the details.
You set measurable campaign goals and objectives. At your organization's press conferences, you ensure that reporters' press packets are filled with proper information and that the audio-visual equipment is functioning properly.
PR pros understand that the big picture comprises many crucial details.
Though a career in PR allows you to be creative, savvy communicators are also adept at tying business objectives to PR efforts, triple-checking their work and making sure they can measure their value.
5. You write well.
You don't have to be Faulkner or Shakespeare, but PR pros who can deftly turn a phrase will find themselves with more career and client opportunities.
Cultivating effective writing habits and having a solid handle on AP style not only can advance your media relations efforts, but also will boost your social media prowess, open the door to guest blogging and help you become an outstanding brand journalist and storyteller for your organization or clients.
Cision reported that in 2014, only 60 percent of PR pros have a content marketing plan in place, and only 35 percent of surveyed communicators saw blogging as an important distribution method. Kapost reported that in 2015, two-thirds (67 percent) of B2B organizations rated content marketing as a high priority, but fewer than half (44 percent) had a documented strategy.
The number didn't improve much over the last year: Hubspot reported that only 60 percent of marketers were prioritizing blog posts in 2016. There's room for improvement, and those who write well and generate relevant, desirable content will find themselves in high demand.
6. You can handle rejection.
Get used to hearing "no"—or hearing nothing at all—from reporters to whom you send pitches, especially if they're filled with non-news or irrelevant subject matter.
Rejection for PR pros extends beyond rejected pitches, of course. Communicators can get turned down by clients or find out that their shiny new campaigns aren't getting results.
If you're the type to take a "no" as a challenge to dig in and do better, you can find your persistence and determination will pay off.
What other qualifications would you add to the list, PR Daily readers?
(Image via)
COMMENT
12 Responses to "6 signs a PR career is right for you"
Hannah

says:

If we young people are given clues like this about careers
Then there won't be failures

Fatima Sayyed

says:

I'm an industry fresher trying to seek masters in this field, and damn this article helped get perspective. Thanks!

Fatima Sayyed

says:

helped me get***

Phiwe mthembu

says:

Yes I think this is a good ideas to give us this because I was lost I didn't know what the PR deals with but now I have that knowledge I appreciate it

Chimezie Mike

says:

Right on time article. Thanks.

Elizabeth Spencer

says:

Thank you! Great article! Well articulated explanation of the field!

Ree

says:

Thank you so much. This is exactly what I needed and I'm definitely going for this one!

Ronald Levy

says:

When asked why they want to be in PR, many candidates say: "Because I like people!"

A more job-winning answer: "Because I like money! Managements are smart enough to see when PR brings in money, and managements are self-interested enough to reward money-makers."

People may be a pain in the ass but money is always appreciated so excellent PR can mean excellent money. Take the PR Daily courses to learn more ideas that succeed.

Lydia Coffman

says:

Hi! I thought this post would be great to check out because I am considering pursuing public relations myself. I am curious to see if I relate to your points and if this post gives me a better idea of whether or not PR is right for me. In regards to your first point about phone usage, yes— I tend to be on my phone quite often. I always answer texts right away. A job that requires me to answer my phone at different times throughout the day would not bother me. Your second point describes me perfectly. I love deadlines and usually always finish my assignments on time, if not earlier. A busy schedule full of deadlines keeps me productive and on task, so a career that utilizes deadlines is right up my alley. As for your third point, I love making friends and value my relationships. I think I am 50/50 when it comes to being extroverted versus introverted, but I can be extroverted when I need to be. Your fourth point discusses being detailed-oriented. I definitely triple-check my work and find myself ensuring all minor details are satisfied because they are what make up the big picture. A career that values detailed-oriented people might be a nice fit for me. In regards to your fifth point, I love writing and that is why I am hoping to have a career in public relations. I am excited to become "fluent" in the AP style as I write more in college. Your sixth point about rejection, however, does not check a box for me. I definitely need to work on handling criticism better. My goal is to take rejection as motivation to improve and not take it so personally. This post gave me a better idea of what the PR world is really about and helped me envision myself in it. Thank you!

June Wachira

says:

Honestly, I sometimes face frustration at this industry, despite the fact that I am so enthusiastic and passionate about PR, the university environment is even discouraging. From facing out PR to little or no interests with the continuing students' instead of sensitization about this amazing PR journey. Now , with an expectation to start an industrial attachment. I feel like being a PR ambassador.

MimiJo

says:

Most important to a PR career: Critical and strategic thinking skills.

Nosipho Bhengu

says:

Wow I think now I have more understand about what a pr is , well I'm a first year student I was thinking of changing a course because I was lost had no idea of what am I doing but thank God to this article, it was very helpful now to think of it , I do fit in ,on being a pro PR ..I mean if I can thn why not..