7 tips for returning to work after family leave
For PR pros looking to return to the workplace after time away to care for family members, here are some tips for navigating the transition.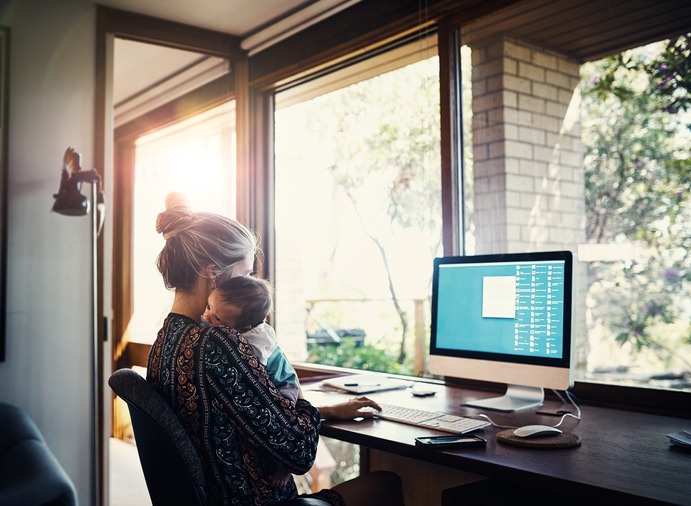 Point blank, transitioning back to work after family leave is challenging. Getting your head back in the game after a weeklong vacation can be difficult. Imagine after several weeks or months.
It's an "intense physical and psychological adjustment," notes Denise Rousseau, a professor of organizational behavior and public policy at Carnegie Mellon University.
After being back at work for one week, I jotted down a few guiding principles that have kept me grounded:
1. Be gentle with yourself.Similar to other areas of our pandemic-driven life, it is important to give yourself grace. It's an emotional time so it's good to recognize that it will take time to acclimate.
2. Consider your schedule.Some choose to return gradually, working a couple of days a week. Others resume full-time work from the get-go. Not everyone has an option, but if you do, it's sensible to consider the pros and cons of each. Whichever path you choose, experts recommend exploring working only two or three days in your first week back on the job.
3. Be upfront with your boss.Be transparent and honest about the new realities of your life as they relate to your job. Acknowledge that the coming weeks could be a bit bumpy, but make it clear that you are committed to your job and your team. Experts recommend thinking about what you need from your employer and how to make your new situation work best for you. Additionally, seeking advice and counsel from your boss on how to reenter successfully is a helpful way to better understand what is most critical and demonstrate a collaborative approach.
4. Set expectations with colleagues.Be mindful of how you manage relationships with colleagues as you settle into your new work life. Be direct about how and when you will work. Make your schedule predictable, or as predictable as possible. Things may change over time and even on the fly, of course, but if your colleagues know what to expect they will learn how and when to adjust as needed.
5. Seek support. Returning to your professional life is a process. Don't go it alone. You can join parent support groups, build connections with neighbors, and seek advice from colleagues who have been through the process.
6. Be mindful about your time with your family. As you adjust to your new routine, think about how you will spend time with your kids—and your spouse. Will it be in the morning before work? Mostly weekends? Be deliberate about carving out that time and be present with your family in the moment.
7. Reset your expectations. Returning to work after leave provides you with an opportunity to recast yourself. Think about what unique attributes you have to offer. Then, consider how to modify those traits to suit your new life.
"If you were the hardest-working person in the office, then maybe you become the most efficient," says Daisy Wademan Dowling, the founder and CEO of Workparent. "If you were the best mentor or project leader, you become the best delegator." The goal is to reset your expectations for yourself so you are set up to succeed in your new life.
In addition to the above, I personally believe a gracious return is extremely important, especially to those who have been picking up the slack for you while you were on leave.
Everyone's experience is different, but I hope that a few of these tips can help other parents as they acclimate back into the work world.
Janae Frisch is an account manager with Communiqué PR.
COMMENT
One Response to "7 tips for returning to work after family leave"
Ronald N Levy

says:

If the boss is a pain in the neck (or wherever) keep in mind what may be the best way to get rid of a bothersome boss: get him or her promoted!

You win if you succeed and you may win even if you don't. Also, not to be ignored, a boss you get promoted may bring you along! A normal human proclivity even for a nasty is to love who makes one look good.