A metaverse alliance amid growing awareness and a new production company from Naomi Osaka and Lebron James
Also: He's a 10, but he doesn't subscribe to PR Daily's morning newsletter.
Hello, communicators:
He's a 6, but he reads PR Daily every day. (Eyeballs emoji.)
The latest social media trend involves judging someone based on their appearance (not ideal) and then insinuating that they are either more or less attractive based on something they do.
For example:
He's a 6 but his emergency kit is fully stocked and up to date 🥵🥵🥵 pic.twitter.com/EPgclnwtFB

— Readygov (@Readygov) June 22, 2022
Readygov is, in fact, saying that having an emergency kit makes one more attractive and appealing (jury's still out on that one).
Here are several other brand tweets that follow this formula:
He's a 10 but he's got some serious papa issues. pic.twitter.com/RY8q5uZRuP

— Netflix (@netflix) June 21, 2022
He's a 10 but he's also a goat 🐐 pic.twitter.com/pWbNTW1nse

— GOAL (@goal) June 22, 2022
He's a 10 but pours his White Claws in a separate glass.

— White Claw Hard Seltzer (@WhiteClaw) June 23, 2022
It's a fun way to promote your organization's product or service — with lots of potential for creativity and tongue-in-cheek humor. Are you going to try it out? If you do, let us know on Twitter @PRDaily.
Here are today's other top stories:
Tech, gaming giants form group to set global metaverse standards
A group of major gaming and tech companies, including Microsoft, Meta and Epic Games, will join forces this summer at a summit to discuss setting global standards for the metaverse.
The group is called the Metaverse Standards Forum and is committed to "the development of interoperability standards for an open and inclusive metaverse." It is hosted by the Khronos Group, a nonprofit computer software company.
In a press release, the forum states that it "aims to foster consensus-based cooperation between diverse SDOs and companies to define and align requirements and priorities for metaverse standards."
"Technology and standards are the bricks and cement of the metaverse," said Qi Wang, assistant president and head of healthcare with 0xSenses, a member of the forum. "Safe, reliable, and ethical interoperability is especially important as humans become part of the metaverse."
Why it matters: PR pros should have a vested interest in major developments concerning the metaverse. As virtual reality accelerates and becomes more common in our everyday and professional lives, it will be important for communicators to understand the rules of the metaverse to best harness its power for companies and clients.
---
MEASURED THOUGHTS
A recent report from Opinium reveals that while gamers are more likely to be aware of the metaverse, they're less likely to want to interact with it.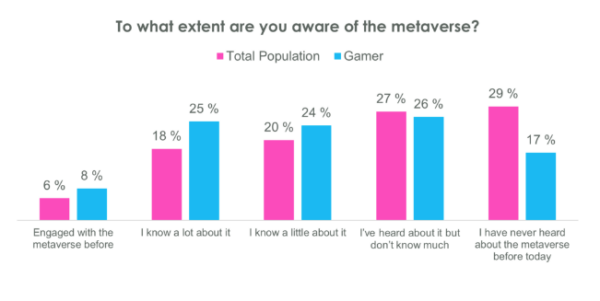 While 49% of gamers say they know a lot or a little about the metaverse, just 8% say they've engaged with it, a lower percentage as compared to the amount of the general public who know the metaverse and have engaged with it.
The same study shows that men are twice as likely than women to know a lot or have engaged with the metaverse.
It's a good reminder to PR pros looking to bring their companies into the metaverse that education about virtual reality is needed for most audiences.
Read more from the Morning Consult report here.
Naomi Osaka, LeBron James launch media company
Naomi Osaka, the young tennis player who has become known for her commitment to mental health, is launching a new media company in partnership with NBA star LeBron James.
From The Hollywood Reporter:
Hana Kuma (hana means "flower" and kuma means "bear" in Japanese) "will produce stories that are culturally specific but universal to all audiences; playful and bold in its approach to tackle important issues of society," the company says.
"There has been an explosion of creators of color finally being equipped with resources and a huge platform," says Osaka, as reported by THR. "In the streaming age, content has a more global perspective. You can see this in the popularity of television from Asia, Europe and Latin America that the unique can also be universal. My story is a testament to that as well. I'm so excited for what we are building at Hana Kuma. We will bring stories to life with this goal in mind: to make unique perspectives feel universal and inspire people along the way."
Osaka's team at Hana Kuma will include former Vice Media unscripted content head Chavonne LeNoir and SpringHill Company's Maverick Carter.
Why it matters: As THR notes, celebrity-driven media companies (read: Reese Witherspoon's Hello Sunshine) have become popular among storytellers who want a low-risk, high-reward opportunity to make it big. These production companies are often looking for niche stories, which could be a perfect opportunity for PR pros to get their clients' tales told on a bigger stage than the news media.
COMMENT