A year after the death of George Floyd, advocates look to the future
As activists and internal advocates continue to push for DE&I change, improved economic equality in the marketplace and more, the conversation is far from over.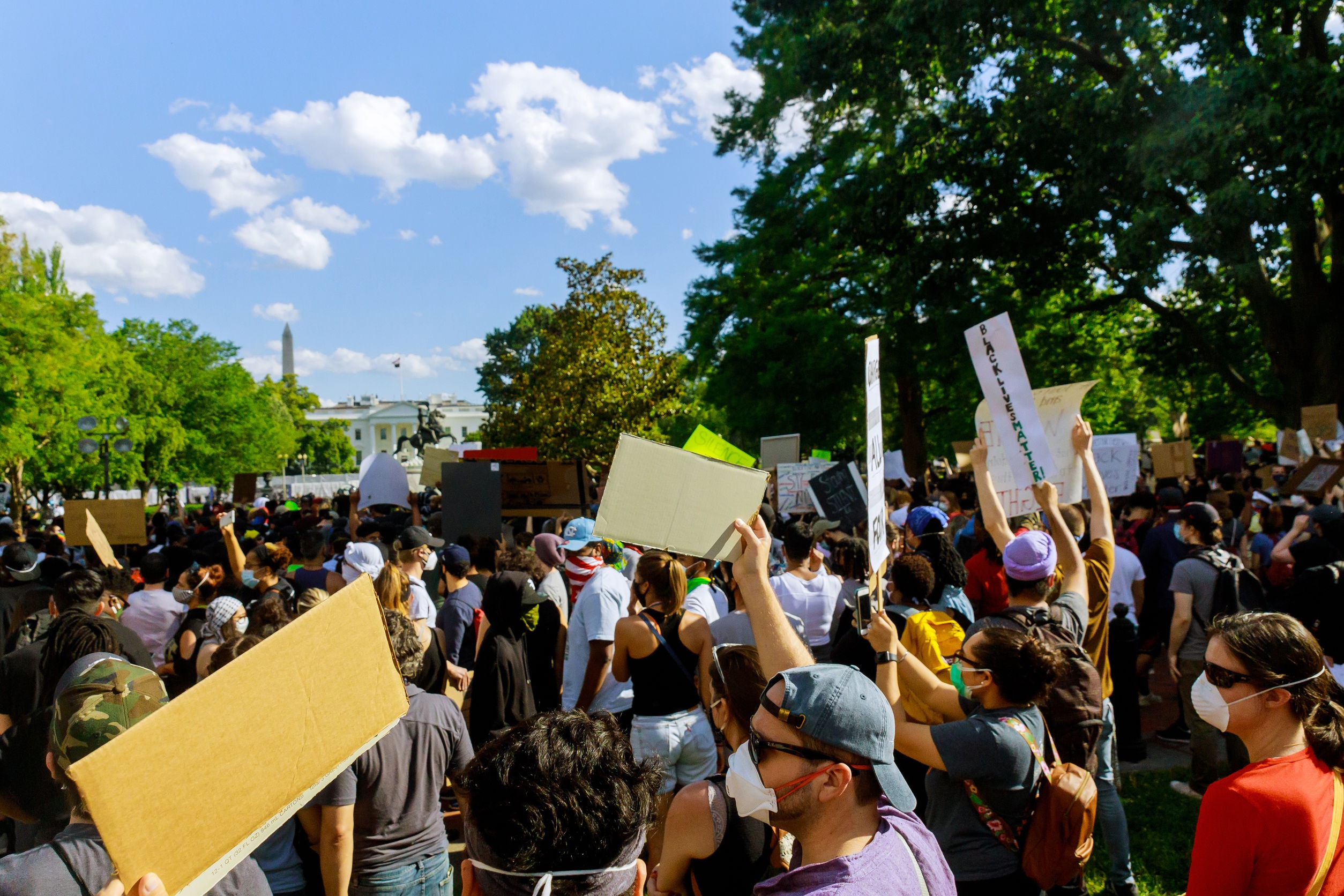 The harrowing death of George Floyd on May 25, 2020, at the hands of the police and captured in raw detail on video, sparked worldwide protests.
There were marches in major cities across the U.S., and in foreign metropolises like London. Protestors gathered outside U.S. embassies in China and South Africa. They took to the streets in Norway and Austria, Canada and Brazil.
In the global business community, many organizations took a closer look at how racism and structural inequality were influencing business decisions, hiring and job equality. Leaders committed to more diversity in hiring and promotions, and investments in Black-owned suppliers and businesses. There were new levels of participation in DE&I committees and employee resource groups. Leaders said they wanted to have "tough conversations."
A year has passed. What has changed in our conversations about inequality and racial injustice, and what has stayed the same?
Moving beyond representation
Representation matters—being able to see yourself in an organization, in a position of leadership, in company ads and marketing materials is so important. However, that's not where DE&I efforts stop.
Shelley Willingham, vice president of The Diversity Movement, says that while the increase in Black faces and diverse representation in brand advertising is a welcome change, it begs the question of how that diversity is expressed within an organization.
"You're doing that in your commercials, but what is it like to actually work for your organization?" she says. "I think there are a lot of disconnects in the way that companies are wanting to show that this is a priority…They're doing some things out of order."
That gets at the heart of DE&I messaging—and why some leaders call it EDI or JEDI, moving "diversity" out of first place in order of importance.
"When we think about diversity, diversity just is," Willingham says. "We look around and we live in a diverse world. So, the first step as an organization is for someone to make a decision. 'We're making a decision, we want to diversify our workforce.'"
But once you've made that decision, and hired some great new employees—then what? "You have to move to inclusion," says Willingham. "That is where everybody feels a sense of belonging … there's openness, there's a commitment there to make sure that the people that you're employing can bring their full selves to work."
Setting new goals
What actions should organizations prioritize in the second year of what will be a generational effort to improve equality in America?
APCO Worldwide's Tina-Marie Adams shared with PR Daily the actions that should be top-of-mind going forward:
Listen and learn, not just during historic demarcations, but continuously.
Be authentic and honest about where your organization is on its journey and what needs work.
Dig deeper. DE&I is only part of the solution.  Focus also more deeply on workplace bias—implicit and explicit.
Ensure your efforts are inspired from the very top while also being inclusive of the full fabric of the organization, including those who question your efforts.
Be specific and actionable with metrics, tracking organizational evolution and individual accountability.
Commit meaningful and definitive resources over the long-term.
Treat this as a living effort that is calibrated regularly and fed so it can grow.
Establish accountability at the board of directors level.
Edelman's U.S. CEO Lisa Ross shared how her firm's Trust Barometer frames the progress that still needs to be made on DE&I:
To be clear: There have been points of progress. Notably, the number of American employees who feel that their employer has made progress in combating racism in the workplace has increased by 17 points since last August.

But this progress has largely been made up of the initial work, focused on ensuring representation and accelerating hiring practices for Black and Brown talent. The work that comes next is the harder part. The companies that win will take hard and necessary steps both internally and externally to ensure that we move beyond representation and tokenism, into a world where voices and communities of color are authentically portrayed, elevated, and given a chance to succeed.
Porter Novelli has eight "guiding principles" to address the death of George Floyd and the ongoing conversation about racism in our workplaces and society at large. It lists:
Silence is a missed opportunity to share your values. On the issue of racism, not speaking up is a mistake.
Where are you on your DE&I goals? Don't let external statements get ahead of internal work.
If you made a commitment after Floyd's murder, the anniversary might be a time to share progress. While a year isn't enough time to make all the changes you want to achieve, audiences want to see some movement.
The messenger matters. People want to hear form your most senior leaders. If you have a DE&I leader, they should be front and center.
Listen to set the right message and tone. If you haven't been asking stakeholders about planned statements and ongoing efforts, you don't know how your message will be received.
Have the humility to communicate even if you have missed the mark. When you make a misstep, don't clam up. Keeping sharing how you are learning and what you are doing to change.
Don't forget the human emotion of the moment. The video, images and memories of that moment are painful for audiences. Be empathetic in how you address this pain.
Show; don't tell. "Allyship is always about action," Porter Novelli writes. Be prepared to show what you are doing to make a difference.
Lessons from Ben & Jerry's
One of the more striking statements made in response to the death of George Floyd came from Ben & Jerry's, which decried white supremacy in a long, pointed message on its website.
Sean Greenwood, grand poohbah of PR for the ice cream brand, shared four reasons why its message was so well-received at Ragan's Diversity, Equity & Inclusion Virtual Conference on May 19.
The four pillars that made the statement effective, according to Greenwood, were:
You can't wait too long to speak up.
The stark language of the statement against white supremacy was able to break through.
Offer concrete steps your organization will take or support to address the issue. Ben & Jerry's called for several legislative actions and other reforms.
Be able to show how you are taking action internally to root out systemic oppression and racism. For example, Ben & Jerry's works to help support Black farmers who have been denied resources over generations leading to an underrepresentation in the farms that Ben & Jerry's can partner with for ingredients in its products.
Greenwood challenges other business leaders to use their platform to push for racial justice and other causes that are worthy of investment. He gives the example of the late Congressman John Lewis who held an "executive session" with himself before a march or demonstration where he might be beaten or jailed for his activism.
Lewis would say: "If this is the price you must pay for people to be free, liberated, whole then it is a price we must pay." Greenwood argues that whatever price you or your organization might pay for standing up for racial justice—it should be paid.
Keeping the conversation going
Willingham with The Diversity Movement stresses that to keep the conversation around DE&I going, it must be tied to business outcomes rather than be seen as a moral act.
"We know if we cannot attach success metrics to … goals and objectives, then it isn't going to stick because leadership is not going to continue to fund something just because it's the 'right thing to do,'" she says. "But when you can show that it's a business imperative and attach it to metrics and look at the data, that's when it starts to make a difference."
How can you make sure you are tying to business outcomes? Willingham gives a few examples.
"The first thing you have to do is establish a baseline," she says. Be sure to get a qualitative and quantitative view with surveys and listening sessions, perhaps using a third-party to conduct an audit since "nobody wants to do a listening session with their boss." Based on that data, put together a plan with KPIs that tie to business objectives.
"Is it a recruiting goal that ties to that? Is it a marketing goal that ties to that? Because if you align DEI with all the various units within your organization, that's how it becomes a part of your culture," Willingham says.
COMMENT