Amazon Music hits the right note, Insider's newsroom dabbles in AI and more
Plus: More workers are happy to head back to the office.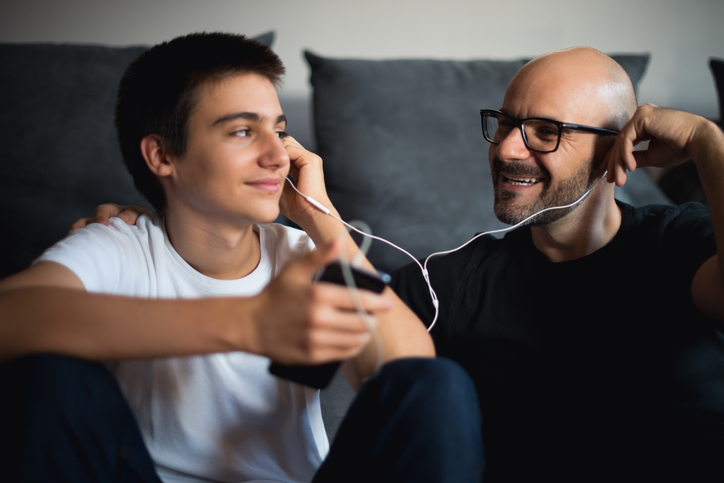 A new Amazon Music feature is pulling at the heartstrings of the public. 
Amazon's "Sound It Out campaign," was created to assist teenagers in opening up about what they might be dealing with including mental health challenges or feelings, according to Mashable.  
Parents who see their teen dealing with something could use Amazon's interactive feature to look up and share a song, using a prompt such as, "Talk later?" or "Everyone can feel sad sometimes," the article adds.
"The campaign leverages Amazon's vast music library of over 100 million songs and a new interactive tool that pairs key emotions with corresponding tracks, many of them recognizable hits like Coldplay's 'Fix You,' Billie Eilish's 'Lovely,' and Selena Gomez's 'Me and My Mind,'" according to the article.  
Why it matters: "When you can't say it, play it." That sums up the message that Amazon Music's message in their new campaign by focusing on the connection music can provide. Whether you have a teenager dealing with the difficulties of life or not, humanity is connected by music. Using that connection to open difficult conversations is a savvy move that can both help people and promote Amazon's music library.  
Survey shows the great return is still upon us  
The State of Workers 2023 survey reveals that more people are returning to work in person because they prefer it over working remotely, Morning Consult reported.  
"Since January, dozens of major companies have implemented partial or full return-to-office mandates, including Amazon.com Inc., Starbucks Corp. and the Walt Disney Co. Layoffs, organizational restructurings and other cost-cutting efforts accompanied many of these orders, while executives have preached efficiency as the key to navigating an uncertain economic climate," according to the report.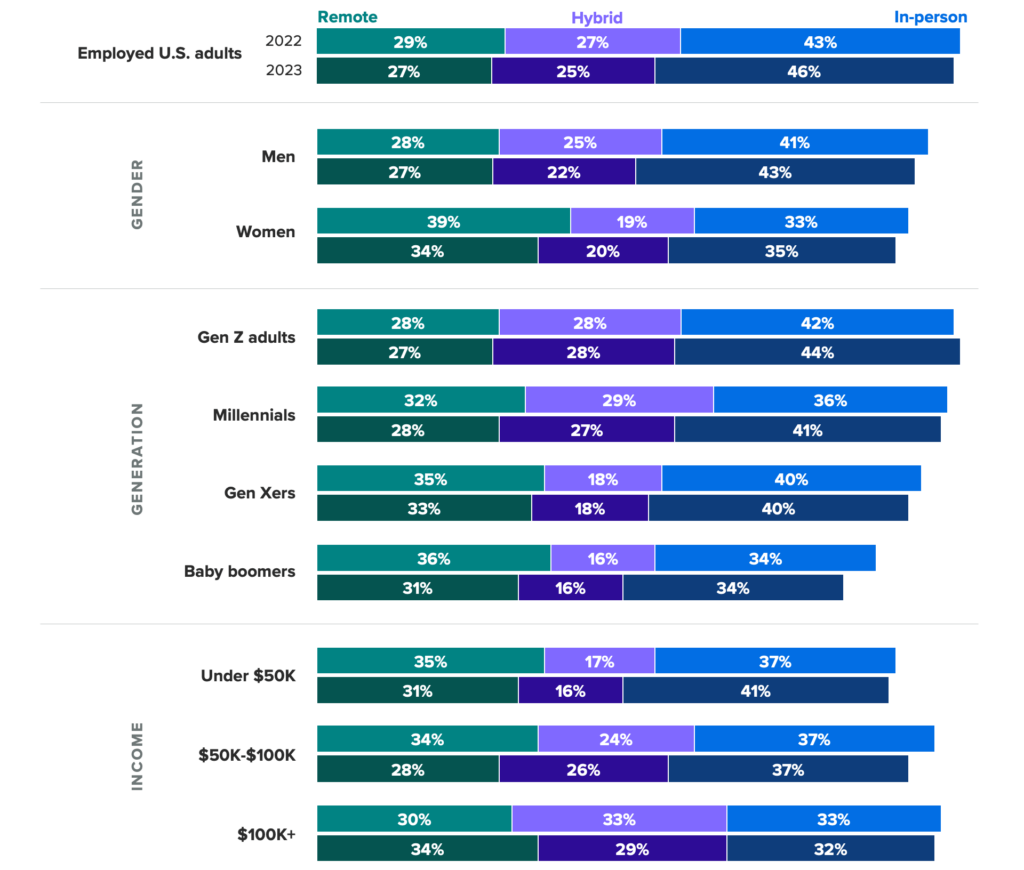 Twenty-seven percent of employed U.S. adults said they like to do their work primarily in a fully remote setting, a slight dip from 29% in 2022 across all demographics, per the survey. 
Hybrid work is also losing favor as 25% of employed adults didn't mind working in this setting (a 2% dip from last year) while sentiments with in-person work are increasing as employed workers (46%) are opting to work in-person – a three-point uptick from last year. 
Across the board by gender, generation and income, percentages have mostly gone up by several points (except for Gen X and Baby Boomers who stayed the same) for people who want to work in person. Men are 43% in favor of working in person (41% last year) and women are 35% in favor of working in person (35%) last year. 
Gen Z adults are 44% in favor of remote work in comparison to 42% being in favor last year; millennials are 41% in favor in comparison to being in favor at 36% last year. 
Why it matters: Gone are the days brands can rest on their laurels and think that their WFH marketing was good enough to draw new employees and praise from the public. More has to be done as these brands rethink their strategies for bringing new people in to work for them. Do they have good benefits, a healthy work culture and do they genuinely care about their employees? Strong communications about work benefits and pay upfront when people are looking at a job listing about your company is a great branding tool.  
Mary Quant paved the way for personal branding  
Mary Quant, a fashion designer whose colorful, sexy miniskirts "epitomized Swinging London in the 1960s and influenced youth culture around the world," died on Thursday at 93 years old, CNBC reported.  
Quant's mainstay look was a classic miniskirt (which some say she invented) with creative tights and bold accessories.  
"Some compared her impact on the fashion world with The Beatles' impact on pop music," per the article.  
"I think it was a happy confluence of events, which is really what fashion is so often all about," Hamish Bowles, international editor at large for American Vogue magazine, told CNBC. "She was the right person with the right sensibility in the right place at the right time. She appeared on the scene at the exact cusp of the '60s."  
Quant, also described as a sharp businesswoman, was a guru in business trends and one of the "first to understand how branding herself as a creative force," which helped her go into new fields, like cosmetics.  
Alexandra Shulman, former editor-in-chief of British Vogue, wrote on Twitter: "RIP Dame Mary Quant. A leader of fashion but also in female entrepreneurship- a visionary who was much more than a great haircut."  
Why it matters: Quant took her flair for fashion and her knack for branding and started trends that crossed over into complementary territory with makeup – making her a thought leader of her time.  
Quant didn't stand for one thing alone, she paved the way in multiple lanes that all helped connect back to her personal brand, which stood the test of time. Encouraging leaders to step out of the shadows and cultivate their own brand, image and more is the right step. The public is always looking for that next relatable person who tickles their fancy. Humanize brands and the people behind them.  
Insider to use AI to outline stories, create headlines and more   
Insider's newsroom will start using AI, Axios reported.   
"A tsunami is coming," Carlson is quoted as saying. "We can either ride it or get wiped out by it. 
"But it's going to be really fun to ride it, and it's going to make us faster and better."  
The company will slowly phase in using AI with a "working group first to test ways to responsibly incorporate AI into its workflow before rolling out a set of AI rules and best practices to the broader newsroom."  
The rollout began on Thursday.  
The team will include roughly a dozen of Insider's "very experienced, seasoned journalists … with great judgment," Carlson said in the article.  
"This team will experiment with using AI-written text in their stories. The rest of the newsroom will be encouraged to use AI to generate outlines for stories, fix typos, craft headlines optimized for search engines and prep interview questions. They are discouraged from putting sensitive information, particularly sourcing details, into ChatGPT," the Axios article adds.  
Why it matters: Insider is leading the way with its AI use. The responsible take on integrating AI into its newsroom is a great example of using the latest technology tools available to streamline processes and not lose creative, original touches with their reporting and overall work. Many of these ideas could be incorporated into your routine, too.  
COMMENT
Tags: Amazon Music