Americans want companies to support abortion rights, Grubhub and Amazon join forces, and Subway's new sandwiches
Also: Aldi USA joins TikTok.
Aldi USA has joined TikTok — and viewers are loving it.
Seven out of the eight videos that the official Aldi account has posted since last week have at least 10,000 views, with the most popular video reaching 351,000 views.
One user commented, "I'm going to Aldi for the first time next week! Welcome to tiktok."
Another said, "BEST DAY EVER," on the company's introductory video.
Aldi's TikTok success shows it's never too late to get started with a new social platform or trend.
Here are today's other top stories:
Amazon and Grubhub's new partnership
Grubhub is partnering with Amazon Prime following a tough year for the food delivery service.
The New York Times reports that Grubhub lost about $410 million in 2021 amid wavering demand for food delivery and that its parent company is looking to sell.
"The industry's prospects have been badly bruised as pandemic restrictions have lifted and demand for restaurant delivery has diminished," the New York Times reports. "Labor shortages and increased government regulation have added new costs. In a recent research report, analysts at Berenberg Bank estimated that Grubhub would fetch less than $1 billion in a sale."
The deal will allow Amazon Prime members to bypass delivery fees on orders from select restaurants when ordering through Grubhub.
The partnership is structured so that the e-commerce giant can deepen the relationship if things go well, or back out if it goes poorly. It will give Amazon a piece of the food delivery market. And if something goes wrong with your burger and fries along the way? Well, that's Grubhub's fault.
Why it matters: Sometimes brand partnerships are necessary to revive a faltering company. The partnership appears to be mutually beneficial, but as Bloomberg notes, Amazon has the opportunity for a quick out if the relationship sours. It's important for PR pros to communicate these partnerships in a way that protects your company if the other organization fails to follow through on its promises.
---
MEASURED THOUGHTS
A new survey from Morning Consult reveals how Americans want companies to address the overturning of Roe v. Wade.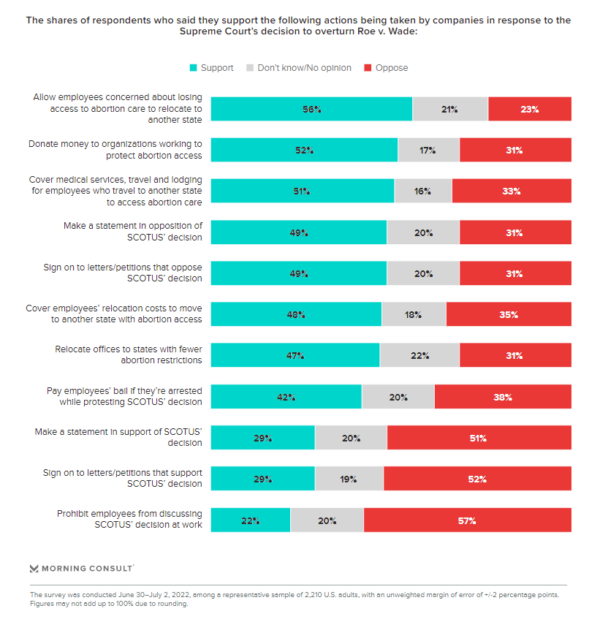 Broadly, company initiatives that support abortion access — like allowing employees to relocate and donating money to reproductive rights advocacy groups — garner much more support from Americans than actions that support the SCOTUS ruling.
Just 22% of Americans believe that companies should prohibit discussion of the decision among employees (looking at you, Meta), while 49% believe that companies should make a statement in opposition to the ruling.
It's a good reminder that while the Supreme Court decision vastly limits access to abortion care, most Americans are actually in favor of legalizing abortion in most or all cases. PR pros, make sure you're taking your audience's temperature on social issues so you can advise on how your organization should best respond.
Read more from the Morning Consult study here.
Subway moves away from customization
Subway's new fast-food model means a more streamlined customer experience and moves away from the customization that the brand is known for.
The new menu features 12 sandwiches that come with a pre-set list of ingredients and toppings — more of a Jimmy John's approach than a Chipotle, shall we say.
MarketWatch reports that the move is an intentional one:
It's an idea that couldn't be timelier, restaurant-industry analysts and observers say. Like many businesses, dining spots are burdened these days by labor shortages and supply-chain issues, so they are looking to streamline operations as much as possible. As New York-based restaurant consultant Arlene Spiegel explains, customization adds time to the equation of preparing an order — and time is money. It can even require restaurants to have bigger kitchens to accommodate extra ingredients, she notes. The key, she says, is for a restaurant to "create a system where the guest thinks they're getting it their way but it's really the operator's way."
Another analyst interviewed by MarketWatch says the change could be a way for Subway to stand out from its competitors, like Jersey Mike's and Firehouse Subs.
Why it matters: Often times, making necessary changes to business operations palatable to your audience is all about framing. Subway has positioned this move as one that gives the customer more options, even though in reality, it's working to move away from the highly customizable sandwich model. As Spiegel notes, time is money, and Subway is working to save time by convincing its customers that its pre-set menu items are worth the cost of losing customization.
COMMENT