Announcing PR Daily's 2022 Content Marketing Awards finalists
See who made the short list.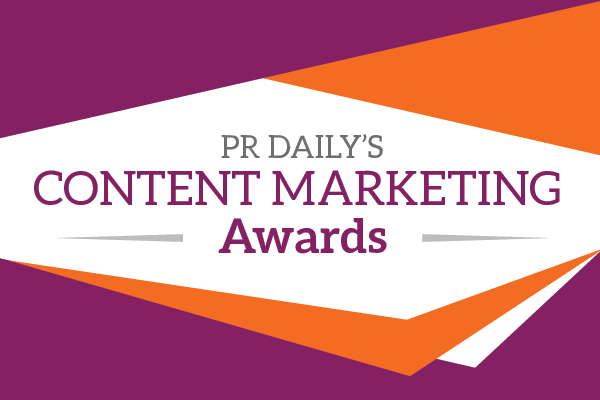 PR Daily is proud to announce its finalists in our 2022 Content Marketing Awards.
The finalists on this list represent the storytellers who know how to create content that stands out on the crowded content landscape. Their creative works led to success for their organizations and clients—and recognition as a finalist in PR Daily's Content Marketing Awards.
Congratulations on this well-deserved recognition. Stay tuned for our winners announcement: coming in December.
Grand Prize
Campaign of the Year
American Hospital Association: AHA Vaccine Confidence Campaign
Children's Health: Children's Health Shares Facts – Not Fear – With COVID-19 Content Strategy
OneTrust: Trust Intelligence Platform by OneTrust
Pfizer Inc: Digital Advocacy
Share Our Strength: 2021 Rebuilding Campaign
State Street Corp: 2021 Annual Report
The Container Store: Welcome to The Organization
PR Firm of the Year
EvolveMKD
PAN Communications
Strategy of the Year
FLEETCOR: Corpay Rebrand
The Container Store: Welcome to The Organization
United Nurses Associations of California/Union of Health Care Professionals: Invest in Patient Care
Team of the Year
AKASA: The AKASA Communication Team
Pfizer Inc.: Pfizer Digital Communications
United Nurses Associations of California/Union of Health Care Professionals: UNAC/UHCP Communications
Content Marketing Assets
Annual Report
Businessolver: 2022 State of Workplace Empathy Mental Health Special Report
Children's Health: Children's Health 2021 Beyond ABC Symposium Spurs Critical Dialogue about Mental Health Amid COVID-19
iQ 360: HEI's 2022 Environmental: Social and Governance Report
Mars Petcare: Mars Petcare Keeping People and Pets Together Report
SparkPost: a MessageBird company: Email in 2022
State Street Corp: 2021 Annual Report
Tier One Partners for Ally Financial: Creating an Annual CSR Report That Brings a Corporate Culture to Life
Brand Journalism/Online Newsroom
Lincoln Financial Group: Lincoln Financial Group's Online Newsroom
McDermott Will & Emery: Bringing the Law to Life through Case Studies
TD Bank: TD Bank North American  Digital Content Team
Branded Blog
Businessolver: 2021 Juneteenth Blog
Questline Digital: The Current
Strategus: Strategus
Branded Content Series
Emsi Burning Glass: Beer with Emsi Burning Glass
National Association of REALTORS®: Where The Heart Is: A 4-Part Video Series Co-produced by VICE Media: The National Association of REALTORS® and Havas Media Group
TD Bank: TD Bank North American  Digital Content Team
William Grant & Sons Inc.: Quest for Craft
Branded Content Site
Daversa Partners: Daversa Partners Marketing & Communications
YKK Corporation: YKK Digital Showroom
Branded Podcast
Daversa Partners: Dare to Be Legendary
Fortegra: Base Camp Podcast
Martin County Office of Tourism & Marketing: Don't Come Here – Stories from the Treasure Coast
National Public Media: "The Upload: The Rise of the Creator Economy" by YouTube and National Public Media
Pfizer: Science Will Win
Providence: Future of Health Radio
Email Newsletter
Broward County Library: Broward County Library Fresh News eNewsletter
Businessolver: The Skinny
Event (Live or Virtual)
Credit One Bank: Credit One Bank NASCAR American Express Card Launch
General Building Contractors Association: 2021 Construction Excellence Awards
Mars Petcare: Helping 285 Pets Find Homes with Mars Petcare's 13th Annual Adoption Weekend
Microsite
Martin County Office of Tourism & Marketing: Martin Memories
Questline & PSEG Long Island: MySmarterHome Microsite
State Street Corp: 2021 Annual Report
Original Use of Social Media
BCW (Burson Cohn & Wolfe): Supporting Patient Access for ENTRESTO with Facebook Chatbot
Edible Arrangements/Church's Chicken: Collective marketing teams
Help at Home: Help at Home Social Media Caregiver Recruiting Campaign
Whalar: Thirst Trap
Publication
BMC Software: The Autonomous Digital Enterprise (ADE)
Danfoss North America: Solutions Magazine
iQ 360: HEI's 2022 Environmental: Social and Governance Report
Marcus Thomas LLC: Sherwin-Williams Market Pulse: Vol. 2 Publication
Revmade: The Compass Magazine with Revmade
Use of Instagram
Best Buy Canada Ltd.: Best Buy Happy Hour
Ferrovial: Ferrovial
STIHL & imre: Team STIHL: Powerful Storytelling Across Instagram
UPS: UPS – Use of Instagram
Use of TikTok
Spherical: Sentral Tik Tok Campaign Launch
The Container Store: Welcome to The Organization
Whalar: Thirst Trap
Video
BMC Software: The Autonomous Digital Enterprise (ADE)
TAE Technologies: The Art of the Ride
University of Florida and BVK: University of Florida Lunar Plants Video
Video Series
American Hospital Association: AHA Vaccine Confidence Campaign
Conde Nast x Entresto: Conde Nast x Entresto – Heart Failure Video Series
Emsi Burning Glass: Beer with Emsi Burning Glass
Martin County Office of Tourism & Marketing: Memory Makers of Martin County Video Series
New York Independent System Operator: Grid of the Future video series
Oticon, Inc.: Oticon Testimonial Videos
White Paper/Special Report
AKASA: in the Healthcare Revenue Cycle
AKASA: No Resignation: Solving Today's Greatest Staffing Challenges in the Healthcare Revenue Cycle
Daversa Partners: Daversa Partners Marketing & Communications
Content Marketing Campaigns
B2B Campaign
AKASA: Staffing Challenges Campaign
FARO Technologies: Inc.: Quantum Max ScanArm Launch
Revmade: LMI Health: with Revmade
Ultrafabrics: Hush: The Volume of Color
Covid-19 Campaign
American Hospital Association: AHA Vaccine Confidence Campaign
Pfizer Inc: Digital Advocacy
Share Our Strength: 2021 Rebuilding Campaign
The Permanente Federation: Permanente COVID Vaccine Awareness Campaign
DE&I Communications
Buchanan's Scotch Whisky: DIAGEO North America: BUCHANAN'S Scotch Whisky Introduces The What Glory We Are Campaign Celebrating Those Who Embody the Spirit of the 200%:  100% Hispanic and 100% American
Children's Health: Children's Health Expands Diversity & Inclusion Program to Support and Empower Employees: Patients and Community Members
CVS Beauty x Nyma Tang Masterclass Series with Kaplow Communications: CVS Beauty x Nyma Tang Masterclass Series with Kaplow Communications
Education Campaign
Intel: Intel AI For Workorce
Michigan State University College of Nursing: Neighborhood Nurses
Employee Communications Initiatives
AKASA: Supporting Military Spouses
Children's Health: Children's Health Revamps Internal Communications Strategy to Engage: Inform Team Members After the Pandemic
Lord Abbett: Forged In Fire
Providence: My Mental Health Matters
Health and Wellness Campaign
Blue Cross Blue Shield of Michigan: Shanthi Appelö Health & Wellness Campaign – 2021
Revmade: The Well by Northwell Health: with Revmade
Smarty Social Media: DermTech #Stickit2Melanoma Social Campaign
Influencer Content Marketing
Credit One Bank: Credit One Bank NASCAR American Express Card Launch
CVS Beauty x Nyma Tang Masterclass Series with Kaplow Communications: CVS Beauty x Nyma Tang Masterclass Series with Kaplow Communications
SWAY Group and ABLEnow: ABLEnow
UPS: UPS – Influencer Content Marketing
Whalar: Thirst Trap
Media Relations Campaign
Children's Health: Children's Health Educates and Empowers Parents: Physicians with COVID-19 Media Relations Campaign
Digital Third Coast: Buy Now: Pay Later
ECMC Group: ECMC Group Helps Teens Question The Quo in Education
HKS: HKS-Designed SoFi Stadium Hosts 2022 Super Bowl LVI
Marcus Thomas LLC: Bendix Commercial Vehicle Systems Media Relations Campaign
Mars Petcare: Earning 551M Impressions with Mars Petcare's 13th Annual Adoption Weekend
Product Launch
Credit One Bank: Credit One Bank NASCAR American Express Card Launch
Popeyes: Buffalo Chicken Ranch Sandwich Launch
Ultrafabrics: Hush: The Volume of Color
VHB: Intersect
Wedgwood: Wedgwood x Sheila Bridges Collection Launch
Technology Campaign
GDP/Microsoft WorkLab: Microsoft WorkLab
U.S. Department of Veterans Affairs: Lighthouse Initiative
Thought Leadership Campaign
ECMC Group: ECMC Group Lays the Groundwork for Education at the Speed of Change
GDP/Microsoft WorkLab: Microsoft WorkLab
New York Independent System Operator: Grid of the Future
OneTrust: Earth Day 2022
Snackbox: Shaping the Influence of the Convenience Store Industry
VHB: Equity in the Built Environment
VHB: Viewpoints: Building a Sustainable: Resilient and Equitable Future
Travel, Hospitality and Tourism Campaign
Experience Columbus: Live to Explore Blog and Social Series
Florida's Treasure Coast: Treasure Coast Kids Quest
Martin County Office of Tourism & Marketing: Martin Memories
Revmade: The Compass Magazine with Revmade
Content Marketing for the Purpose of
Brand Awareness
Fingerpaint: Make it SO
Konica Minolta: Intelligent Connected Workplace Campaign
Share Our Strength: 2021 Rebuilding Campaign
Spherical: Sentral Tik Tok Campaign Launch
The Container Store: Welcome to The Organization
Whalar: Thirst Trap
Customer Engagement
CVS Beauty x Nyma Tang Masterclass Series with Kaplow Communications: CVS Beauty x Nyma Tang Masterclass Series with Kaplow Communications
Revmade: The Compass Magazine with Revmade
The Container Store: Welcome to The Organization
Employee Engagement
Ellucian: In The Know – Weekly Internal Company Newsletter
Fortegra: Base Camp Podcast
Executive Communications
Goddard Systems: Inc.: Corporate Communications
State Street Corp: 2021 Annual Report
Lead Generation
DaDeDo: Alrajhi App Campaign – Ahmed & Salem
SparkPost: a MessageBird company: Ann Handley influencer campaign
Talent Recruitment or Retention
AKASA: Recruiting at AKASA
Help at Home: Help at Home Social Media Caregiver Recruiting Campaign
COMMENT