Announcing PR Daily's Content Marketing Awards finalists
Congratulations to this year's finalists! See who made the short list.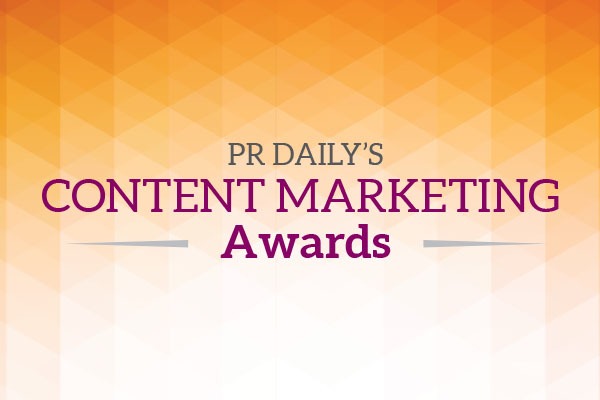 The finalists on this list represent the storytellers who know how to create content that stands out on the crowded content landscape. Their creative works led to success for their organizations and clients—and recognition as a finalist in PR Daily's Content Marketing Awards.
Congratulations on this well-deserved recognition. Stay tuned for our winners announcement, coming in January 2022.
Read on to see who made this year's finalists list.
Grand Prize: Campaign of the Year
Children's Health: Children's Health Instills Community Trust with COVID-19 Content Strategy
Degreed: Upskilling Strategy Audit
Kendra Scott: Wear It Like Mom Campaign
Meals on Wheels America: Meals on Wheels America COVID-19 Campaign
NAACP: We Are Done Dying
OneTrust: OneTrust Five-Year Anniversary Employee Engagement
Grand Prize: Content Marketing Strategy of the Year
Dotted Line: Lead Generation Campaign for TKA
Far Out Toys: GLO-UP GIRLS: Show Your GLO!
LDJ Productions: Keys Soulcare
Michigan Medicine: Michigan Medicine's Michigan Health and Michigan Health Lab blog's education efforts around COVID-19
Annual Report
Cofense: Cofense Annual Report
Community Care Plan: 2020 Annual Report
Mars Petcare: Annual Report
KQ Communications in partnership with the National Civil Rights Museum: Year Book Impact Report
Sunrise Banks: Sunrise Banks 2020 Impact Report
Tier One PR: A Relentless Ally: Ally Financial's 2020 CSR Report
Vital Strategies: Vital Strategies Annual Report 2020
B2B Campaign
ADP: ADP's Coronavirus Employer Preparedness Toolkit
Dotted Line: Lead Generation Campaign for TKA
Brand Journalism/Online Newsroom
Federal Reserve Bank of Cleveland: The threat of eviction during COVID-19
NYISO: NYISO
Purdue Pharma: Purdue Pharma Corporate Storytelling
The Weather Channel: an IBM Company, State Farm: Safety and Preparedness
Branded Blog
CCC: CCC's Velocity of Content Blog
Cisco (WeAreCisco): We Are Cisco Blog
DirectEmployers Association: OFCCP Week In Review
eMoney Advisor: The Heart of Advice Blog
NYISO: NYISO
Simply Business: Simply U
TCS Education System: Insight Digital
UC Davis Health: Cultivating Health
Branded Content Series or Publication (Print or Digital) – Consumer
Baker Public Relations: InfluenceHer
Explore Georgia: the Georgia Department of Economic Development, Explore Georgia From Home
Michigan Medicine: Michigan Medicine's Michigan Health and Michigan Health Lab blog's education efforts around COVID-19
TCS Education System: Voices magazine
The National Association of REALTORS®: The Way Home, A 3-Part Video and Editorial Series Co-produced by Vice and The National Association of REALTORS®
Travere Therapeutics: Rare Life: Stories of Real People
Branded Content Site
Attentive: Attentive Outlook
Explore Georgia: the Georgia Department of Economic Development, ExploreGeorgia.org | Georgia's Official Travel Marketing Website's
Revmade: The Well by Northwell Health, with Revmade
TCS Education System: Insight Digital
TCS Education System: UNBOUND
TCS Education System: Voices digital
UC Davis Health: Open Enrollment — Employee Testimonial Website
Branded Podcast
CCC: CCC's Velocity of Content Podcast
Ferrovial: Sounds Like Infrastructure
NYISO: NYISO
Content Marketing for the Purpose of Brand Awareness
CooperVision: CooperVision: MiSight® 1 day contact lenses launch
Orthodontics Australia: It Takes a Certain Type of Person
Plenty of Fish: Dating Defined: 2021 Dating Trends by Plenty of Fish
Revmade: The Well by Northwell Health, with Revmade
Shryne Group Inc.: Increasing Brand Awareness through follower growth
UKG (Ultimate Kronos Group): Brand Creation: UKG (Ultimate Kronos Group)
Content Marketing for the Purpose of Customer Engagement
Explore Georgia: the Georgia Department of Economic Development, Explore Georgia Tourism Marketing
Landis Communications Inc.: Automated with Velodyne
TCS Education System: Different By Design
Content Marketing for the Purpose of Employee Engagement
Capital One: Capital One's Tell Me Something Good
OneTrust: OneTrust Five-Year Anniversary Employee Engagement
Content Marketing for the Purpose of Lead Generation
Dotted Line: Lead Generation Campaign for TKA
Luxury Living Chicago Realty: Consistency as a Key Strategy for Inbound Content Marketing
McDermott Will & Emery: After the Curve: Forward-Looking COVID Communications
Covid-19 Campaign
ADP: ADP's Coronavirus Employer Preparedness Toolkit
Cushman & Wakefield: Cushman & Wakefield COVID-19 Thought Leadership: Recovery Readiness and Future of Workplace
Franco: The Salvation Army of Metro Detroit's 2020 Red Kettle Campaign
John Wayne Airport: Welcome Back Campaign
Marino: NYC Hospitality Alliance's Covid-19 Campaign to Save the Restaurant Industry
Meals on Wheels America: Meals on Wheels America COVID-19 Campaign
Weill Cornell Medicine: Don't Delay Campaign
Crisis Communications
Amendola Communications (for Vocera): Amendola Amplifies Vocera's Voice During Pandemic
K11 Concepts Limited: Turning a COVID-19 Crisis into Opportunities
ShelterPoint Life: COVID-19 Communications
DEI Communications
ABC: Soul of a Nation
Amazon Studios: The Playbook
Atrium Health: Community Immunity For All
MGC: #ConverseCityForests
Newman's Own Foundation: Newman's Own Foundation Celebrates Black Food Culture for Black History Month
Education Campaign
TCS Education System: Guided by Purpose
The Andrew W. Mellon Foundation, Twenty Ten Twenty-Five
Travelers: Zaadii: The Legend of Z-Hawk—Consumer Distracted Driving Education Campaign
Utah Valley University: Wolverine Stories
Email Newsletter
Lockheed Martin: Vector Star Email Newsletter
Pine Castle, Inc.: Pine Castle Newsletter
TCS Education System: TCS at Home
Employee Communications Initiatives
Capital Insurance Group: In With the New: CIG's CEO Communications Strategy
eMoney Advisor, LLC: Life@Home
NYISO: NYISO
OneTrust: OneTrust Five-Year Anniversary Employee Engagement
Wray Ward: Wray Ward
Health and Wellness Campaign
Katz Institute for Women's Health & Revmade: Katz Institute for Women's Health Content Strategy with Revmade
SingleCare: Best of the Best Pharmacy Awards
TCS Education System: TCS at Home
Individual Blog Post
Amendola Communications: Why the most memorable — and powerful — PR is personal
TCS Education System: more: More: MORE
TCS Education System: Ordinary magic in extraordinary times
TCS Education System: The great un-equalizer
UC Davis Health: Eating takeout amid COVID-19: UC Davis expert explains food safety
Vital Strategies: Becoming Your True Identity: LGBTQI+ Advocacy in Peru Leads to Civil Registration Reform
Influencer Content Marketing
CooperVision: CooperVision: MiSight® 1 day contact lenses launch
Far Out Toys: GLO-UP GIRLS: Show Your GLO!
FrazierHeiby: St. Elizabeth Delivers
Keyper Company: Collins and Devan Key Invisalign Campaign
NVE Experience Agency: Tanqueray's Sunshine in a Glass
Infographics
ShelterPoint Life: COVID-19 Communications
Interactive Content
Explore Georgia: the Georgia Department of Economic Development, Explore Georgia From Home
Miriam's Kitchen: Communications
TCS Education System: More Than landing page
Interview or Profile
TCS Education System: From ally to accomplice
TCS Education System: In their own words
Media and Entertainment Campaign
ABC: Soul of a Nation
Amazon Studios: The Boys: Planet Vought
Microsite
ShelterPoint Life: COVID-19 Communications
Multiplatform/Omnichannel Content
CooperVision: CooperVision: MiSight® 1 day contact lenses launch
Wreaths Across America: Wreaths Across America Day 2020
Newsjacking or Trend-Related Content Marketing
Digital Third Coast: Buzzworthy Content: Vacations in the time of Covid-19
Ken Garff: We're Hear for You
Morphisec: Beantown Media Ventures, 2nd Alarm: The Pandemic's Cybersecurity Emergency
Plenty of Fish: The New "F-Word": Fauci-ing
Product Launch
Far Out Toys: GLO-UP GIRLS: Show Your GLO!
Intel: How Wonderful Gets Done – Intel's 3rd Gen Xeon Scalable Platform Launch
Medela: Reimagining a Legacy: Medela Launches Pump in Style® with MaxFlow™ Technology Breast Pump
Social Justice Campaign
NAACP: We Are Done Dying Campaign
TCS Education System: Doing the Work
Vital Strategies: Change. At Your Own Pace
Sustainability/ESG Communication
Annaly: Annaly's ESG Success
MGC: #ConverseCityForests
OneTrust: OneTrust ESG
Thought Leadership Campaign
Attentive: Attentive Outlook
BackBay Communications: Fiduciary Trust Company: Guiding Clients Through the Pandemic
Cushman & Wakefield: Cushman & Wakefield COVID-19 Thought Leadership: Recovery Readiness and Future of Workplace
Katz Institute for Women's Health & Revmade: Katz Institute for Women's Health Content Strategy with Revmade
LeadCoverage: LeadCoverage Executive Visibility Program
Luxury Living Chicago Realty: Providing Clarity In Uncertain Times
NOW Pensions: The Underpensioned Report 2020
Use of Social Media
Cisco (WeAreCisco): WeAreCisco Instagram
Cisco (WeAreCisco): WeAreCisco TikTok
Cisco: Cisco Live
KQ Communications: 100 Black Men of Metropolitan Houston Social Media Campaign
Newman's Own Foundation: Paul Newman Instagram Birthday Giveaway
Northeastern University: Social Media
Northeastern University: Social Media Team
OneTrust: OneTrust Five-Year Anniversary Employee Engagement
Outcast: Intuit Mint
TCS Education System: UNBOUND story sharing
User-Generated Content
Outcast: Intuit Mint
Penn Foster: Penn Foster User Generated Content Campaign
Video
NVE Experience Agency: Tanqueray's Sunshine in a Glass
The Andrew W. Mellon Foundation: Twenty Ten Twenty-Five
The Hoffman Agency LLC: UF Health North 150th Anniversary
Video Series
Cooper University Health Care: Stories in Care
The Andrew W. Mellon Foundation: Twenty Ten Twenty-Five
Virtual/Augmented Reality Content
Racepoint Global: Seeing Farm Tech in Action through Virtual Reality with John Deere at CES 2021
Wray Ward: Wray Ward
White Paper/Special Report
eMoney Advisor, LLC: Power to the Plan: The (R)evolution of Financial Advice
Policygenius: Policygenius Health Insurance Literacy White Paper
Content Marketers of the Year
Ashley Sasnett: Equifax Inc
Chief Marketing and Communications Officer Aba Blankson: NAACP
Christopher Kenneally: CCC
Cisco (WeAreCisco): Social Media Marketer of the Year
Matt Wiley: SmartAsset
Samantha Gould: NOW Pensions
Teams of the Year
Atrium Health: Atrium Health Communications Team
Capgemini Americas: External Communications
NAACP: NAACP Communications & Marketing Team
Travel Nurse Across America (TNAA): TNAA Marketing Team
COMMENT