Apology over political donations, an interview with a Fortnite architect and the use of TikTok grows
Also: Mercedes' F1 team finds the winning formula to a viral TikTok: a cute dog.
The popularity of Formula 1 racing has boomed ever since Netflix's series "Formula 1: Drive to Survive" premiered, breaking Netflix's Top 10 weekly in more than 50 countries.
As we all know, with fame comes the responsibility to show photos and videos of dogs, and that's just what Mercedes' F1 team did on TikTok this week:
The GoPro video of Roscoe the dog roaming around a racetrack has garnered more than 1.4 million views in less than two days, proving the popularity of both the sport and of adorable four-legged creatures wearing bandanas.
Brands, hop to it: Get more dogs on our timelines.
Here are today's other top stories:
Match CEO apologizes to employees for company's political contributions
The company behind dating apps Tinder and Hinge is suspending some of its political contributions after backlash for donating to the Republican Attorneys General Association (RAGA) after Roe v. Wade was overturned.
While Match Group said it would cover employees' travel expenses for abortion care and started a fund for abortion access, audiences criticized the company's political contributions to organizations whose members support abortion bans. Match Group makes similar donations to the Democratic Attorneys General Association.
The New York Times reports that Match CEO Bernard Kim wrote in a memo to staff that the company would no longer donate to either organization.
"I learned about the donations to RAGA the same way most of you did, when I saw it in the media," he said. "It's my responsibility to understand how these donations fit into our larger lobbying activity, and determine what we will do moving forward."
The Times reports:
The company also promised to fight legal requests or subpoenas for any employee or user data related to abortion. This commitment comes as many companies, especially digital payment ones, face questions over what steps they will take to protect users when prosecutors seek transaction data during abortion investigations.
Why it matters: Kim's statement accepts responsibility for the contributions while also revealing that he didn't have insight into the company's political donations. Admitting that you're in the dark about company operations is a risky move for a CEO to make. His promise to keep a watchful eye on the donations moving forward comes across as genuine, but it's important that CEOs honor the commitments they make, else risking audience and employee trust.
---
MEASURED THOUGHTS
A new report from eMarketer and Insider Intelligence finds that as U.S. adults spend less time on Facebook, the popularity of TikTok continues to grow.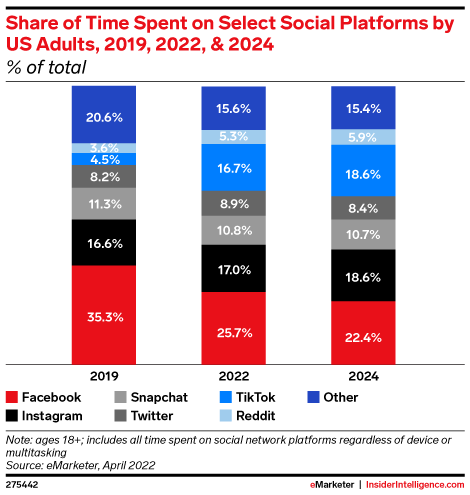 The amount of time Americans spend on Facebook has dropped 9.6 percentage points since 2019, while TikTok use has increased by 12.2 percentage points in the same time period.
The other platform that is seeing a steady decline in use time is Snapchat. The amount of time users spend on that app has decreased by six percentage points since 2019.
It's a good reminder that PR pros need to meet their audiences where they are — even if it means scaling back or abandoning a previously successful social media strategy.
Epic Games manager explains new architecture technology in interview
Fast Company recently interviewed an Epic Games manager for a piece about how Fortnite is adapting its gaming technology to help visualize architectural and design planning.
"Ken Pimentel, the architecture industry manager at Epic Games, is focused on bringing the company's video game visualization engines — the entry-level Twinmotion and the advanced Unreal Engine — into the world of architecture," Fast Company's Nate Berg writes. "These tools are used to turn digital models and drawings into 3D virtual spaces that can be augmented and adjusted in real time."
Pimentel goes on to explain how Epic Games' technology can help designers make real-time decisions.
Fast Company writes:
Pimentel says Epic Games recently worked with the American Institute of Architects to introduce the technology to about 60 different architecture firms, showing the real-time design and feedback these game-centric tools make possible. He expected maybe 10 of the firms to express interest in integrating the tools into their practice. About 40 did.
"We deliver experience," Pimental says in the closing quote. "That's something uniquely possible with real-time tools."
Why it matters: Deploying manager-level employees with fundamental understandings of your business' products and services can make for a truly effective media relations strategy. Instead of turning to your C-suite for all your media relations needs, consider giving managers and mid-level employees media training so that they can speak to more intricate aspects of the business.
COMMENT