Backlash to First Lady's speech, an apology from a Florida editor and verifying companies' ESG claims
Also: A new scam threatens the reputations of restaurants across the country.
Have you noticed that your favorite restaurant suddenly has hundreds of one-star reviews? If that's the case, the Thai place where you know for a fact they do pad see ew juuuust right might be the victim of a recent scam.
The New York Times reports that eateries across the country are receiving a blast of negative reviews followed by messages from the person claiming to be responsible for the reviews. The messages ask for money in the form of a $75 Google Play gift card in return for removing the ratings.
PR pros and small business owners should view scams like this as a very real threat to their organizations' credibility. If your company falls victim to something like this, jump into crisis mode ASAP and fight the misinformation with your own, truthful campaign.
Here are today's other top stories:
First Lady faces backlash for insensitive speech
First Lady Jill Biden is facing backlash after she compared Latino people to tacos and mispronounced the word "bodega" in a speech earlier this week.
"The diversity of this community, as distinct as the bodegas of the Bronx, as beautiful as the blossoms of Miami, and as unique as the breakfast tacos here in San Antonio, is your strength," Biden told the crowd at the Hispanic "Quest for Equity" event.
The flub was heavily criticized by conservative politicians:
Jill Biden says Hispanics are as "unique" as tacos and calls bodegas "bogidas."

No wonder Hispanics are fleeing the Democratic Party! pic.twitter.com/rhBB1pSNvZ

— Rep Andy Biggs (@RepAndyBiggsAZ) July 11, 2022
And the National Association of Hispanic Journalists released a statement condemning not only Biden, but her comms team for the move:
NAHJ encourages @FLOTUS & her communications team to take time to better understand the complexities of our people & communities.

We are not tacos.

Our heritage as Latinos is shaped by various diasporas, cultures & food traditions.

Do not reduce us to stereotypes. pic.twitter.com/KQIq5gwsht

— NAHJ (@NAHJ) July 12, 2022
Why it matters: Speechwriting requires all the fact-checking, coaching and sensitivity training that other sectors, like media training and CEO comms, do. As NAHJ points out, Biden's comms team failed to consider the "complexities" of the Latino community — be sure you're writing and editing speeches with an eye for cultural and racial sensitivity.
---
MEASURED THOUGHTS
A new report from Morning Consult reveals most American adults — especially frequent investors — believe that it's difficult to assess an organization's environmental claims.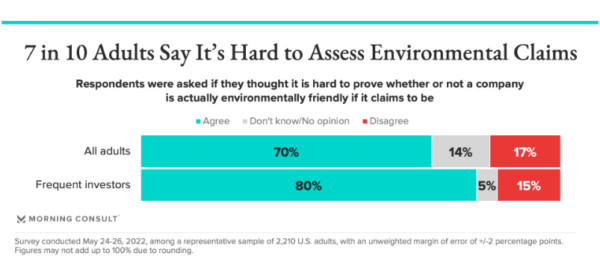 A whopping 70% of adults say they find it hard to discern whether companies' claims about being environmentally friendly are true —and that number increased by 10 percentage points among frequent investors.
From Morning Consult:
Increased public awareness, research and scrutiny will ultimately be crucial in keeping the investment industry in check, [Johns Hopkins University Professor Tinglong Dai] said, as greater transparency will push funds to work through a lack of clarity in ESG claims. He said he was almost happy to see Musk's derogatory tweet about ESG, since it meant greater attention to the issue.

"The way to address complexity is to help them improve it gradually," he said. "For ESG to grow in a healthy way, it needs enemies — it's a good thing."
Read more from Morning Consult here.
Florida editor apologizes for publishing pro-Proud Boys column
An editor of a Florida paper apologized this week after the paper printed a column written in support of the domestic extremist group the Proud Boys.
The editor of the Sarasota Herald-Tribune said Monday that her staff "erred" in publishing a guest column, titled "Attacking Proud Boys does disservice to caring parents," adding that the column "did not meet our standards."
Jennifer Orsi, executive editor of the Sarasota Herald-Tribune, wrote in an open letter to readers that the paper will no longer provide a forum for views that support the group, which has been linked to the Jan. 6 attack on the Capitol. She explained that the column was initially okayed in the interest of providing a broad range of views.
She continues:
Our editorial process failed to keep this column from being published as it appeared, which did not meet our standards. We are adding additional, higher level review of the process for accepting and editing guest columns for publication.

We will continue to publish varied opinions from across the political spectrum on important local issues. But this decision fell short of our standards, and we apologize to our readers.
Why it matters: Orsi's statement is a good example of a meaningful public apology. She explains what went wrong, why the choice was not in line with the organization's values and provides information on what the paper will do to avoid making such missteps in the future.
COMMENT