Biden's vaccine mandate heads to the Supreme Court, business travel struggles to rebound and Wordle takes over social media
Also: Corona debuts new non-alcoholic beer, Walmart slashes paid COVID-19 leave for workers, and more.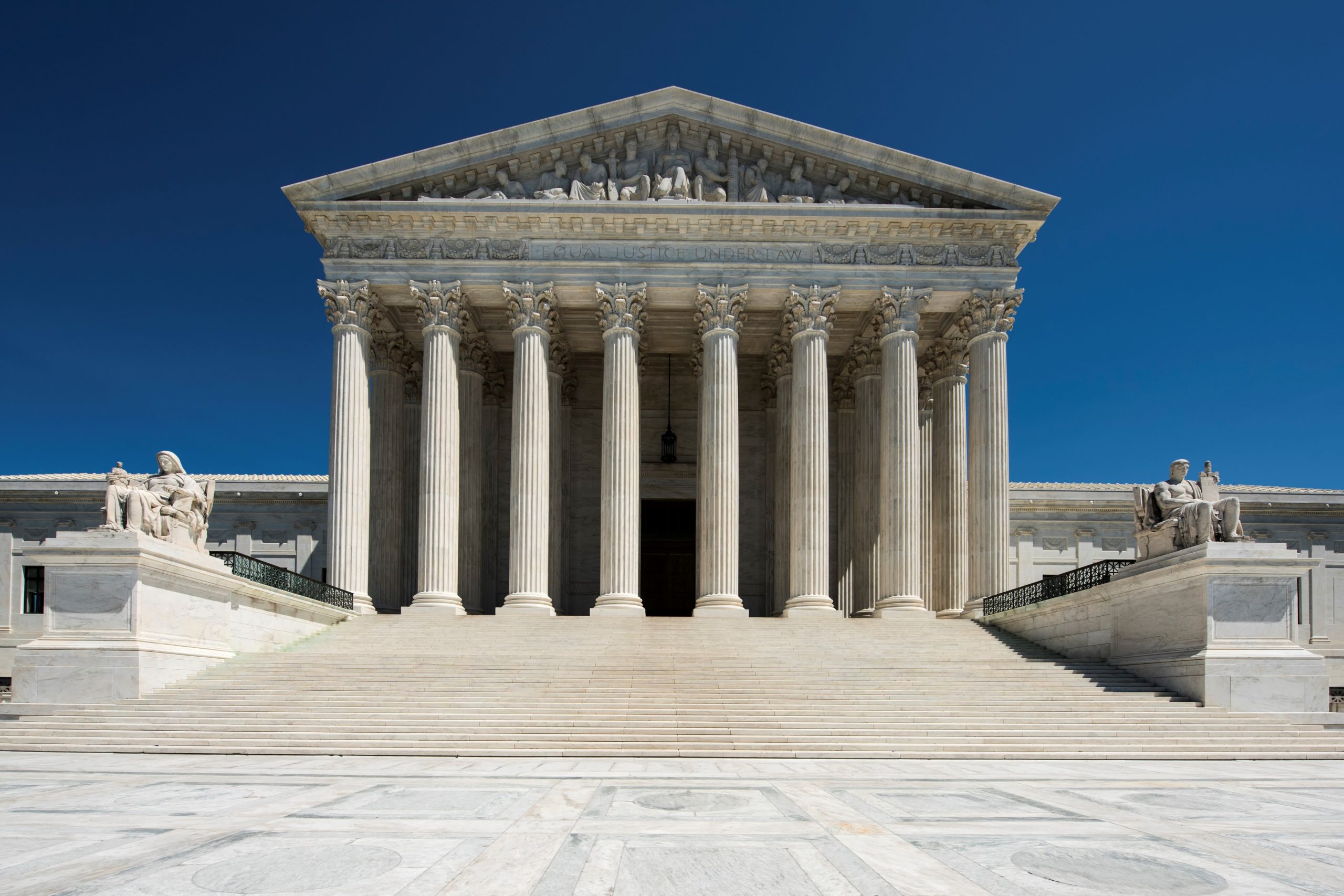 Hello, communicators:
Beer company Corona announced this week the debut of its first non-alcoholic beer, tweeting that the Vitamin D-enhanced drink will help consumers who choose to avoid alcohol "embrace sunshine, anytime."
The announcement was accompanied by a stop-motion-style video advertisement:
Corona's non-alcoholic offering makes a big deal of its addition of Vitamin D to the drink, rather than the exclusion of alcohol, something that will appeal to sober adults who are tired of being offered Shirley Temples. The marketing effort in response to the "dry January" trend stands in stark contrast to Pabst Blue Ribbon's social media fiasco earlier this week, when an employee tweeted a rather blue suggestion for anyone who was taking a break from alcohol to start the year.
Here are today's other top stories:
Biden's federal vaccine mandate goes before SCOTUS
The Supreme Court is scheduled to hear arguments challenging President Joe Biden's federal vaccine mandate this morning.
The two cases will cover Biden's vaccine-or-testing requirement for employers with 100 or more employees, as well as a vaccine mandate for healthcare workers at federally-funded facilities.
Both vaccine rules will exacerbate labor shortages and be costly to businesses, opponents said. "People are going to quit. It will make a bad situation worse and they're not going to come back," said Karen Harned, executive director of the National Federation of Independent Business' Small Business Legal Center.

Her group is among those challenging an emergency rule adopted by the Occupational Safety and Health Administration under which workers at businesses with 100 or more employees must be vaccinated or get tested weekly and wear masks while working. The rule has exceptions for those who work alone or mostly outdoors.
Proponents of the mandates say the rules are crucial in avoiding more COVID-19 hospitalizations and deaths. More than 62% of Americans are now fully vaccinated against the virus.
Why it matters:
The drawn-out battle over vaccine mandates means more work for communicators—but it's not all bad. The latest word salad from federal agencies and political leaders on vaccine rules can be confusing, so take this as an opportunity to clarify what it means for your organization and your audience. Consider an infographic or email newsletter clearly outlining the most up-to-date rulings and their takeaways, tailored to your audience's needs.
---
MEASURED THOUGHTS
A new report from Gallup shows American air travel has decreased over the past six years—mainly because employed adults are traveling less.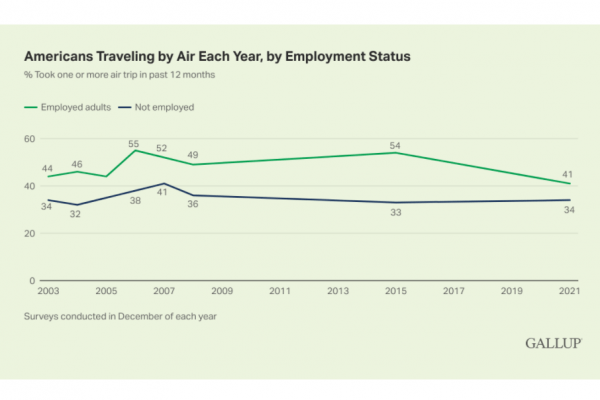 Thirty-eight percent of adults took to the skies in 2021, down from 44% in 2015. The 41% of employed adults who traveled by plane in 2021 is Gallup's lowest reported figure since 2003.
Gallup's report offers evidence that fewer people are flying for business travel, a trend that has endured despite the arrival of vaccines to protect against COVID-19. For communicators, the news is clear that developing digital platforms and virtual connection remain crucial for success in the future.
Download the full report here.
---
TAKE OUR SURVEY
If you're looking to further your understanding of your industry to navigate what's ahead in 2022, lend us a hand—and help yourself and your peers identify shared benchmarks in areas such as budgets, team structure, ESG and DE&I efforts, and more. Participate in Ragan Communications Leadership Council's 2022 Benchmark Survey, a comprehensive look at how to negotiate budgets with your executives, how to best reach deskless workers and foster culture among a hybrid workforce, and more.
Both internal and external communicators are encouraged to participate.
By taking part, you'll be entered to win one of three $100 gift cards. All who complete the survey will receive a full report on the findings. Responses are anonymous.
Survey takers will receive an executive summary of the findings.
---
SOCIAL BUZZ
If you've been on Twitter in the last few weeks, you can hardly have escaped learning about Wordle.
The highly addictive daily wordplay game is free, fun—and gaining a ton of traction on social media. There have been more than 6,800 tweets about the game in the space of an hour just this morning.
It's also producing some hilarious Tweets:
wordle: name a 5-letter word

my brain: …TUNA

wordle: literally any 5-letter word

my brain: …QUENCH

wordle: LITERALLY JUST TYPE IN THE FIRST 5-LETTER WORD THAT COMES INTO YOUR HEAD

my brain: …LOPPO?

wordle: A WORD. A REAL WORD THAT IS 5 LETTERS LONG

my brain: … BBBBB

— jonny sun (@jonnysun) January 6, 2022
Wordle 202 56/57

🟨⬛⬛⬛⬛🟩⬛️
⬛🟩Texas🟩⬛️⬛️
⬛⬛Lost ⬛️🟩⬛️
🟩⬛🟩⬛To🟩⬛️
🟩Kansas ⬛🟩🟩
⬛ ⬛in football 🟩
⬛️⬛️🟩🟩🟩🟩⬛️

— Cyclone Larry (@CycloneLarry69) January 7, 2022
Wordle 202 – Phew, got it pic.twitter.com/P7pqiVLfIA

— Tamoor Hussain (@tamoorh) January 7, 2022
Not to be left out, brand accounts have hopped on board the Wordle train:
Wordle 202 3/6 pic.twitter.com/3ERqUxQhdq

— Orkney Library (@OrkneyLibrary) January 7, 2022
Guessing "anime" in Wordle until it's correct, Day 1. pic.twitter.com/r22pSuiNmR

— Funimation (@Funimation) January 6, 2022
Share the game, found here, with your organization to start some friendly competition—or try to incorporate it into your social messaging this weekend.
---
Announcing the PR Daily Leadership Network
PR Daily is launching the PR Daily Leadership Network, a unique membership group from Ragan Communications offering peer-to-peer advisory and team training along with a unique slate of resources and events to help public relations professionals break through the noise, increase their visibility and forge meaningful connections.
The Network provides daily insights and coverage on a range of topics including media relations, social media, measurement, Diversity, Equity & Inclusion, branding, thought leadership and crisis communications.
"The fast pace of change coupled with the demand on public relations professionals to protect and sometimes defend their company's reputation make it imperative for leaders to tap into the wisdom of other communicators and continue to learn and grow," says Diane Schwartz, CEO of Ragan Communications. "The PR Daily Leadership Network provides the answers but also encourages members to question the status quo and push for positive change."
Visit leadership.prdaily.com to learn more.
Walmart cuts paid sick leave for employees with COVID-19
Walmart announced this week that it will slash paid sick leave for its employees who get COVID-19 by half, moving from 10 days down to five.
The move comes in the wake of the Centers for Disease Control and Prevention updating its official isolation time guidelines—prompting some backlash.
Gizmodo reports:
"Since the pandemic began nearly two years ago, we have aligned to CDC guidance regarding COVID-19 in developing policies for customers and associates. We have updated our COVID-19 Emergency Leave policy in response to the latest CDC guidance which recommends 5 days of isolation and associates who are mandated to quarantine or have tested positive for COVID-19 may receive up to one work week of paid leave," a Walmart spokesperson told Gizmodo via email in a statement early Thursday.

"Our policy also states associates who have contracted COVID-19 and are unable to return to work after the one work week of COVID-19 Emergency Leave may be eligible for additional pay replacement for up to 26 weeks," the statement continued.
Gizmodo's reporting includes context about Walmart's track record on issues like wage inequality, as well as noting that the U.S. "is the only wealthy country in the world" without federally-mandated sick leave.
What it means:
American workers are sick (pardon the word choice) of being underpaid, underappreciated and under-protected from the risks of the pandemic. Though Walmart's updated policy is in line with the CDC's new guidance, it's previous history of underpaying workers undercuts its efforts to establish itself as an organization that cares for workers.
For organizations looking to address COVID-19 related issues with workers, a poor history on labor relations could be a roadblock in sending a message of empathy and caring for scared employees.
COMMENT