Brand messages that scored during Super Bowl LVI
Electric vehicles, cryptocurrency and digital experiences were all on display for the NFL's big game on Feb. 13.
Budweiser's Clydesdales were back in the big game on Sunday as the NFL and its brand partners looked to turn the page.
Fans were back in the stands for Super Bowl LVI. And brands were ready to get back to a more normal viewer experience with their advertising campaigns. The cost for getting your brand into the broadcast soared to record numbers this year. A 30-second ad cost $6.5 million, up from $ 5.5 million last year.
Here's a look at the top performing ads as tracked by social media measurement platform Sprinklr: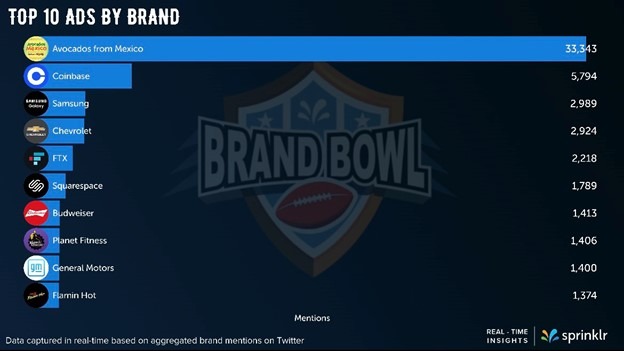 Avocados from Mexico also got top marks for brand sentiment—a measure of positive brand mentions on Twitter: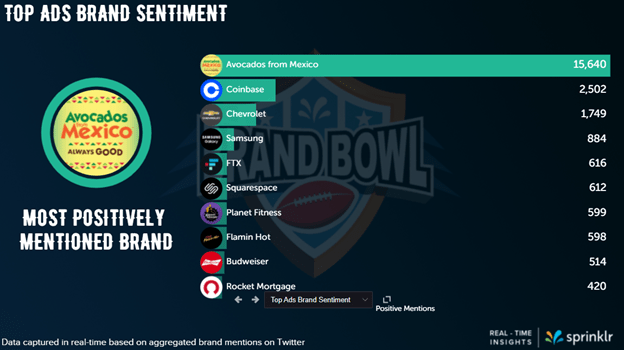 However, the brand's big moment was marred by news that the U.S. was halting the transport of avocados from the region Michoacan over security worries.
The U.S. paused avocado shipments from one of Mexico's major producing regions on security worries, in an announcement that came Saturday, just a day before the Super Bowl—when guacamole consumption typically soars.

The Mexican agriculture ministry said the temporary suspension involves avocados from Michoacán—the world's biggest producing region of the billion-dollar avocado trade. The U.S. had informed Mexico's agriculture ministry of the decision after one of its officers, who was carrying out inspection work in the city of Uruapan, received a threatening call to his cell phone, according to the statement.
For its part, Twitter crowned Pepsi as the big winner of the evening with its engagements around the halftime show that starred hip-hop royalty Dr. Dre, Snoop Dogg, Kendrick Lamar, 50 Cent, Mary J. Blige and Eminem.
It wrote:
Let's hear it for our back-to-back MVP winner, @pepsi. The brand's halftime show put hip-hop royalty front and center and got dubbed an instant classic on the Timeline. But Pepsi had way more in the playbook, making moves beyond the show with NFT giveaways and exclusive behind-the-scenes access. On advertising's biggest night, Pepsi showed up, and balled out.
Searching for engagement
One of the biggest stories of the night was the advertisement from Coinbase, a cryptocurrency exchange platform which spent big on an ad that was just a QR code bouncing around the screen:
The gambit worked as the company was the most mentioned brand in many states: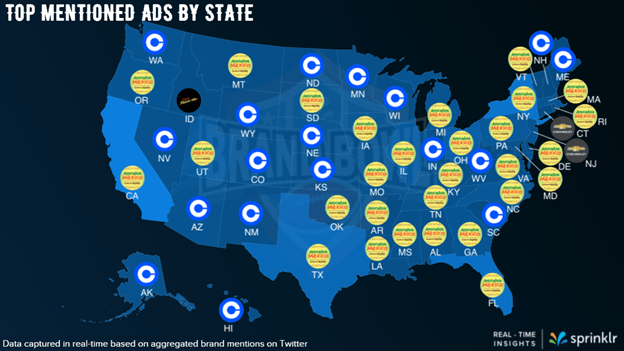 However, some noted that the ad did nothing to try and convince crypto skeptics to get in on the action:
The Coinbase commercial with just the QR code, and no dialogue or context, was kinda bold. They basically said "we only trynna sell to people who actually know what this is."

— Carmen Rodgers (@CarmenRodgers) February 14, 2022
And marring a bold ploy to drive traffic to a website—the site crashed.
Coinbase just spent $14 million for a color-changing QR code to bounce around on the screen for 30-seconds during the Super Bowl…

And the website crashed.

— Joe Pompliano (@JoePompliano) February 14, 2022
Coinbase wasn't the only brand that built its campaigns for engagement. Twitter shared how another crypto company, FTX, was able to drive engagement on its platform with a giveaway to coincide with its big ad spot featuring comedian Larry David:
The next ₿ig thing is here, even if Larry can't see it.

We're giving away 7.54 #bitcoin right now to celebrate!

How to enter:
1) Watch our ad!
2) Follow us
3) Retweet this by 11:59 pm EST

Four lucky winners! #FTXContest

No Purch Nec. Subject to T&C: https://t.co/7oCC4YUk0M pic.twitter.com/RosZS0HZAS

— FTX (@FTX_Official) February 14, 2022
Even brands that didn't spend millions on Super Bowl airtime were able to get a little juice by running campaigns that offered activities for the game's watchers to participate in:
Who's ready for some 𝘽𝙄𝙉𝙂𝙊 tonight? 🎯

Follow this thread for #FanDuelBingo updates, from Meg Thee Stallion sightings to forced fumbles ✅ pic.twitter.com/i8KJZj9iEE

— FanDuel (@FanDuel) February 13, 2022
Missing the social justice
The big game was missing the social justice messages that were ubiquitous in Super Bowl LV.
Ad Age reported that many of the brands sharing messages for the big game failed to make meaningful progress on diversity, equity and inclusion with their ad spot.
Ahead of this year's Big Game, Ad Age asked every advertiser with plans to air in-game commercials about how they prioritized diversity and inclusion in the creation and production of their ads. This included how they approached casting, diversity within the agencies they worked with and the makeup of those working on the production. While some brands had very clear action steps and outlined ways they implemented these practices in the conceptual and production phases of their ads, many could not provide specific details on the makeup of who worked on their ads. Others continued to provide ​​cookie-cutter DEI mission statements that simply said they support the cause without disclosing much detail.
One of the brands that did lean into a message of inclusion and racial equality was Google, which touted the camera on its latest Pixel phone as a solution for capturing better photos of people with darker skin tones.
Some appreciated Google's message:
I personally appreciate the Google Pixel ad.

— Mayor Q (@QuintonLucasKC) February 14, 2022
Love Google for that kinda advertisement we need come in all shades colors and depths your camera should see you in all lights we are black gold

— UploadNProgress (@SingleLetterD) February 14, 2022
Others were more inclined to roll their eyes:
Google Pixel 6 said other camera phones are racist. #SuperBowl

— Franklin Leonard (@franklinleonard) February 14, 2022
Ok, @Google, you've figured out how to show accurate Black representation in your cameras. Now do your workforce.

— Arlan 👊🏾 (@ArlanWasHere) February 14, 2022
Responsive marketing
Brands have also become adept at responding in real time to the conversation around the Super Bowl ads online.
For Twitter, the top performer on responsive tweeting was Planter's which jumped on the bandwagon to talk about Coinbase's unique ad:
What did the QR code say? I was busy getting snacks #PlantersAllorOne pic.twitter.com/PWMzKFdY1q

— Mr. Peanut (@MrPeanut) February 14, 2022
Expedia also extended the footprint of its ad campaign by dropping custom postcards to highlight the destinations featured in other brands ads—a clever move by the travel-oriented brand.
👃🧼 Get a nose-full of this: You've got a shot at smelling those Irish waterfalls for real. Quote RT with #TravelTheAds. #Sweepstakes 🇮🇪 pic.twitter.com/hOhM6732DJ

— Expedia (@Expedia) February 14, 2022
With so many advertisers previewing their creations ahead of the game, brands can craft plenty of material to respond with content throughout the game. A flexible response plan and a couple of pre-approved messages can go along way in keeping your brand in the mix during a live event on social media.
What were your favorite ad spots from Super Bowl LVI, PR Daily readers?
COMMENT