C-suite advice for comms success
At Ragan's Future of Communications Conference, we heard about how comms can earn a seat at the decision-making table.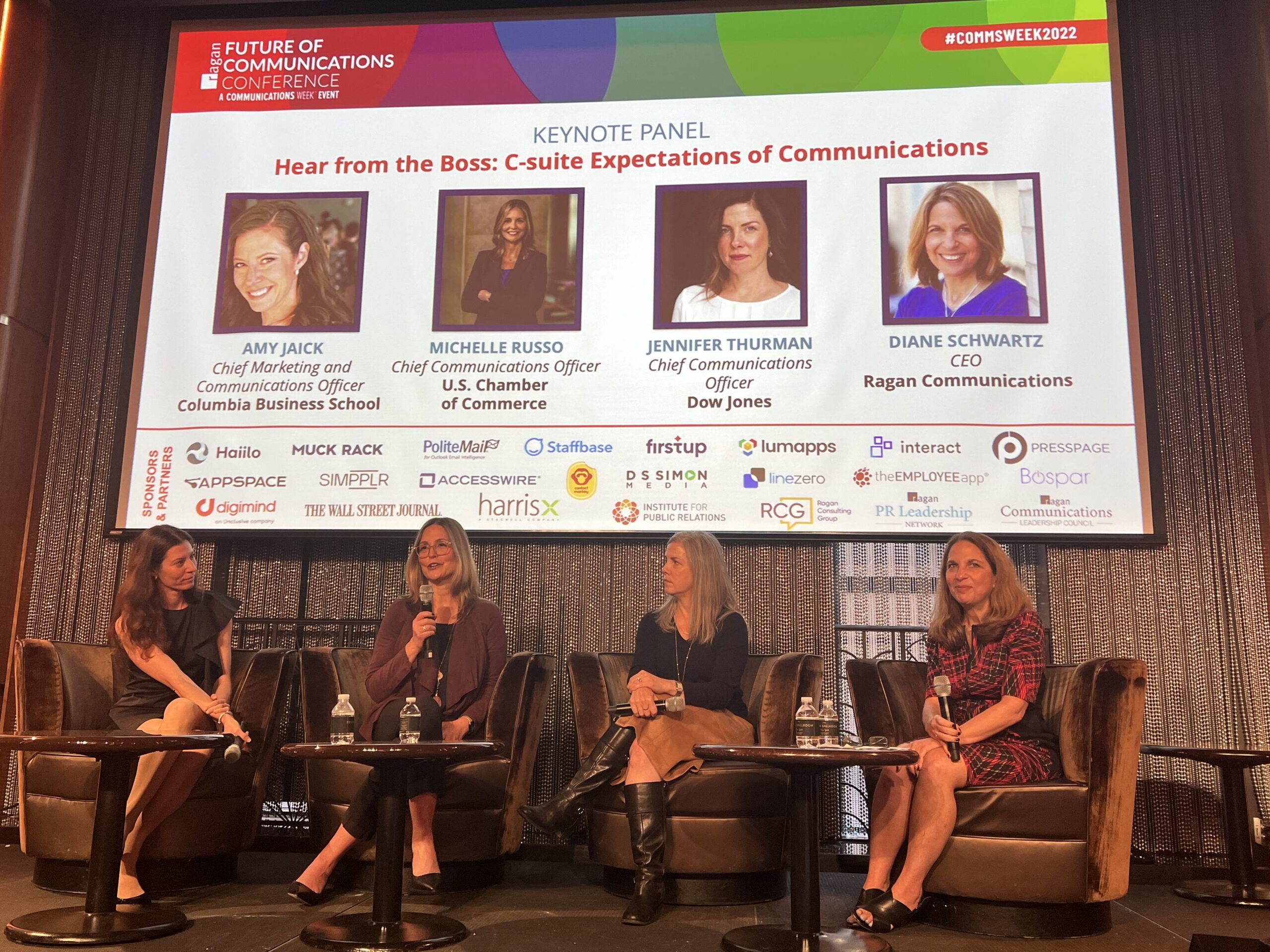 In any business, communicating about the work you're doing with the public and your internal stakeholders is critical. At the closing keynote panel of Ragan's Future of Communications Conference last week, a panel of communications industry leaders discussed how communications professionals can better position their efforts and have a tangible role in decision-making company-wide. Hosted by Ragan CEO Diane Schwartz, the discussion featured thoughts from Michelle Russo, chief communications officer at the U.S. Chamber of Commerce, Amy Jaick, chief marketing and communications officer at the Columbia Business School and Jennifer Thurman, chief communications officer at Dow Jones. Each panelist had insightful approaches about how to further integrate communications functions into critical decision-making processes.
Changes in approach during COVID
Life has changed so much since the outset of the pandemic, and the last few years have also informed the way the panelists approached the roles of their communications departments. For some, the need for clear and frequent communication during uncertain times helped place more value on the comms function.
"One of the opportunities that came out of the pandemic was a firmer seat at the overall table of the organization," Russo said. "It made things very clear in terms of what was important. Comms pros do a lot every day, but our main missions became readily apparent."
In addition, the panel discussed how communicators helped spread a message of wellness during some of the lows of the pandemic.
"There is an element of psychological safety that some organizations didn't place emphasis on at the outset of the pandemic and you can see the after-effects," Jaick said. "We need to help encourage wellness at work as communicators. It's easy to let go of when the pace of work quickens, but we do better in reaching the proper audience when we have teams that feel their best at work."
Influencing the C-suite
The function of communications, in the simplest of terms, is to tell an organization's story both internally and externally. However, there's a great deal that goes into getting that story told the right way, including lots of outreach, research and experimentation. Since perception of a company is such an integral part of how they're able to function in the larger world, it then makes sense that communications should have some say in how decisions are made within the C-suite. Sometimes making this happen just takes an adjustment in tactics.
"When I came to the U.S. Chamber of Commerce, it was very D.C.-centric and reactive. I modernized the team to make our communications department more proactive business partners within the overall organization," Russo said. "The team had been trained to be order takers, and it was all about output. It's important that we focus on the outcome rather than the output. We need to determine the strategy rather than just making it about putting a message out there because we have to. It's important to show up really ask what you're trying to achieve with your message."
What lies ahead
Although the panel spoke at length about the many ways that communications is gaining more perceived value from organizational leaders, they also discussed how to keep the trend of comms as a critical business arm moving along.
"My CEO hired me because I'm a strategist. I want to have a seat at the table to communicate not only the decisions that have been made but have a say about the decisions themselves," Thurman said.
Additionally, the panel noted that backing up research on comms trends and patterns can help sway the powers that be.
"I think sometimes there's a misperception that if you put your message out there, the audience will or read or interact with it," Jaick said. "That's not always the case. But when you can say what the research behind a decision is, or point to a shifting trend the C-suite should be aware of, it gives the powers that be the confidence to know that your input is highly valuable."
Sean Devlin is an editor at Ragan Communications. In his spare time he enjoys Philly sports, a good pint and '90s trivia night. Follow him on LinkedIn.
COMMENT