Chick-fil-A's unfortunate tweet, questions over sustainable fashion and more
Plus: Branding 'Brave Ukraine.'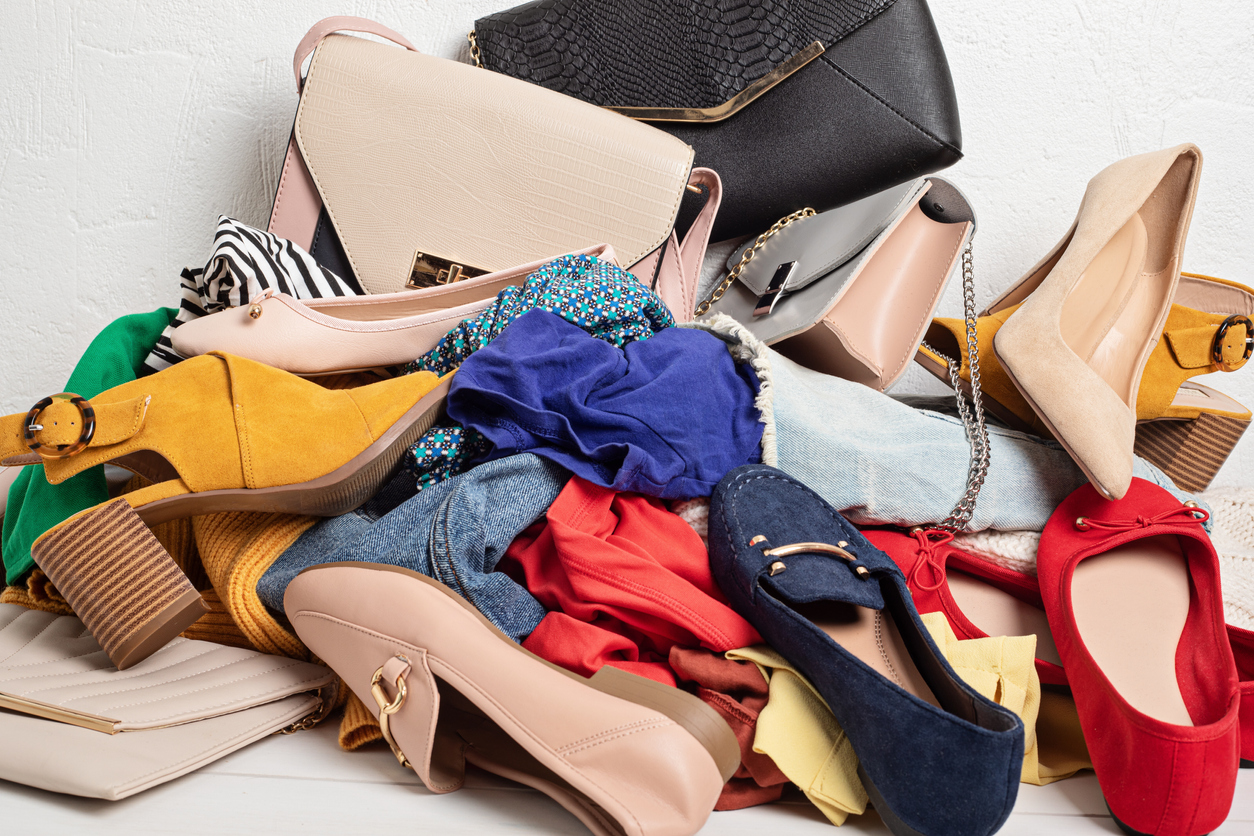 Chick-fil-A is under fire for a tweet to a Black man longing for the chain's spicy nuggets. The social media backlash began Friday, after user @KANYEISMYDAD tweeted at Chick-fil-A. "Grilled spicy deluxe but still noooo spicy nuggets … … … @ChickfilA … ..," he said. The chain's official account responded, saying, "Your community will be the first to know if spicy items are added to the permanent menu, Don!" The tweet didn't sit well with some, who understood the phrase "your community" to mean the Black community. 
Your community will be the first to know if spicy items are added to the permanent menu, Don!

— Chick-fil-A, Inc. (@ChickfilA) September 9, 2022
It's not the first time Chick-fil-A has used the phrase. The chain told TODAY that they use the term "community" in a broader sense, to talk about places where they operate restaurants. They did say their tweet was a poor choice of words, however. "It was not intended in any way to be insensitive or disrespectful," they said. 
It's a good reminder to double-check the language you use and make sure it doesn't have offensive undertones. With just a few edits to their "your community" language, Chick-fil-A could've avoided the backlash. 
Here are today's other top stories:
Ukraine uses branding to fight a war
As the war in Ukraine rages on, more than 20 countries are getting a taste of Ukraine bravery. Created by Kyiv and Los Angeles-based creative agency Banda, "Brave Ukraine" provides a new way to talk about the country's national identity and re-imagine its values and goals. According to AdAge, the campaign includes billboards, social media posts and more, and features photos of both civilians and soldiers. There are also images of the Ukrainian flag and statements about the bravery of its citizens. 
Ukrainian President Volodymyr Zelenskyy endorsed the wartime branding campaign, saying in a video address, "Bravery is our brand. This is what it means to be us." Created on behalf of the country's Ministry for Digital Transformation, "Brave Ukraine" comes at a minimal cost. The Conversation reports that Banda is donating its services and that several global media companies have donated media space, including high-profile billboards in Times Square.
Why this matters: The direct impact of "Brave Ukraine" may not be known for some time. However, the campaign transforms an intangible value —bravery — into an asset. It allows the country to extend the visibility of war beyond news coverage and adapt it for visual and social media consumption. 
MEASURED THOUGHTS
New research from Morning Consult shows that 25% of U.S. adults who identify as conservative do not subscribe to any video streaming services. That's 11 percentage points higher than self-identified liberals who said the same. The share of conservatives who said they don't subscribe to — or use someone else's password — for the major streaming services was also higher than the shares of liberals and all U.S. adults reporting the same. The difference in usage is particularly high for HBO Max (19%), Netflix (17%) and Hulu (16%).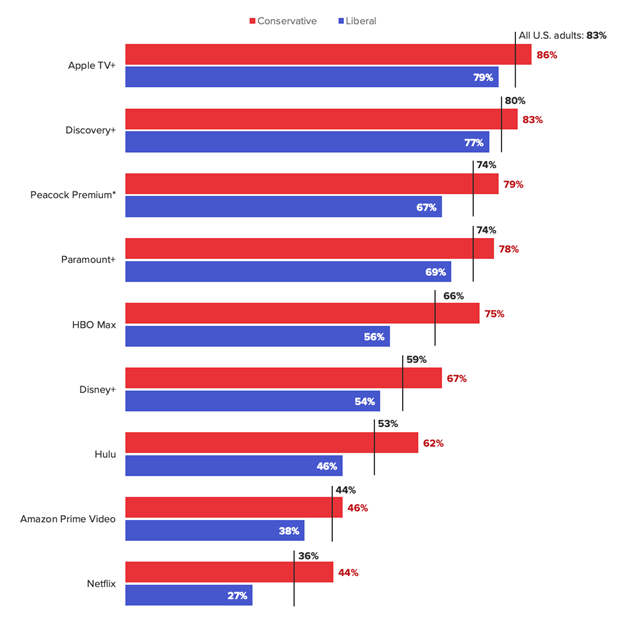 One reason for the differences is that conservative Americans tend to skew older than liberals, and older consumers are less likely to subscribe to video streaming services. However, University of Toronto associate sociology professor also said that people on the left like more pop culture than people on the right. The data suggests that focusing less on pop-culture related content might draw in more conservative viewers. As video streaming growth stagnates, it's important for brands to expand their audiences. 
New anti-synthetic fiber campaigns raise questions about sustainable fashion
Earlier this month, fashion brand The Woolmark Company launched a dramatic new campaign called "Wear Wool, Not Fossil Fuel." The campaign, which includes powerful visual images, emphasizes the negative impact of synthetic fabric and the crude oil used in its manufacture. The campaign centers on a 60-second film that depicts three people struggling to swim through a pool filled with crude oil. "Every 25 seconds, an Olympic-sized pool of oil is used to make synthetic clothing," the caption says. 
While the anti-synthetic fiber campaign raises awareness about the use of fossil fuels, critics are questioning the truth behind "sustainable fashion." According to Business of Fashion, fuzzy definitions of what sustainable fashion is have left consumers wondering what they're investing in: vegan leather or plastic. 
"The choice is a false narrative," said filmmaker Rebecca Cappelli, whose documentary "Slay" highlights the negative effects of animal skins in fashion. "It's kind of textbook, something you see across the fur, leather and wool industry to attack synthetic fibers … that doesn't make what they are promoting magically good and ethical."
Why this matters: Claiming the moral high ground is increasingly important for brands. Sustainable fashion is big business, but there's currently no standardized way to measure whether materials are "sustainable" or not. The best things brands can do is be transparent about their manufacturing processes and materials. 
Dawn Olsen is a writer who went to an out-of-state engineering school (Purdue University) to get an English degree. She has lived in Indianapolis for 10 years and spends far too much time on Twitter. In fact, she's probably thinking about Twitter right now.
COMMENT