CNN and Don Lemon share competing stories of firing, Disney layoffs continue and more  
Plus: AI marketing language is sometimes confusing.  
President Joe Biden is running for re-election. In a Twitter announcement, Biden said he wants to "finish the job" he started when initially elected in November 2020. At 80 years old, Biden is already the oldest president in the nation's history. His campaign announcement garnered mixed reactions including some concerns centered around his age, CNN reported. Seeing how Biden navigates this while bringing people back to his platform will be a noteworthy watch.
CNN and Don Lemon tell different stories of firing 
CNN fired Don Lemon on Monday and his reaction to the reportedly sudden announcement is newsworthy all on its own, the New York Times reported.  
Lemon was fired from his "CNN This Morning" show on Monday. Lemon tweeted that after 17 years working there, he was shocked that he was told of the termination through his agent and not given advanced warning.  
"At no time was I ever given any indication that I would not be able to continue to do the work I have loved at the network," he tweeted. "It is clear that there are some larger issues at play."  
— Don Lemon (@donlemon) April 24, 2023
CNN initially tweeted that they "wish him well," but after Lemon's statement, they followed with a second, describing Lemon's tweet as "inaccurate."  
"He was offered an opportunity to meet with management but instead released a statement on Twitter," CNN's statement read. 
CNN and Don have parted ways. Don will forever be a part of the CNN family, and we thank him for his contributions over the past 17 years. We wish him well and will be cheering him on in his future endeavors.

— CNN Communications (@CNNPR) April 24, 2023
Don Lemon's statement about this morning's events is inaccurate. He was offered an opportunity to meet with management but instead released a statement on Twitter.

— CNN Communications (@CNNPR) April 24, 2023
Why it matters: In terms of credibility and professionalism, the back-and-forth between CNN and Don Lemon surrounding his termination is not a good look for Lemon. Journalists pride themselves on being accurate and factual. Lemon leaving out information about CNN management offering to talk to him first is a critical detail. that undermines Lemon's credibility moving forward.  
AI catchwords don't always resonate in marketing   
We're all aware that AI is in. But marketing buzzwords that include AI are falling short, according to a Morning Consult survey.  
The study shared that marketing jargon like, "Powered by AI" or "Includes AI" fall flat with consumers who are sometimes unclear on what that means.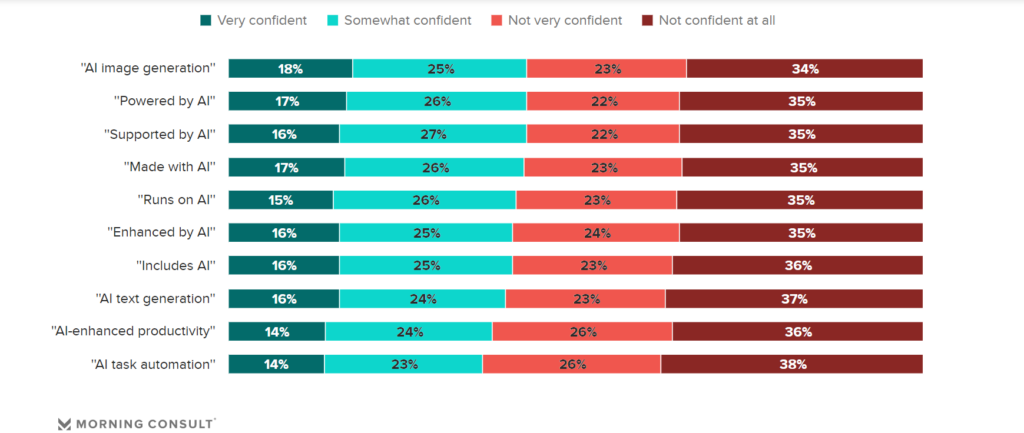 A mixed bag of adults who took the survey showed their confidence level on whether they understood what different AI terms mean. Seventeen percent of adults were "very confident" with "powered by AI" terminology while 26% were "somewhat confident" with the language as 22% were "not very confident" and 35% were "not confident at all" with what the AI product or service entailed.  
"Includes AI" terminology garnered similar results with 16% of people "very confident," 25% "somewhat confident," 23% "not very confident and 36% "not very confident."  
"AI image generation," however was the most comprehended term in the survey. In contrast, more specific phrases like "AI-enhanced productivity" and "AI task automation" were some of the least-understood terms across demographics.   
The highest levels of confidence were found in Gen Z adults (61%), millennials (57%) and men (52%).  
Why it matters: As the AI boom is here to stay, brands need to think about the various ways they are informing consumers about their AI use with language that's clear and hopefully not confusing. More consumers are coming to terms with the reality of AI and enticing them with how your brand clearly uses AI can draw them in rather than push them away.  Along with that process, ensure brands spell out how they're not only using AI but communicating that effectively and relatable with consumers who might not be as up to speed with such terminology.   
Disney will shrink its workforce by thousands of jobs   
The most magical place on earth got a little less magical for some as Disney works to decrease its workforce by 7,000 jobs, CNBC reported.  
Disney started its second set of layoffs on Monday as the company is axing 4,000 jobs with more cuts coming in the summer, according to the article.  
In a note CNBC acquired, ESPN CEO Jimmy Pitaro communicated with employees about the matter. ESPN is owned by Disney. 
"As we advance as a core segment of Disney, with operational control and financial responsibility, we must further identify ways to be efficient and nimble," the note said. "We will act with compassion, respect for our colleagues, and professionalism as we face these hard circumstances."  
Why it matters: The company angling its move as one where it will act compassionately toward those most affected is a small positive in the overall gloomy news. During this difficult time, Disney is setting the bar high for how things will be handled going forward with care and understanding using language everyone can understand.  
Supreme Court to weigh in on social media blocking 
What does free speech look like on social media if a government official could have the power to block others without legal ramifications? The medium would look a whole lot different than it does now.   
The U.S. Supreme Court is weighing a matter involving free speech as it pertains to government officials on social media. They're trying to see if it's possible, based on the First Amendment, for government officials to block "critics" on Facebook and Twitter, according to Yahoo News.  
Yahoo News explains:  
At issue is whether a public official's social media activity can amount to governmental action bound by First Amendment limits on government regulation of speech.  
The justices faced a similar First Amendment issue in 2021 involving a legal dispute over former President Donald Trump's effort to block critics from his Twitter account. The justices brought an end to that court fight after Trump had left office by deciding the case was moot, throwing out a lower court's decision that found that the former president had violated constitutional free speech rights.  
Why it matters: Past cases on this topic have had different outcomes, but as always, the Supreme Court gets the final say. For communicators who work with government officials and agencies, the ruling on this case could have a drastic impact on social media management, with a First Amendment violation becoming as easy as hitting a block button.   
 Sherri Kolade is a writer at Ragan Communications. When she is not with her family, she enjoys watching Alfred Hitchcock-style films, reading and building an authentically curated life that includes more than occasionally finding something deliciously fried. Follow her on LinkedIn. Have a great PR story idea? Email her at sherrik@ragan.com. 
COMMENT
One Response to "CNN and Don Lemon share competing stories of firing, Disney layoffs continue and more  "
Ronald N Levy

says:

We can recognize and teach our managements an important PR lesson from the conflicting stories about TV departures.

The PR lesson: don't get into a squirting contest with a skunk because you can't win no matter how much you squirt the skunk.

No matter which side you think is right or wrong, there may be no good reason to put down the other side. The CNN comment is better. There can be contrary passions on each side but the odor of ardor may be pungent and pointless.
Tags: Don Lemon