Coinbase users flee platform, 'Succession' star's super glue Starbucks protest and what social media users think about platforms going private
Also: Would you watch a Taco Bell musical? No? What if we told you it starred Dolly Parton?
Hello, communicators:
Doja Cat. TikTok. Dolly Parton. Taco Bell's infamous Mexican Pizza.
A musical starring Ms. Cat and Ms. Parton that will premiere exclusively on TikTok to kick off the return of the Mexican Pizza to the fast-food chain. Sounds too good to be true, doesn't it?
The humorous musical is about the "harrowing story of those who fought to bring back the Mexican Pizza." It will feature "notable moments from Doja Cat's triumphant journey," a special appearance from Dolly Parton, and music by Grammy winners Abigail Barlow and Emily Bear.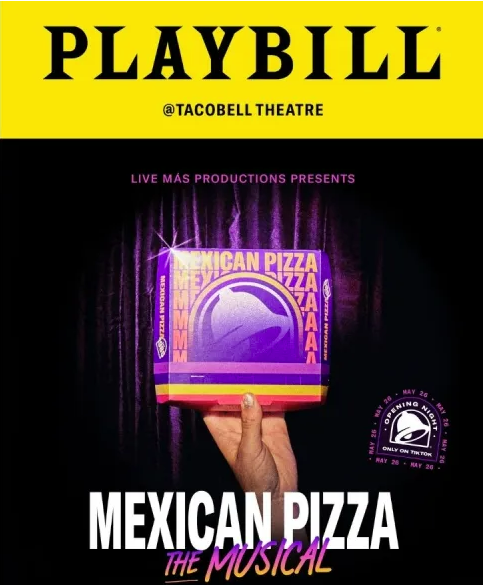 Is this the celebrity brand partnership to end all partnerships? Only time — TikTok, TikTok — will tell.
Here are today's other top stories:
Coinbase bungles new risk disclosure announcement
Following a massive quarterly loss of $430 million, Coinbase quietly let its customer base know that if it goes bankrupt, users are likely to lose access to any cryptocurrency they hold using Coinbase crypto wallets.
In its Q1 earnings report, released Tuesday, Coinbase included a warning about the risks of using the platform:
…because custodially held crypto assets may be considered to be the property of a bankruptcy estate, in the event of a bankruptcy, the crypto assets we hold in custody on behalf of our customers could be subject to bankruptcy proceedings and such customers could be treated as our general unsecured creditors. This may result in customers finding our custodial services more risky and less attractive and any failure to increase our customer base, discontinuation or reduction in use of our platform and products by existing customers as a result could adversely impact our business, operating results, and financial condition.
Coinbase CEO and co-founder Brian Armstrong issued a statement about the risk disclosure on Twitter:
1/ There is some noise about a disclosure we made in our 10Q today about how we hold crypto assets. Tl;dr: Your funds are safe at Coinbase, just as they've always been.

— Brian Armstrong – barmstrong.eth (@brian_armstrong) May 11, 2022
Even so, some Coinbase users have fled the company.
Until you go bankrupt. Then we lose our money. I have recently removed all of my funds from Coinbase. They are all on my cold wallet.

— Nateperrywake (@nateperrywake) May 11, 2022
I want to get out of Coinbase now. What platforms would you suggest?

— ruethless95 (@ruethless95) May 11, 2022
Why it matters: Because Coinbase isn't declaring bankruptcy, there's no immediate threat to users' cryptocurrency investments. However, the company's failure to address the reason for the new risk disclosure left some users panicking, resulting in some fleeing the platform. Armstrong's Twitter thread is an attempt to remedy that. It's reminder to PR pros that any time your company makes changes to policies that directly affect consumers, it's a good idea to accompany the news with a plain-language press release or explainer about what the changes mean.
---
MEASURED THOUGHTS
A new report from Morning Consult indicates Twitter users believe hate speech and misinformation will worsen if the platform goes private.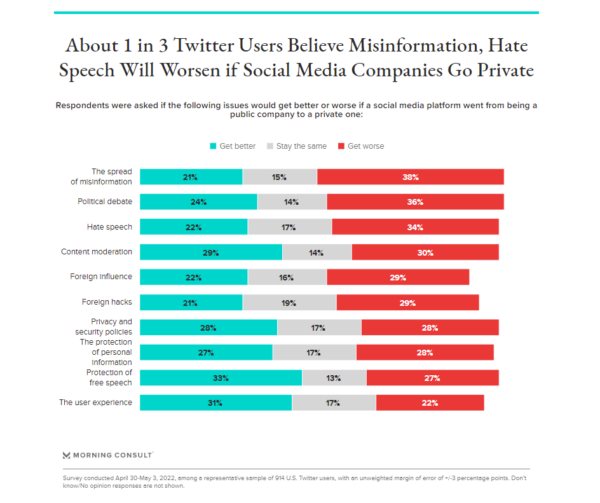 More than one-third of poll respondents said they believed political debate, the spread of misinformation and hate speech would worsen if a social media company transitioned to being a private company instead of a public one.
However, 33% of respondents also said that "protection of free speech" would improve if a social media platform went private.
The data speaks to the increasingly heated debate about the role of social media in politics and public discourse, especially when it comes to policies governing what users can and cannot share.
PR pros, be on the lookout for Twitter's policies to potentially change in a drastic way if Elon Musk takes the organization private.
Read more from the Morning Consult report here.
Starbucks allows some store protests, so long as it doesn't 'disrupt operations'
Actor James Cromwell, known for his roles in "Succession" and "Green Mile," was filmed this week at a Manhattan Starbucks protesting the company's upcharges for dairy-free milks.
A Starbucks spokesperson told USA Today that the company welcomes customers who would like to voice their opinions, "so long as it does not disrupt our store operations." The spokesperson did not define the parameters of the phrase "disrupt."
Cromwell sat on the Starbucks counter wearing a "Free the Animals" T-shirt and read a statement denouncing the surcharge for vegan milk alternatives.

"When will you stop raking in huge profits while customers, animals and the environment suffer?" he demanded as fellow activists streamed the protest on Facebook.
Apparently, Cromwell's tactic (super-gluing his hand to the check-out counter) was not a disruption, because police said no arrests were made.
What it means: It's a good reminder to PR pros that it's crucial to use specific language in communications about company policies, especially when it comes to what customers are and are not allowed to do in company stores or locations. Vague policies can be taken advantage of and used against your organization in legal disputes.
COMMENT