Conservative influencers try to get social media messaging right, Bluesky is coming for Twitter and more   
Plus: 'Tasteless' AI interview will likely lead to legal action.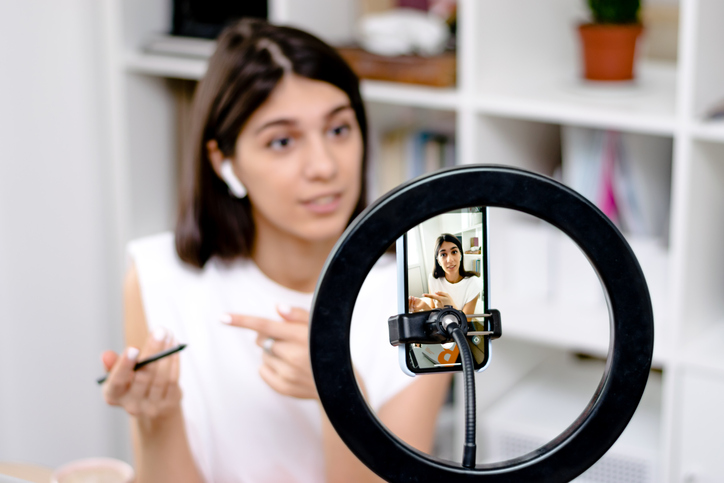 While President Joe Biden's popularity is waning a bit among voters, his office is doing something right on the social media influencer front, while conservatives are still searching for their own success in that arena, Newsweek reported.   
While influencers are already an established part of Democratic campaigns, conservative influencers are struggling with an uncertain future of the party, infighting and more.  
Even with a cohesive message and a unified rallying cry around one 2024 candidate, Republicans are likely to still struggle in the social media space. Will Witt, a conservative influencer with more than 1.6 million views on TikTok and 502,000 followers on Instagram, said the nature of the conservative movement makes it difficult to appeal to the demographics of social media users.  
This is in part because a large number of social media users across main platforms are Democrat or "lean Democratic" based on Pew data.   
"It's harder to be a conservative because it asks you to conserve something, rather than push for something new," Witt said responding to Newsweek. "There are a lot of young people out there who haven't really heard these ideas and it's very difficult to get them to beat on that."  
Why it matters: There is a stable of conservative influencers with big audiences who are ready to mobilize – but they still lack the mainstream name recognition of the stars and musicians who back Biden and other liberal causes. But most of all, what these right-wing influencers are missing– and what they're crying out for – is direction and support.   
Whether or not you're in politics, it's a reminder to offer clear resources and guidance to influencers and brand advocates. Don't leave them out in the cold when they're ready to go to work for you.  
Gen Z and Millennials prioritize luxury  
Gen Z and millennials are here for luxury.   
According to an ESW survey, both generations hop on the internet to make luxury purchases.   
The survey, which captured the shopping trends and habits of customers around the world, showed that one in four Gen Z and Millennial consumers report their global luxury buying habits.   
"Additionally, that number is up, if only slightly, from 2021 indicating a growing interest in luxury goods among younger shoppers," according to the survey.   
Baby Boomers' online luxury spending dropped by 2 percentage points during 2021. They are twice as apt to think about making a luxury purchase "cross-border," however, when they do shop.       
Why it matters: Getting in tune with shoppers' habits and spending trends is a useful way to stay a step ahead in communications about these brands and how your brand has exactly what a customer, no matter the generation, is looking for.  
Bluesky is the latest app with 'the next Twitter' buzz  
Social media platform Bluesky is on the rise because they're a scaled-back version of Twitter without the antics. Mashable reported that the app, created by Twitter founder and former CEO, has been gaining slow momentum since 2022 but exploded into the mainstream this week. The app reminds some of an older version of Twitter. "Short, funny posts reign supreme on the app right now," the article adds. "On Bluesky, you can't DM anyone. There's no video functionality. Users can't even upload a GIF."   
The invite-only platform might be what kills its success before it gets off the ground, according to the article, as users might not be interested in waiting around to see if they are tapped to join.   
Twitter and Bluesky had a partnership pre-Musk era, which is no more now, according to the article.   
Why it matters: Bluesky might be an opportunity for PR folks to get in on the ground floor of the next hot app — – if they're invited to join. The Twitter-esque space might be a place where brands can flourish without fear of repercussions or backlash from the all-seeing-eye that is Musk. Of course, we've heard similar things about Post, Mastodon and Hive, but none have quite replaced Twitter's dominance. Still, it's always wise to get on early, reserve your brand username and start scoping things out.   
Misleading AI-generated interview could lead to a lawsuit    
A German journalist completely fabricated an interview with legendary racecar driver Michael Schumacher using AI, NPR reported. That's bad enough.   
Making this move even more distasteful is the fact that Schumacher has not given an interview since he suffered a nearly fatal brain injury in 2013. It's unclear how profoundly the skiing accident has altered his physical and mental capabilities, but the fake interview in German tabloid Die Aktuelle put words in Schumacher's mouth about his injury and recovery.   
About a week after publishing, Die Aktuelle fired its editor-in-chief Anne Hoffmann and apologized to Schumacher's family, according to the article. However, the Schumacher family is still threatening legal action.   
Why it matters: This incident reveals one of the very dark sides of AI. The interview sounds incredibly plausible, but it's entirely a lie. It's yet another method of disinformation – in this case, being perpetrated by establishment media – that PR pros must guard against.   
Sherri Kolade is a writer at Ragan Communications. When she is not with her family, she enjoys watching Alfred Hitchcock-style films, reading and building an authentically curated life that includes more than occasionally finding something deliciously fried. Follow her on LinkedIn. Have a great PR story idea? Email her at sherrik@ragan.com. 
COMMENT
Tags: AI