Elon Musk turns off Tesla buyers, creators demand abortion rights, and Lebanon bologna shines
Plus: Who's heard of the metaverse?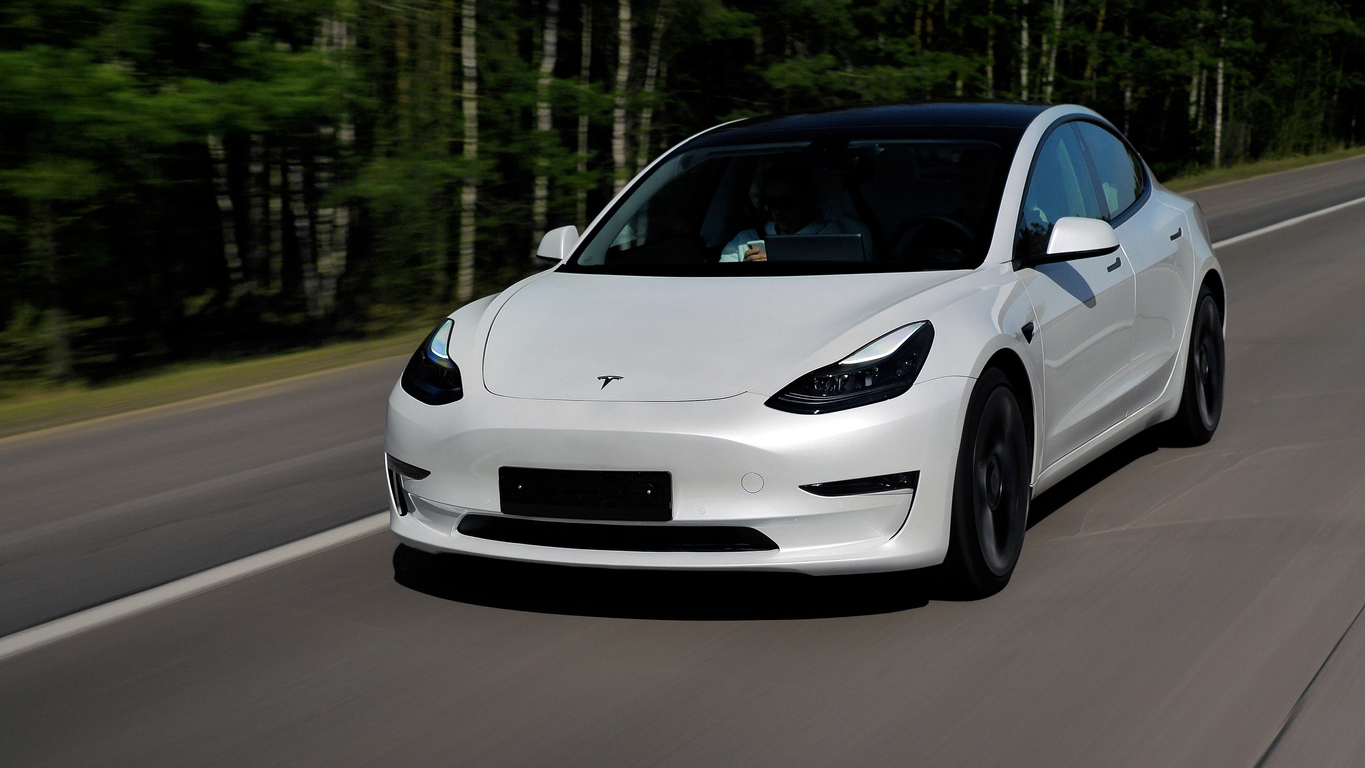 Thanks to Ross Tucker, a former NFL player turned entrepreneur and sports personality, Lebanon bologna is getting its 15 minutes of fame. In June, Tucker posted a photo of the regionally popular food, which received more than 86,000 comments on Facebook.
The bologna, a type of cured beef sausage, was developed by the Pennsylvania Dutch in Lebanon County, Pennsylvania. Tucker, who grew up in the area, posted the photo with the caption, "Just found out 99% of you don't know what this is and I'm so so sorry. #tuckspreads." 
"It was the perfect combination of a lot of people who have no idea what it is," said Tucker to local news outlet Lebtown. After the post went viral, Lebanon bologna behemoth Seltzer's reached out to Tucker. While there's no promise of a partnership, it's a great example of how just one post can catapult an obscure product into the spotlight. 
Here are today's other top stories:
Elon's antics turns off potential Tesla buyers
Elon Musk could be his own worst enemy when it comes to Tesla, according to Bloomberg. While his activity on Twitter has contributed to Tesla's growth, his latest antics are turning away owners and would-be buyers. Historically, Tesla has shunned traditional advertising, as Musk believes leaders should spend money on product improvement, not advertising. He preferred to shape his own media coverage via Twitter, where he has more than 102 million followers. Musk even attempted (disastrously) to buy out the social media network. Coupled with unflattering coverage of his personal life, reports from former SpaceX employees that Musk is a "frequent source of distraction and embarrassment" and polarizing political statements, would-be buyers are turned off. As Bloomberg reported:
[Tesla] allowed Musk to shape media coverage and made him the ringleader for Tesla's legion of very-online fans. But after making Tesla and himself so synonymous with one another, Musk has waded into political conflicts … putting the company's increasingly valuable brand at risk.
This isn't the first time that Musk's actions have affected Tesla's image. In April, a California-based customer-experience measurer mentioned owner frustration. A year before that, Escalet found that Musk was the most negative aspect of the Tesla brand. Now, some 39% of car buyers say they would not consider purchasing a Tesla.
Why this matters: Everything you share online, whether it's personal or professional, can be associated with you. When a person's identity is intertwined with their company/brand, it's hard to disentangle. From the beginning, Musk has been the company's CEO and chief influencer — for better and worse. 
MEASURED THOUGHTS
Nearly one-third of the U.S. population has never heard of the metaverse, a network of 3D virtual worlds focused on social connection according to InsiderIntelligence. The age group most familiar with the metaverse are those aged 13-24, followed by those aged 25-34. Those aged 55 and older were least familiar with the metaverse, with 41% saying they had never heard of it.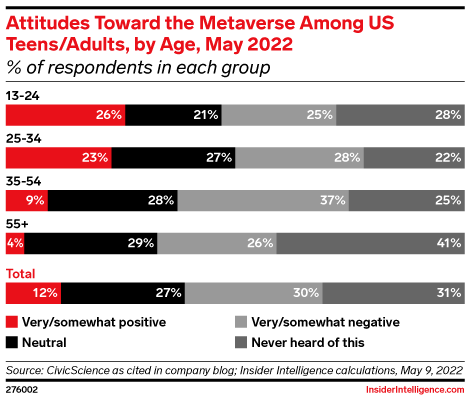 The biggest takeaway is that, for every person who has a positive view of the metaverse, there are two people who dislike it or have never heard of it. The concept is confusing, and companies aren't even sure what they would do in it. However, during the first half of 2022, there were 1,100 regulatory filings with the Securities and Exchange Commission, compared to 260 times in 2021. For brands who want to get into the metaverse, it's better to wait and see what the best strategy is, especially since most people have an unfavorable view of it. Giving in to what Insider Intelligence described as "buzzy rhetoric" can do more harm than good. 
400 TV showrunners demand abortion policy plans
Top-level executives at Amazon, Apple, Disney, NBC Universal, Netflix and Warner Bros. Discovery received a letter from more than 400 television writers and showrunners demanding protection for employees in states where abortion is illegal, Variety reported. The letter, which was signed by Shonda Rhimes, Amy Schumer and Issa Rae, gave the studios 10 business days to detail their abortion policies, including their plans for subsidizing travel for employees who need to get an abortion in a different state. The letter states: 
It is unacceptable to ask any person to choose between their human rights and their employment. This situation raises basic matters of equality, health, and safety in the workplace. Many of us would not have the careers and families we have today if we had not been granted the freedom to choose what was best for ourselves. 
In May, even before the decision to end federal abortion rights, companies came out with policies covering travel expenses for employees who needed abortions. While some companies have been reluctant to talk about social issues, research shows that more and more consumers expect brands to take a stand. 
Why this matters: Consumers and potential employees want to know how a company treats its people and if that company's values align with their own. Although speaking up and speaking out can alienate some audiences, it can also help with talent retention. 
Dawn Olsen is a writer who went to an out-of-state engineering school (Purdue University) to get an English degree. She has lived in Indianapolis for 10 years and spends far too much time on Twitter. In fact, she's probably thinking about Twitter right now.
COMMENT